Education Department urges teachers to treat undocumented students with sensitivity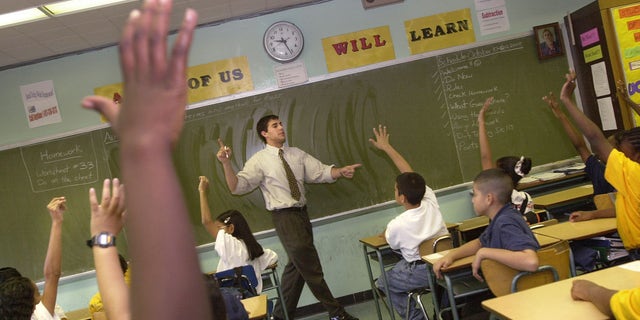 At the behest of groups that advocate for undocumented immigrants, the U.S. Department of Education has released guidelines that urge teachers to tread sensitively when dealing with students who lack legal status.
"Undocumented youth, in particular, can experience high levels of acculturative stress from immigration-related issues such as separation from family and academic difficulties," the document, which is 63 pages and was issued on Tuesday, says. "The psychological costs of family separation, associated with the migration process and with U.S. immigration procedures such as detention and deportation, are well documented and, among children, may include symptoms of depression and anxiety."
The agency recommends that teachers try to be mindful about how such an experience can affect a child in the classroom.
"Teachers … who serve immigrant students should understand the cultural and educational backgrounds of their students," the document says. "The development of trusting relationships with educators is especially important for undocumented youth, and affirming attitudes toward students' backgrounds and cultures may help to facilitate greater mutual trust."
The agency stressed that their guidelines were not rules, merely advice.
The guidelines covered the initiatives by the Obama administration that offer relief – such as suspension of deportation for at least two years – for young undocumented immigrants, what financial aid is available to undocumented students, and how they can avoid scams that offer legal status.
"Create a safe place for undocumented students to connect and receive staff and peer support, as well as key information," the agency recommends. "Train all staff on the unique needs of undocumented students to help them provide additional supports and show sensitivity to youths' concerns."
It addressed students' speaking of a foreign language at home, and said that it should not lead to assumptions about legal status.
"Withhold judgment and biases about immigration status," the guidelines say. "Educators and other personnel should not make assumptions about students' immigration status — including assuming that ethnicity or speaking languages other than English imply non-citizen status."
It also reminded educators that U.S. law guarantees the right to a K-12 education to all children, without regard to immigration status.
Immigration advocacy groups that had pressed for such guidelines praised the agency's move.
"Having educators who were capable of helping me navigate college applications, scholarships and local community resources gave me the confidence, as an undocumented student, to fulfill my dream of going to college and even earn a Master's degree," the Washington Examiner quoted United We Dream's Laura Bohorquez as saying.
Her group represents undocumented immigrants who were brought to the United States as minors and have sought for a path to legalize their status and allow them to attend public colleges at in-state tuition rates.
"Undocumented youth … are members of our communities and our families," said the Center for American Progress' Tom Jawetz to the Examiner. "They are future business owners, employees and co-workers. They are future Americans. This country should do all it reasonably can to educate these young people and ensure their success because their success is our success."
Not everyone, however, had praise for the guidelines.
"In some districts teachers are so overwhelmed by illegal alien children they could admittedly use some guidance," said Bob Dane of the Federation for American Immigration Reform, a Washington D.C.-based group that favors strict immigration policies. "But what put-upon teachers, and American students really need is a guide from the federal government on how it intends to start enforcing our immigration laws and reducing classroom and community burdens."

Like us on Facebook
Follow us on Twitter & Instagram