Ecuador Assails New Jersey Mayor over Snub of President Rafael Correa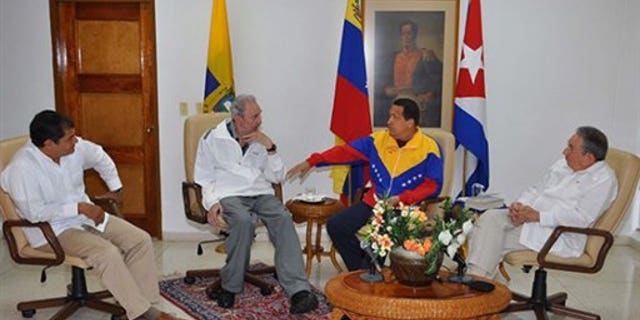 Ecuador's top diplomat in New Jersey denounced as "undemocratic" the decision of the mayor of Union City to ban an Ecuadorian event scheduled for Friday because of the expected appearance of President Rafael Correa.
Union City (NJ) Mayor Brian Stack rescinded the permit for the event under the pressure of Cuban exiles who objected to the visit by Correa because of his support for Cuba's communist regime and association with Iranian President Mahmoud Ahmadinejad.
At a press conference in New Jersey on Thursday, Ecuador Consul General Jessica Escala Maccaferri called Stack's move "undemocratic" and said the decision had been disrespectful to Correa and the Ecuadorian-American community, according to published reports.
Maccaferri said that Correa would visit New Jersey, nonetheless – only he would be going to Elizabeth, a city that is next Newark, instead. The cultural event that had been planned to take place at Union City High School was going to be held at the Ritz Theater, a private venue, she said.
Cuban exile leaders quickly mobilized after learning in recent days that Correa, who has been criticized for his close alliances to Cuban leaders Raul and Fidel Castro, as well as Venezuelan President Hugo Chavez, was to be the featured guest at the Friday event. Correa is in the New York area to attend the United Nations General Assembly.
On Wednesday, a day after meeting with the Cuban exile leaders, as well as members of the Venezuelan and Ecuadorian communities in New Jersey, Stack announced that he did not want Correa in Union City.
Stack cited Correa's controversial political positions – which include prosecuting journalists in Ecuador who produce stories that are critical of him or his government – and his alliances with the Castro brothers, Chavez and Ahmadinejad.
"Even associating with such regimes sends a terrible message to the world and condones the many evils that have been imposed on the residents of those nations," said Stack in a statement. " For these reasons, I refuse to welcome President Correa to Union City."
Media organizations in Ecuador carried news about the controversy.
Meanwhile, Stack's decision has been the subject of debate on the Internet and emails, including among Cuban-Americans.
Sergio Gatria, one of the exiles involved in the meeting with Stack about Correa, said in an email exchange with several others that it was wrong to have Correa use a taxpayer-funded facility – the high school – to promote his politics in what had been pitched as a cultural event featuring Ecuadorian entertainment. The Ritz, he said, was a private location that the Ecuadorians were renting.
In another email, which carried the signature of Cuban jazz artist Paquito D'Rivera, who lives in New Jersey, Stack's decision was criticized as "dangerous" and "legally questionable."
The email attributed to D'Rivera said that while he shared the disdain for Correa, Chavez and the Castro brothers, he did not agree with censoring a legitimately elected leader such as Correa.
It would have been more effective, the email said, to have Correa appear at the high school, and have a huge demonstration against him all along Bergenline Avenue. That, said the email, would have been "much more effective (and enjoyable), without going outside the boundaries of democratic principles."
Follow Elizabeth Llorente on Twitter: @LlorenteLatino
Elizabeth.Llorente@FoxNewsLatino.com
Follow us on twitter.com/foxnewslatino
Like us at facebook.com/foxnewslatino