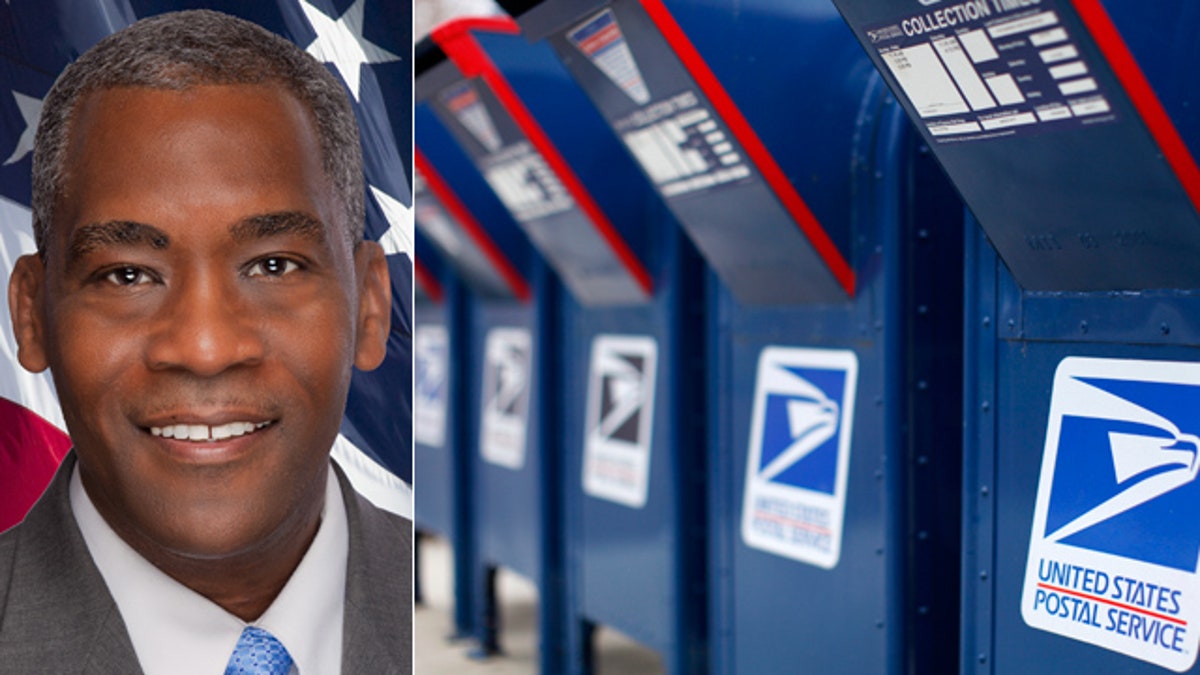 Does the punishment fit the offense?
A federal agency announced two disciplinary actions this week against federal workers for violating a law that limits political activity. But while one of them -- a now-former Postal Service worker who committed the apparent sin of running for Congress -- was fired, the other -- an IRS worker who used taxpayer resources to promote President Obama's 2012 candidacy -- faces only a suspension.
Now the ex-Postal Service worker in question, Illinois resident and congressional candidate Marcus Lewis, is slamming the federal government for stripping him of his livelihood by "selectively enforcing" the law.
"What happened to me is not only unfair, it's ungodly," he told FoxNews.com.
The two punishments were revealed in a press release by the U.S. Office of Special Counsel (OSC), an independent government watchdog that investigates claims of wrongdoing by federal employees.
The release states both workers were found to have violated the Hatch Act, which forbids federal workers from engaging in partisan political activity and from running as a candidate for partisan political office.
One of them was Lewis, who had worked for the Postal Service for over a dozen years before deciding in 2012 to run against now-disgraced former Democratic Rep. Jesse Jackson Jr. as an independent in Illinois' 2nd District.
Lewis told FoxNews.com he never discussed his campaign at work, and thought as long as he did not wear campaign paraphernalia on the job he was fine.
"The post office never told me anything," he said. "I never had any training [about the Hatch Act]."
However, Lewis said six weeks before the election, he received a call from the OSC, which he said used "mafia-style tactics" to get him to drop out of the race. He said he was told he must cease his campaign or lose his job, which he found "shocking."
"I'm running as an independent," he claims he told the OSC. "What are you talking about? I'm an American, what do you mean I can't run?"
The OSC said Lewis, who ran again for Congress in a special election in 2013, received repeated warnings from both the Postal Service and the OSC to cease his political activity but "refused to comply with the law." Lewis' employment was terminated in May.
In comparison to Lewis, the IRS employee received a relative slap on the wrist.
According to the OSC, the IRS employee in question admitted to using his "influence" as an IRS customer service representative to urge callers to reelect Obama in 2012.
"The employee repeatedly urged taxpayers to reelect President Obama in 2012 by delivering a chant based on the spelling of the employee's last name," the OSC said.
The employee admitted to doing so and received a 100-day unpaid suspension. The IRS case has received some attention in the media given accusations that the agency also targeted conservative groups for additional scrutiny until the practice was uncovered and halted last year.
When asked why the two punishments differed in severity, OSC spokesman Nick Schwellenbach said the postal worker continued to engage in partisan political activity despite repeated warnings not to do so.
"I think the facts as described in the decision make it clear that the Postal Service employee engaged in serious violations of the Hatch Act," he told FoxNews.com.
Lewis said he feels he was targeted by the OSC because he was considered a serious contender to Jackson in 2012.
"There is politics involved," he said. "They are trying to punish me."
Lewis is now running in as a write-in candidate against incumbent Democratic Rep. Robin Kelly in Illinois' 2nd District. He says now he feels he must win, because he has a family to support and no job.
"I have to win," he said, adding, "I'm fighting for my family."