Donald Trump Raises Doubt About Ted Cruz's Eligibility To Be U.S. President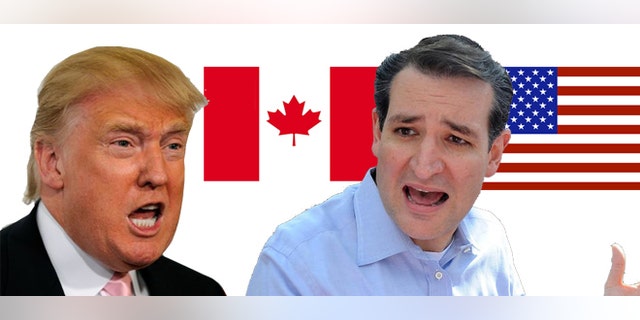 Real estate mogul Donald Trump has reignited the subject of birthplace and presidential candidates — this time with fellow Republican Sen. Ted Cruz as his target.
On ABC's "This Week" on Sunday, Trump raised doubt about Cruz's eligibility to be president, noting that the senator was born in Canada.
"If he was born in Canada, then perhaps not," Trump said when asked if Cruz qualified to be president, given that he was born outside the United States. "That will be ironed out. I don't know the circumstances. If he says he was born in Canada, that's his thing."
Trump made his comments on a weekend when both he and Cruz further raised speculation about their interest in running for president in 2016: both appeared in Iowa, a battleground for the race for the Oval Office.
This was Cruz's second visit to Iowa this summer. He was in the state to speak at the Family Leadership Summit on Saturday — he was one of the crowd-pleasers as he denounced President Obama's health care law. Trump was the final speaker in the day-long summit, on which former GOP presidential candidate Rick Santorum also made an appearance.
The United States Constitution stipulates that only "natural-born citizens" may be president.
Cruz has rebutted the contention that his Canada birth disqualifies him by pointing out that his mother is a U.S.-born citizen. Cruz's father was born in Cuba.
"I'm not going to engage in a legal debate. The facts are clear," Cruz said in July. "I can tell you where I was born and who my parents were. And then as a legal matter, others can worry about that. I'm not going to engage."
The so-called "birther" issue dogged both Obama – whose critics claimed was born in Kenya though he's furnished his birth certificate, showing he was born in Hawaii – and former presidential candidate John McCain, an Arizona GOP senator who was born in a U.S. Naval base in Panama.
Trump was one of the key players in the quest to question Obama's eligibility to be president and to cast doubt about the president's birth in the United States.
Follow us on twitter.com/foxnewslatino
Like us at facebook.com/foxnewslatino