Donald Trump accuses Ted Cruz of being a copycat on U.S.-Mexico border wall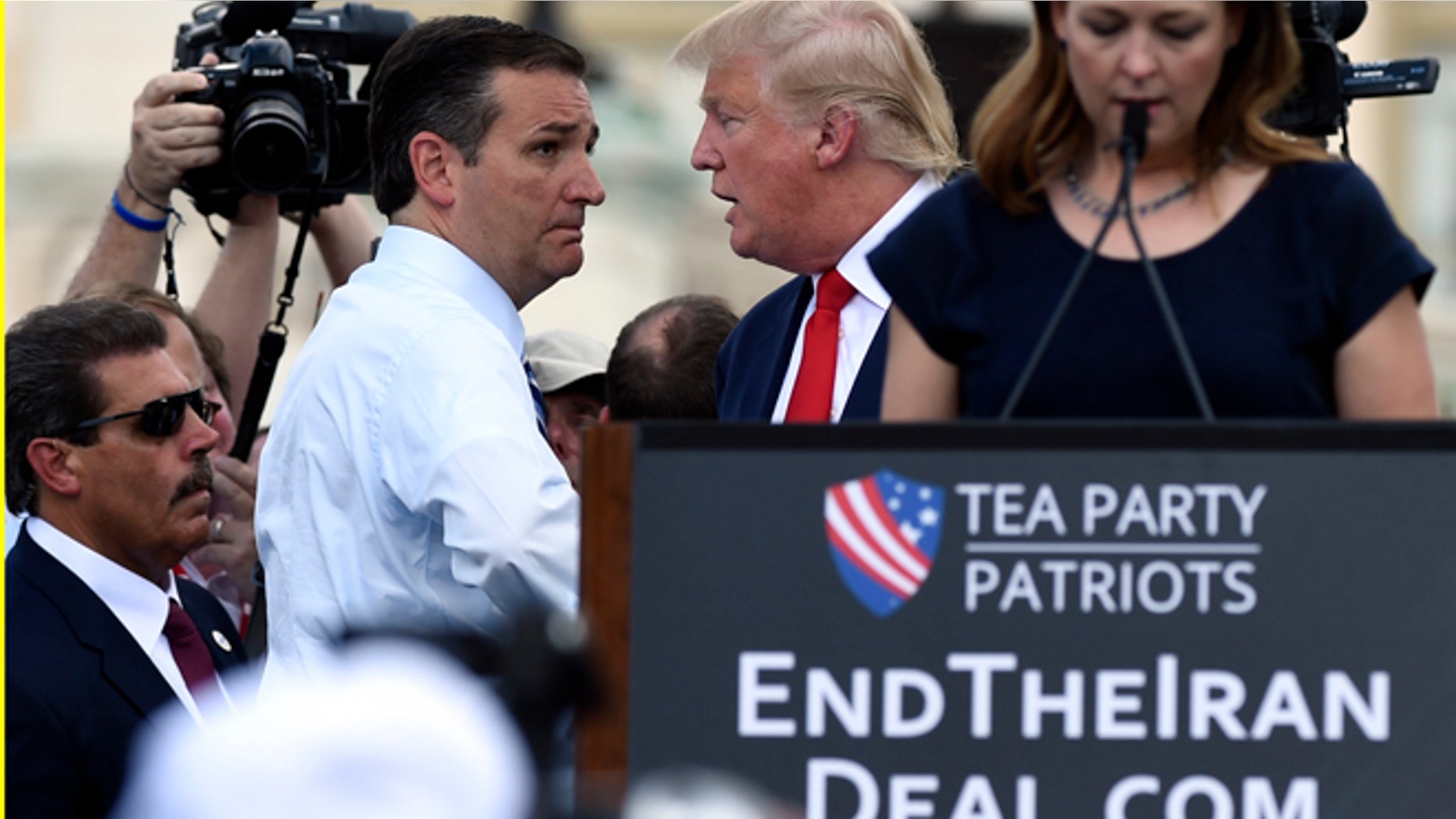 Donald Trump is calling Ted Cruz a copycat.
The billionaire and front-runner for the Republican presidential nomination said that the U.S. Senator from Texas is sounding quite a lot like him when he talks about building a wall along the U.S.-Mexico border.
"Well, first of all, his plan just happened, OK?" Trump said during a Sunday morning interview on CBS' "Face the Nation." "In fact, I was watching the other day. And I was watching Ted talk. And he said, 'We will build a wall.' The first time I've ever heard him say it."
"And my wife, who was sitting next to me, said, 'Oh, look. He's copying what you've been saying for a long period of time.'"
Trump continued: "Ted Cruz is trying to step up his whole game on amnesty and on illegal immigration ,because it was actually quite weak."
Cruz's campaign website calls for building "a wall that works." He says that as president, he would complete 700 miles of fencing along the border, triple the Border Patrol staff, and bolster aerial surveillance, among other things.
Trump has said he wants a sort of deportation army that would track down and remove the nation's estimated 12 million undocumented immigrants, something that critics say is inhumane and logistically undoable.
In the CBS interview, Trump drew a parallel between Cruz and another GOP presidential candidate, Sen. Marco Rubio of Florida.
Trump said both are making an effort to "solve the problems that they've had in the past because they were both weak on it. And I have been very strong on it."
"So they're trying to get stronger. But, look, nobody has that position like I have that position. I want the wall. I want strong borders. I want everybody out. Now, people are coming to me. But nobody has that issue like me," he said.
"And nobody's going to be able to do it like me," he continued. "Nobody. As an example, on the wall. Nobody is getting Mexico to pay for the wall, the cost of the wall, but me. They don't even know about that. That's not even in their vocabulary."
While Trump has hit  most of his rivals hard throughout the campaign, criticizing them in sometimes crude ways, his shots at Cruz are particularly noteworthy because he and the lawmaker have at times seemed to have something of a gentlemen's agreement not to attack each other.
There have been breaches in that mutual decorum, of course. Last month, for instance, the New York Times reported that Cruz said at a private gathering in Manhattan that the real estate mogul didn't have the chops to be president, and a few days later Trump retaliated, taking his rival to task for his well-known habit of alienating GOP colleagues, which, among other things, led to the infamous government shutdown in 2013 over the Affordable Care Act.
"Look at the way he's dealt with the Senate, where he goes in there like a – you know, frankly like a little bit of a maniac. You're never going to get things done that way," Trump said.