Does A Ferrari-Driving Reggaeton Star Represent The New Face Of Venezuela's Socialist Revolution?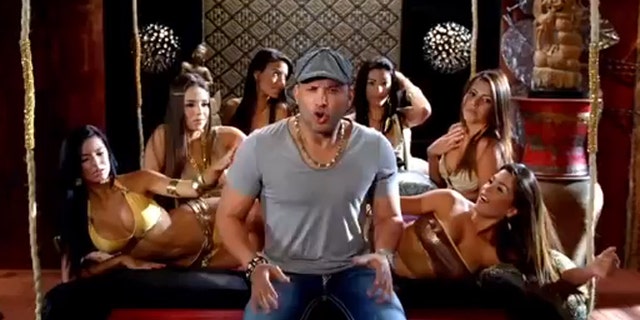 Ferrari–driving pop stars. Multi-million dollar former U.S. Major League baseball players. Flashy reality television hosts.
Is this the new face of Venezuela's "21st Century Socialism?"
Much to the chagrin of leftist German sociologist Heinz Dieterich, such abundance of riches seems to have become the reality under President Nicolás Maduro as a number of wealthy socialists are running for office in the upcoming Dec. 8 elections for 337 mayoral posts.
Reggaeton Antonio Alvarez, known as "El Potro," has been married to two Miss Venezuela winners, owns a flamboyant yellow Ferrari and has a number-one hit "Bla Bla Bla" wants to add to his resume by running for the Caracas borough of Sucre.
Joining him on the ballot across the country will be the host of primetime reality show "Battle of the Sexes" Winston Vallenilla and former U.S. baseball player Magglio Ordóñez, who will run for mayor in the Venezuelan town of Puerto La Cruz.
"The revolution has called me," El Potro said, according to Bloomberg News. "Socialism is inclusion and what I achieved in sports, music and as a businessman gives me an opportunity to advance this inclusion."
El Potro's popular music video features scantily clad women, champagne, helicopters and sports and helped the reggaeton star hit the top Billboard's Topical Songs in 2011. His remix of the song "Bend Down" is currently toppiong Venezuela's charts.
Earning an estimated $133 million during his 15-year career in the MLB, Ordóñez has praised former Venezuelan leader Hugo Chávez's socialist vision and apparently took out political ads in Venezuela in 2009 that proclaimed "the best of the revolution is yet to come."
His support of the so-called Chavista movement led to some Venezuelans to boo Ordóñez during his appearance on Team Venezuela in the 2009 World Baseball Classic in Miami.
As the election in December draws closer, some critics of the Maduro government have lashed out about his supposed use of celebrities to win votes for his United Socialist Party, or PSUV.
Hugo Pérez Hernaiz, a sociology professor at Central University of Venezuela in Caracas, called it a "desperate attempt" by the government win votes as its popularity in the country wanes.
Dieterich, the German sociologist and political analyst credited with pioneering the idea of "21st Century Socialism," recently made a damning condemnation of the Maduro administration.
Dieterich, who's based in Mexico and is well known in Latin America, said Maduro has a "complete inability to deal with the serious problems of the country." He added that if the Venezuelan president doesn't do something to rectify the economic and political problems facing his country soon, he could be out of office by April of 2014.
"Under that premise, we think [Maduro] will not get beyond March or April 2014. The scenarios of [his] possible fall are obvious: Street demonstrations orchestrated from Washington and the right, or an alliance between the Armed Forces and the governors," he said, according to Venezuelan newspaper El Universal.
Since assuming office after the death of Chávez earlier this year, and consequently winning a hurried election, Maduro has struggled with a plunging economy and political unrest from opposition lawmakers and politicians.
Banking giant JP Morgan released estimates last month that point to low growth and high inflation in 2013 and 2014. The calculation states that Venezuela's consumer price index is likely to hit 45 percent in 2013, considerably above authorities' projections (14-16 percent).
"The increase in government expenditures has a lot to do with this," Alejandro Arreaza, Latin America economist for Barclay's Bank in New York, told the Los Angeles Times. "Until last year we had seen relative stability in the currency markets."
Along with a fledgling economic situation, Maduro has been struggling with a soaring violent crime rate that he adopted from his mentor, Chávez. According to government figures, in 2012 there were more than 16,000 murders and the first quarter of 2013 killings totaled 3,400 – making the country one of the most dangerous in Latin America.
The murder rate doubled during Chavez's 14-year-rule as cheap access to guns and an ineffective justice system fed a culture of violence in slums like Petare, parts of which have become no-go zones for outsiders. Chávez banned gun sales, expanded a new national police force and stepped up policing and other programs in high-crime areas.