DNC tries to draw contrasts to GOP by giving undocumented immigrants key roles in Philly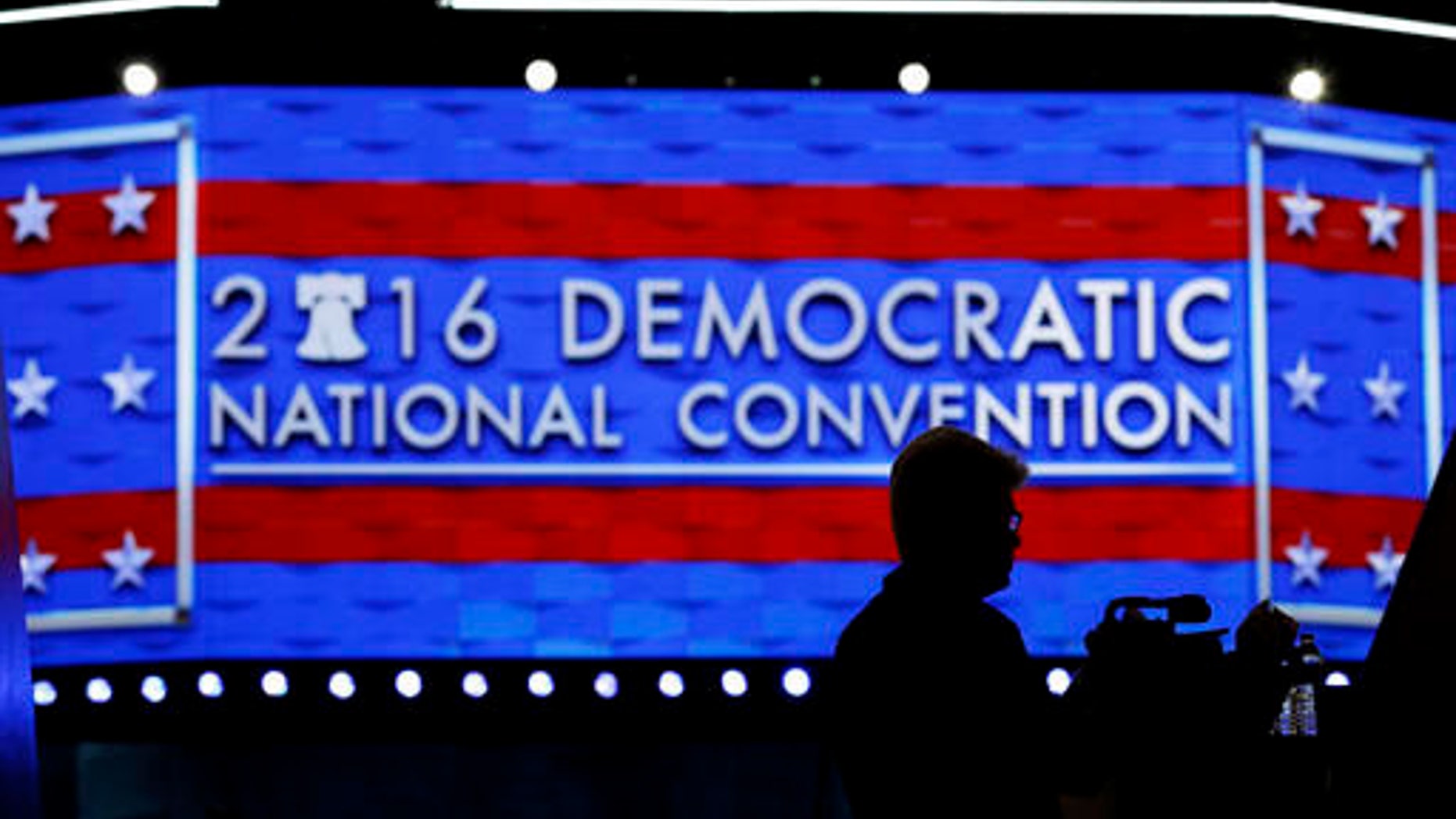 PHILADELPHIA – The sun will come out tomorrow – that is the feel that organizers of the Democratic National Convention and the Hillary Clinton campaign want to prevail in Philadelphia this week.
The idea is to draw a contrast against last week's Republican National Convention, when speaker after speakers described a country and world in chaos – police officers being shot, Americans being killed by undocumented immigrants, and the Islamic State spreading its influence and carnage.
Democratic National Committee officials say the convention will strive to be uplifting – recognizing problems that need to be addressed while being hopeful and noting what is uniquely special about the United States.
"The last thing that we need is somebody who is running for president who talks trash about America," Clinton said at a rally in Tampa on Friday.
A leading issue for drawing contrasts between Hillary Clinton and Donald Trump and, by extension, the Democratic and Republican parties is immigration, several people attending the convention said.
"This week, people will see the difference in diversity between the Democratic convention and the Republican convention," said Vivian Rodriguez, president of the Democratic Hispanic Caucus of Florida, in an interview with Fox News Latino on Sunday. "They will see that Latinos are embraced in this convention."
The Republican convention dove into the immigration issue – a hallmark of the Trump campaign since he launched it in June 2015 – on the very first day of last week's gathering in Cleveland. The convention featured three speakers whose relatives had been killed by undocumented immigrants.
The message was that the country needs a tougher crackdown on immigration because killers and potential terrorists lurk among those who live in the shadows.
The Democratic convention also is launching itself with a focus on immigration on the first day, when the theme will be "United Together,"' but will show undocumented immigrants in a sympathetic light, as well as in a way that poses a challenge. That challenge will be posed via primetime speaker Astrid Silva, a so-called Dreamer who will represent the millions of undocumented immigrants brought as children and who consider the United States their real homeland.
Silva, who is organizing director at the Progressive Leadership Alliance of Nevada, came from Mexico when she was 4 years old. She has a reprieve from deportation through the 2012 Obama administration executive action called Deferred Action for Childhood Arrivals, or DACA. Silva is among a growing number of Dreamers, as undocumented youth brought as children are called, who has been a vocal advocate for comprehensive immigration reform that would provide a path to legal status to immigrants like her.
The 2012 Democratic National Convention in Charlotte, N.C. was the first presidential one ever to feature an undocumented immigrant as a speaker.
Also on Monday, in keeping with the Democratic position that deportations break up families and ultimately hurt the greater U.S. society, the convention will feature Karla Ortiz, a 10-year-old U.S.-born citizen whose parents are undocumented. Ortiz and her mother, Francisca, will address the audience. They will speak about the impact that the threat of deportation has on families that often include legal immigrants and U.S.-born children.
Sen. Robert Menendez said the GOP used immigration last week for "fearmongering," whereas the Democrats will show immigrants as an asset.
"What not just Donald Trump is saying, but really Republicans, is that we can't have any more of 'those people,'" said Menendez, a New Jersey Democrat. "They show they are the party of intolerance…Immigrants make America great, better every day. We should use their skills and talents."
The Democratic National Convention organizers laid out their goal for the week on the event website.
"As Donald Trump begins his divisive convention in Cleveland with dangerous ideas that would pose a threat to our economy and national security," the site said, "Democrats are preparing to lay out the clear stakes in this election in Philadelphia – a choice between building walls and tearing people down or an optimistic unifying vision where everyone has a role to play in building our future."
As with all party national conventions, a key goal of the Democratic event in Philadelphia is to show a united party.
The Republican one had its moments of disunity – on public display – when delegations from several states unsuccessfully demanded roll calls. And of course the most prominent moment of anti-Trump Republicans came through Sen. Ted Cruz's primetime speech, where he mentioned the nominee's name only once, and almost reluctantly, making that evening awkward for the real estate mogul and the Republican National Committee.
Some feared that Sen. Bernie Sanders, the Vermont Democrat who was Clinton's toughest competitor, might threaten to undermine the effort to show a united front.
But Sanders, who held out for a long time before dropping out the race and endorsing Clinton, has urged his supporters to vote for the former Secretary of State, and is expected to emphatically root for her in his primetime speech on Monday night.
While Latinos were hard to find at the Republican National Convention—both on the stage as speakers and the delegations—Democrats are trotting them out for key speaking roles and the arena is expected to reflect the nation's diversity.
Among prominent Latinos expected to speak are Reps. Joaquin Castro of Texas, Luis Gutierrez of Illinois, Raul Grijalva of Arizona, Linda Sanchez of California, and Xavier Becerra, among others.
The GOP convention came under fire – including by some Latino delegates there – for barely featuring Latinos. Four Latinos addressed the convention – three of them on the same night. Besides Cruz, Sen. Marco Rubio addressed the delegates, but through a very short video. And Kentucky State Sen. Ralph Alvarado made his national debut with a speech that was the most emphatic of the three, praising Trump and describing the United States as the land of opportunity that had opened its arms to his immigrant parents.
Fox News contributor Rachel Campos-Duffy addressed the Republican National Convention with her husband, Rep. Sean Duffy (R-WI).
"At the Democratic National Convention," the event website said, "the diverse experiences and voices of Americans from across the country will be shared with millions of Americans."
Whereas the GOP convention championed gun ownership and bemoaned what they said was the demonization of police by the Obama administration, and recent spate of killings of law enforcement officials, the Democratic convention will feature people who were shot, or whose relatives were killed, by others who carried guns.
Other primetime speakers include First Lady Michele Obama on Monday, former President Bill Clinton on Tuesday and President Barack Obama on Wednesday. Chelsea Clinton will speak Thursday night and introduce her mother.
Besides the upbeat approach to immigration, mixed with the sympathetic look at the painful impact of deportations on families, a looming topic this week will arguably be Clinton's selection of Sen. Tim Kaine of Virginia as her running mate.
The selection of the little-known Kaine disappointed many Latinos who had hoped Clinton would pick a Hispanic figure such as Housing and Urban Development Secretary Julian Castro or Labor Secretary Tom Perez as her running mate. Other Latinos have challenged the view of many in their community that the selection of Kaine signaled a disregard for Latinos, noting that the former Virginia governor, who sits on the Foreign Relations Committee, feels an affinity for the ethnic group. Kaine is fluent in Spanish, and enjoys giving at least part of speeches in the language. Kaine took a break from Harvard to be a Catholic missionary in Honduras.
If Kaine addresses the convention, it's quite likely he will detour to Spanish for a portion of his talk.
If there's a presidential national convention, there are always protests.
Some 50,000 protesters are expected each day. They'll be demonstrating against abortion, and in favor of Bernie Sanders, among other things.