Details of Iran nuclear deal still secret as US-Tehran relations unravel
NEWYou can now listen to Fox News articles!
President Trump could come under new pressure to lift the curtain on secret elements of the Iran nuclear deal struck by his predecessor, especially as the Islamic Republic continues its war of words with his administration.
Only days after the Iran nuclear deal was announced in July of 2015, news began to leak out about secret side agreements made between the Islamic Republic and the International Atomic Energy Agency. Some of those agreements have been subsequently released, but with the tension ratcheting up between Iran and Trump, who has criticized the deal, the White House could reveal more details.
"Iran has been formally PUT ON NOTICE for firing a ballistic missile. Should have been thankful for the terrible deal the U.S. made with them!" Trump tweeted last week, quickly adding: "Iran was on its last legs and ready to collapse until the U.S. came along and gave it a life-line in the form of the Iran Deal: $150 billion."
Talk of secret "side agreements" involving Iran's past testing and inspection methods began almost as soon as the deal was reached. President Obama's national security adviser Susan Rice acknowledged that the documents between Iran and the IAEA were not public, but said Obama administration was informed of their contents and planned to share the details with Congress in a classified briefing.
Since then, however, a number of other alleged side deals have come to light and many Republicans in Congress – including former Kansas congressman and President Trump's current CIA director Mike Pompeo - continued to demand that the full context of the deal with Iran is revealed, especially following the country's recent failed ballistic missile test.
"The fact that there are side deals to begin with is a problem," Behnam Ben Taleblu, a senior Iran analyst at the Foundation for Defense of Democracies, told Fox News. "The deal was sold to us as transparent and that hasn't been the case."
PJMedia columnist Roger Simon, in an article that was picked up by numerous conservative blogs, called for a full airing of the nuclear deal.
"The time is long since past for the complete details of this quondam deal to be released," read the column.
The agreement, known as the Joint Comprehensive Plan of Action (JCPOA), forced Iran to halt its enrichment of uranium, a material that can be used in nuclear weapons and in exchange received widespread relief from U.S. and international sanctions that had crippled the Iranian economy.
One of the contentious issues brought up in the side deals is Iran's claim that they can develop ballistic missiles with a range of 2,000 kilometers and that the tests are legitimate because they are not designed to carry a nuclear warhead.
"We will follow two restrictions: The first is mentioned in the JCPOA, in the matter of no nuclear planning, and the second is the range of 2,000 km, which has already been noted previously by all elements in Iran," Iranian Army chief of staff Hassan Firouzabadi told local media back in 2015.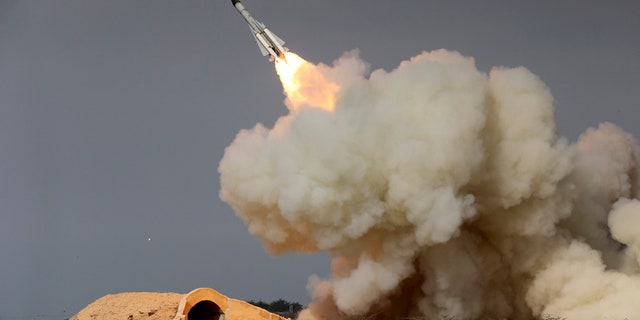 Officials from the U.S. and other Western nations contend that Tehran agreed two years ago to an eight-year extension of a ban on ballistic work during the nuclear negotiations. That agreement was codified in a U.N. Security Council resolution passed in parallel, but independently from the nuclear accord.
Besides the ballistic missile tests, there have also been a number of side deals revealed since the nuclear deal was announced a year and a half ago.
The Wall Street Journal reported last fall that Washington paid a $1.7 billion ransom for U.S. hostages held in Iran and agreed to lift UN sanctions on two major Tehran banks. The Obama administration also agreed to lift sanctions on Air Iran that were first imposed when it was revealed that the airline was ferrying weapons and supplies for the country's Revolutionary Guard.
Another side deal with the IAEA relaxed key restrictions on Iran's nuclear program in a decade, rather than the original 15 years agreed upon, and also gave the country the right to collect its own soil samples, instead of IAEA inspectors, at the Parchin military base.
On the campaign trail last year, Trump pledged to be "tough on Iran" and openly criticized the Iran deal as bad for the U.S. While his administration last week ordered sanctions against more than two dozen people and companies in retaliation for Iran's recent ballistic missile test, the new sanctions represent a continuation of the Obama administration's limited punishment for Iran's ballistic missile activity and avoid a direct showdown with Tehran over the nuclear deal itself.
The sanction targets were drawn up before Obama left office – as Trump press secretary Sean Spicer noted - and don't affect Iran Air, a big Iranian bank or any major government entity, making it unclear how effective they'll prove as deterrents.
Still analysts and conservative lawmakers, like Republican chairman of the Senate Foreign Relations Committee Bob Corker of Tennessee, believe that Trump's sterner approach to U.S.-Iranian relations puts the country in a good position when it comes to renegotiating the terms of the deal with Iran.
Trump spoke on Sunday with King Salman of Saudi Arabia and the White House said the two leaders. "agreed on the importance of rigorously enforcing the Joint Comprehensive Plan of Action with Iran and of addressing Iran's destabilizing regional activities." Israeli Prime Minister Benjamin Netanyahu said he would bring up the Iran issue with Trump when the two leaders meet next week.
"The new administration is in a good position to call for Iran and the IAEA to release all the documents," Ben Taleblu said. "If Trump wants to renegotiate the deal, he can really hold Iran's feet to the fire by vigorously enforcing of the existing agreement."