Despite Weekend Meetings, Congressional Leaders No Closer to Debt Solution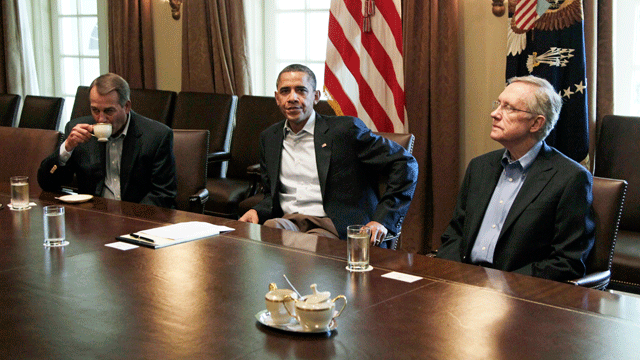 NEWYou can now listen to Fox News articles!
Precariously short of time, congressional leaders struggled in urgent, weekend-long talks to avert an unprecedented government default, desperate to show enough progress to head off a plunge in stock prices when Asian markets open ahead of the U.S. workweek.
With the White House consigned to the periphery of negotiations, Republicans sought as much as $4 trillion in deficit cuts over a decade as a condition for raising the nation's debt limit.
House Speaker John Boehner hosted a meeting of bipartisan congressional leaders including Senate Majority Leader Harry Reid, House Minority Leader Nancy Pelosi, and Senate Minority Leader Mitch McConnell.
Following the meeting, Reid said he was "deeply disappointed in the status of the negotiations."
Reid accused GOP leaders of intransigence, adding he would not accept anything less than a deal that raised the debt limit through 2012.
"Their unwillingness to compromise is pushing us to the brink of a default on the full faith and credit of the United States," he said in a statement. "We have run out of time for politics. Now is the time for cooperation."
Pelosi echoed Reid's sentiments, blaming Republicans for the lack of compromise.
"The delay in bringing forth a solution springs from the Republicans' decision to walk away from 98 percent of the wealthiest people in our country," she said in a statement.
A spokesman for House Speaker John Boehner, Michael Steel, responded mildly. "Like the President and the entire bipartisan, bicameral Congressional leadership, we continue to believe that defaulting on the full faith and credit of the United States is not an option," he said in a written statement.
Earlier, President Obama huddled for less than an hour Saturday with congressional leaders at the White House after House Speaker Boehner walked away from talks on Friday. Now both sides are determined to produce an outline of a plan before the markets open Monday and if possible before the Asian markets open Sunday night.
The House Republican leadership may release a plan as early as Sunday afternoon to ease potential turmoil in the Asian markets, GOP sources told Fox News.
Both sides are working on a plan that would include no new revenues, spending cuts of more than $1 trillion along with a debt-ceiling increase that is smaller than the spending cuts but would get the country into early next year, a GOP congressional aide said.
At Saturday's meeting, Obama reiterated his opposition to a short-term extension of the debt ceiling, arguing that it could lead to a downgrade in the nation's credit rating.
"As the current situation makes clear, it would be irresponsible to put our country and economy at risk again in just a few short months with another battle over raising the debt ceiling," White House Press Secretary Jay Carney said in a statement. "Congress should refrain from playing reckless political games with our economy. Instead, it should be responsible and do its job, avoiding default and cutting the deficit."
Obama called for Saturday's meeting during a hastily arranged news conference Friday after he found out that Boehner was pulling out of the talks.
"We have run out of time and they are going to have to explain to me how it is that we are going to avoid default," the president told reporters.
Boehner accepted the invitation even while arguing that Obama bore the blame for the collapse of talks. "It's the president who walked away from his agreement and demanded more money at the last minute," Boehner said. "And the only way to get that extra revenue was to raise taxes."
The political theater played out even as the Aug. 2 deadline drew ever nearer. Barring action by then, the Treasury will be unable to pay its bills, and the economic fallout could send interest rates up, threaten the fragile U.S. recovery and send shock waves around the globe.
Yet the deadline pressure has brought the parties arguably no closer to a solution, even though all involved insist they do not want a default. Underscoring the uncertainty, for the first time since talks began Obama declined to offer assurances, when asked, that default would be avoided -- although moments later he said he was confident of that outcome.
Obama said that Boehner left a deal on the table that was better for Republicans than for Democrats since spending cuts totaling $2.6 trillion outweighed new tax revenue of $1.2 trillion, and he said he was losing confidence that the underlying deficit problems will be dealt with even if the debt ceiling is raised. "I've been left at the altar now a couple of times," Obama said wryly.
Even by the recent standards of divided government, Boehner's decision triggered an extraordinary evening Friday as first the Democratic president and then the Republican speaker maneuvered for political position on an issue of enormous national import.
Unspoken, yet unmistakable in all the brinkmanship was the 2012 election campaign, still 18 months away, with the White House and both houses of Congress at stake.
Private, sometimes-secret negotiations had veered uncertainly for weeks, generating reports as late as Thursday that the two sides were possibly closing in on an agreement to slash spending. That triggered a revolt among Democrats who expressed fears the president was giving away too much in terms of cuts to Medicare and Social Security while getting too little by way of additional revenues.
At the same time Obama and Boehner sought to define the clash to their political advantage, their aides provided details of the abortive talks.
Republican aides said Obama had upped his demand for higher taxes during the week. The aides said administration officials had tacitly agreed to $800 billion in new revenue over 10 years but that the White House backed away and wanted $400 billion more.
Additionally, aides said the two sides were not able to bridge their differences over the triggers designed to force Congress to enact both tax reform and cuts to Medicare and other benefit programs by early next year. Both sides also were apart on the size of cuts for Medicaid, the health care program for poor and disabled Americans.
Yet aides on both sides said the negotiations had yielded agreement for cuts of $250 billion from Medicare.
Fox News' Chad Pergram, Chris Wallace and The Associated Press contributed to this report.