Democrats Bring Out the Big Guns, Hope to Defy Odds in Midterm Elections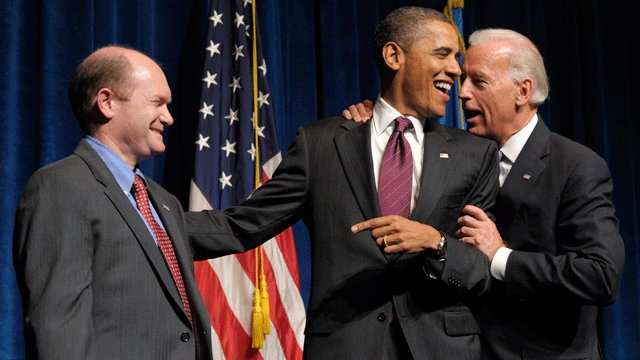 With just two weeks until Election Day, Democrats are pulling out all the stops in hopes of overcoming an anti-incumbent wave that appears to highly favor Republicans.
Republicans are poised to capture the House and celebrate big gains in the Senate and governors' mansions when voters express their discontent with the economy in the Nov. 2 election.
With Election Day quickly nearing, Democrats are rolling out the big guns. Obama is campaigning coast to coast, raising money for candidates and looking to energize Democratic voters whose enthusiasm has waned since the 2008 presidential election.
Obama, who says Democratic candidates aren't safe even in the most reliably liberal states, is appearing Saturday afternoon at a Boston rally for Massachusetts Gov. Deval Patrick, a longtime friend and political ally. He and Vice President Biden stumped for Delaware Senate candidate Chris Coons on Friday, who is comfortably ahead in the polls against Tea Party darling Christine O'Donnell.
Former President Bill Clinton this week has stumped for Jerry Brown, the Democratic nominee for California governor who is locked in a tight race with billionaire Meg Whitman, and Senate Majority Leader Harry Reid, who is in a dead heat with Tea Party favorite Sharron Angle.
But the big guns may not be enough.
Analysts in both parties say all major indicators tilt toward the Republicans. Obama's policies are widely unpopular. The Democratic-controlled Congress rates even lower. Fear and anger over unemployment and deep deficits are energizing conservative voters; liberals are demoralized. Private groups are pouring huge sums of money into Republican campaigns.
"The poll numbers and the enthusiasm on the right versus the lack of the enthusiasm on the left suggest a pretty big Republican night," said former Nebraska Sen. Bob Kerrey, who once headed the Democratic Senatorial Campaign Committee.
HOUSE OF REPRESENTAVES:
Republicans need to win 40 seats to regain the House majority they lost four years ago -- a threshold they are expected to easily surpass.
Larry Sabato, director of the Center for Politics at the University of Virginia, told Fox News that he expects Republicans to win more than 50 seats.
"Essentially, we're there where we were before Labor Day, despite all the ups and the downs, despite the roller coaster, despite all the spending, despite all the polls, I still think Republicans are very likely to take control of the House," he said.
A Republican takeover would depose Rep. Nancy Pelosi as the first female House speaker and force Obama to negotiate with Republicans on every significant legislative issue.
Every day brings fresh evidence of Democratic officials virtually abandoning House members whose re-election bids seem hopeless while Republicans are expanding the field to pursue races that once appeared unattainable.
In the coming week, Republicans or supportive outside groups plan to spend money in 82 House races that they see as competitive or within reach of a last-minute upset. All 435 House seats are on the ballot.
Democrats, desperate to hold their losses to three dozen seats, plan to run TV ads in 59 races in the remaining days. But their chief House campaign committee has recently canceled millions of dollars worth of advertising for struggling Reps. Steve Driehaus and Mary Jo Kilroy of Ohio, Suzanne Kosmas of Florida, Betsy Markey of Colorado and Steve Kagen of Wisconsin.
They are shifting some of that money to incumbents once considered safe, such as Arizona Rep. Raul Grijalva. But in a sign of the election's volatility, they also are helping viable incumbents they had expected to be trailing significantly -- South Dakota Rep. Stephanie Herseth Sandlin, for example.
The Democrats' House campaign committee raised almost $16 million in September and has $41.6 million in the bank.
That's a big fundraising advantage over the Republicans' House campaign committee. But the figures are misleading because heavy spending by outside groups, which often hide their donors' identities, clearly favors Republican candidates.
------
SENATE:
To gain the Senate majority, Republicans must hold all 18 of their seats on this year's ballots while picking up 10 of the 19 Democratic seats at stake. It's a tough task, but not inconceivable.
Democrats trail badly in states where they once held some hope of supplanting Republicans: Missouri, New Hampshire, Ohio and Florida. Kentucky is the only one that's still close. But Democrats have reduced their spending there, a sign that Republican and Tea Party favorite Rand Paul is clearly ahead.
Among seats now held by Democrats, Republicans are favored to win open races in North Dakota and Indiana, and to oust Sen. Blanche Lincoln in Arkansas.
In Pennsylvania, where Republican Pat Toomey had comfortably led Democrat Joe Sestak in polls, the race has tightened in recent weeks, forcing the Republicans to spend more than it had planned. The Republican Party also is pouring an additional $2 million into Illinois, where Republican Mark Kirk has slipped somewhat in polls in his race against Democrat Alexi Giannoulias for Obama's old seat.
That said, Democrats say Wisconsin Sen. Russ Feingold is struggling mightily, and Colorado Sen. Michael Bennet is in a tough fight.
Races are extremely close in West Virginia and Nevada.
Democrats are anxiously watching Sens. Barbara Boxer in California and Patty Murray in Washington. Private polls show Republicans pulling closer but still trailing.
------
GOVERNORS:
Democrats risk losing a dozen governors' chairs they now hold, including those in pivotal presidential states such as Ohio, Pennsylvania, Michigan, Iowa, Wisconsin, Maine and New Mexico. Also possibly falling into Republican hands are Oklahoma, Kansas, Wyoming, Tennessee, Illinois and perhaps Oregon.
Democrats have good chances to pick up Republican-held governorships in four or five states, including California and possibly Florida.
The Republican Governors Association's $31 million haul over the past three months enables the party to jump into more races. The Democratic Governors Association raised $10 million in that period.
The Associated Press contributed to this report.