Democratic strategist erases Twitter account after remarks about McConnell's wife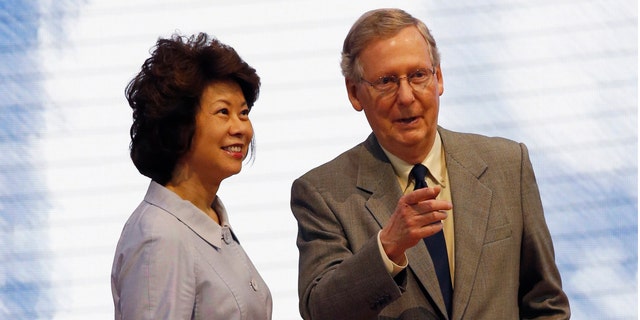 NEWYou can now listen to Fox News articles!
WASHINGTON – A Democratic operative deleted her Twitter account Monday following a series of what some called racist remarks about Senate Minority Leader Mitch McConnell's wife, Elaine Chao.
Chao, former U.S. Labor Secretary under President George W. Bush, is Asian.
Kathy Groob, who describes herself as an "advocate for women in politics," sent a series of tweets related to Chao at a political event Saturday.
According to WKMS, Groob sent the tweets in response to comments McConnell made at the event, in which he referred to his wife as "the only Kentucky woman who served in a president's cabinet."
In one tweet Groob wrote, "Hey Mitch, nothing against you wife and spouses should be off limits; since you mentioned, she isn't from KY, she is Asian."
Groob followed that tweet with another: "Google Elaine Chao, #MitchMcConnell's wife. No mention of Kentucky, she is Asian" Groop wrote.
Her racially-charged comments drew a firestorm on Twitter from people who questioned why Groob was pushing a narrative that someone who is Asian could not also be from Kentucky.
In Chao's case, she and her family came to the U.S. from Taiwan when she was a child. She has been married to McConnell for more than two decades.
The state chapter for the Democratic Party condemned Groop's tweets, calling her comments "abhorrent" and saying they "have no place in Kentucky politics."
They added, "We strongly denounce them."
Following widespread criticism from her own party, Groob later apologized for her "poor choice of words" and deleted her Twitter account.
Kentucky's Senate race is one of the highest-profile races during this year's midterm elections. It pits McConnell against Democratic candidate Alison Lundergan Grimes.
Both candidates were at the Fancy Farm Picnic – a colorful political festival in Kentucky – over the weekend.
The event -- which drew a record crowd of 5,000 this year -- invites both Democratic and Republican candidates on stage to deliver short speeches while being heckled by the crowd.
Calls for comment to the offices of McConnell and Grimes were not immediately returned.