Democratic socialists suffer another loss in Hawaii primary, as Dems notch gains elsewhere
A fiscally conservative Democrat soundly defeated five other high-profile opponents to represent Honolulu in Congress on Saturday, including the architect of the state's legal challenge to President Trump's travel ban and a follower of Democrat socialist Alexandria Ocasio-Cortez.
The results in the deeply liberal state were yet another blow to Ocasio-Cortez and Vermont Sen. Bernie Sanders, who have increasingly tried to take their message mainstream ahead of the November midterm elections, only to see their preferred candidates come up short.
Former Congressman Ed Case, a 65-year-old fiscal conservative, overcame Lt. Gov. Doug Chin, who as attorney general took the Trump administration to court over a ban on travel to the United States from several countries in the Middle East. The measure, which has since been upheld by the Supreme Court, was initially ruled unconstitutional by a Hawaii federal judge.
After his loss Saturday, Chin praised "people who don't want to take the country for granted and want to make the country a better place."
DEMOCRATIC SOCIALIST TORCH-BEARERS FLAME OUT NATIONALLY, DESPITE HIGH-PROFILE ENDORSEMENTS
Case also took down 29-year-old Kaniela Ing, a democratic socialist who hoped to follow in the footsteps of colleague Ocasio-Cortez of New York to score an upset victory. Ing, a state representative, had Ocasio-Cortez's endorsement, and the Bronx socialist candidate had stumped for him.
Overall, Case received 47,482 votes, or 40 percent of the total, compared to 25.5 percent for Chin, and only 6.3 percent for Ing.
"Two weeks before my race, I was polling 35 points down," Ocasio-Cortez said Thursday during a major campaign event for Ing, which local reports said was one of the biggest in the state's history. "And we changed that in two weeks because we were talking to people who hadn't been excited about the political process before."
Hawaii's high taxes and surging homelessness put a dent in enthusiasm for establishment Democrats in the deep-blue state, leading some analysts to predict Ing would have performed better. But his loss, like the primary defeats last week of populist Michigan gubernatorial hopeful Abdul El-Sayed and congressional candidate Fayrouz Saad, as well as Kansas House candidate and former Sanders staffer Brent Welder, left Ocasio-Cortez's followers empty-handed.
Case will face Cam Cavasso, a former state representative who previously ran unsuccessfully for U.S. Senate.
Meanwhile, Hawaii Gov. David Ige won the state's Democratic primary Saturday in his bid for a second term, overcoming a tough primary challenge and fierce criticism after state officials sent out a false inbound missile alert earlier this year and left it uncorrected for more than 30 minutes.
Ige defeated U.S. Rep. Colleen Hanabusa, who gave up her seat in Congress to run for governor. Ing took 51.4 percent of the vote with 119,310 ballots, compared to Hanabusa's 44.4 percent.
The incumbent in November will face state Rep. Andria Tupola, who won the Republican gubernatorial primary.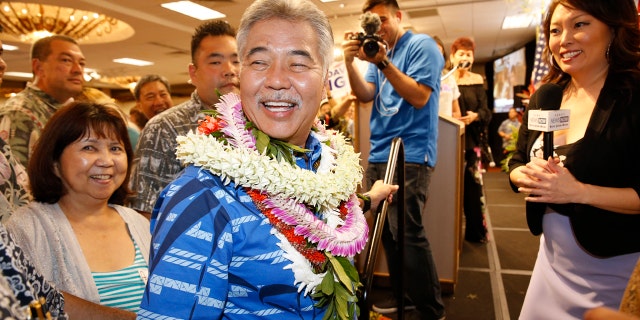 Officials mistakenly sent a warning of an imminent missile attack, promising "THIS IS NOT A DRILL," to cellphones, radios and televisions on Jan. 13. Hanabusa used the false alarm as a key campaign cudgel against Ige.
But the governor's handling of the Kilauea volcano's latest eruption, which destroyed more than 700 homes and displaced thousands, as well as devastating flooding on Kauai, may have improved his stature.
Also, Ron Curtis will face off against incumbent Sen. Mazie Hirono in the general election as the Republican Party's nominee to represent Hawaii in the U.S. Senate. Hirono, who was first elected to the Senate in 2012 and became the first Asian-American female senator, is widely expected to win in November.
Other primary vote-tally updates
In Washington State, there was some good news for Democrats: It's looking more likely that the race for Washington's 9th Congressional District will have two Democrats on the ballot in November, as votes continue to be counted from last week's primary.
WATCH: WASHINGTON CONGRESSIONAL CANDIDATE AIMS TO BE THE NEXT OCASIO-CORTEZ
After King and Pierce Counties updated their ballot counts Friday night, Democrat Sarah Smith was 2,582 votes ahead of Republican Doug Basler, a significant jump from her 196-vote lead the day before. If her lead holds, she'll advance along with Democratic incumbent U.S. Rep. Adam Smith, who has represented the progressive district that includes part of Seattle for more than two decades.
Adam Smith, the heavy favorite in November, secured about 49.3 percent of the vote, compared to Sarah Smith's 25.5 percent.
Under Washington's primary system, all candidates appear on the same ballot and the top two vote getters advance to the general election, regardless of party. Washington is a vote-by-mail state and elections officials will continue tallying ballots next week.
Sarah Smith was recruited to run by Brand New Congress, the same group that backed Alexandria Ocasio-Cortez, who defeated incumbent Rep. Joe Crowley in New York's Democratic primary this summer.
Also in Washington, another race where votes were still being tallied is the 8th Congressional District, where Democrat Kim Schrier is maintaining her lead for the second spot in hopes of advancing to the general election.
Schrier, a pediatrician, increased her lead in updated returns Friday over attorney Jason Rittereiser. Republican Dino Rossi, a former state lawmaker who had unsuccessful runs for governor and the U.S. Senate, advanced Tuesday to the November election.
KOBACH RECUSES HIMSELF IN KANSAS AS VOTE-COUNTING CONTINUES IN TIGHTH RACE
The two are seeking the seat left open by long-time incumbent Republican U.S. Rep. Dave Reichert, who is retiring. The seat has been held by Republicans since it was created in the early 1980s. The district is among about two dozen across the country that are held by Republicans but whose voters chose Hillary Clinton over Donald Trump, making it a critical potential pickup for the Democrats trying to gain control of the House for the first time since 2010.
And in Kansas, the counting of the last ballots in the tight and contentious Republican primary for governor will stretch out over the next week and still might not settle the race.
Trump-backed Kansas Secretary of State Kris Kobach leads Gov. Jeff Colyer by 110 votes out of 313,000-plus cast after late mail-in ballots from all 105 counties were added Friday to totals from advance voting and ballots cast at the polls Tuesday.
The state's 105 counties still must review nearly 9,000 provisional ballots and determine how many of them were cast in the Republican primary — and how many will be counted. They have until Aug. 20 to finish that process and certify their local results.
Fox News' Amy Lieu and The Associated Press contributed to this report.