Democratic NC governor-elect threatens to sue over GOP bills to limit his powers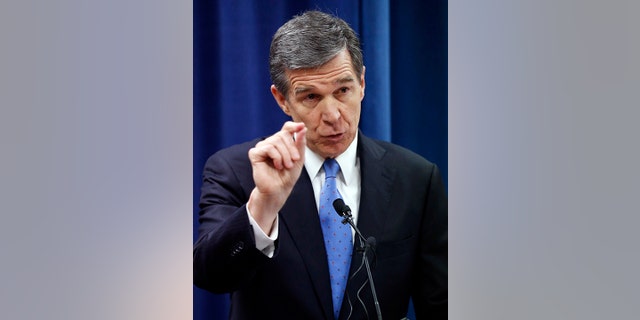 NEWYou can now listen to Fox News articles!
RALEIGH, N.C. – North Carolina Gov.-elect Roy Cooper said Thursday he's ready to fight in court against Republican legislation moving through a surprise General Assembly session that would undercut his powers as he takes office next month.
The outgoing attorney general was already headed to a rough relationship with the Republican-led legislature before lawmakers convened themselves into a special session Wednesday and launched attacks on the Democrat's powers.
Lawmakers want to scale back the team Cooper can bring into office, require their approval for top administrators at state agencies and erase the governor's ability to shape elections boards statewide, which under current law would become controlled by Democrats in 2017. The moves seek to protect the conservative state policies and programs implemented since the GOP gained veto-proof legislative majorities in 2013.
The legislature is making its move slightly over a week after Republican Gov. Pat McCrory finally conceded his election loss to Cooper by a margin of more than 10,000 votes out of 4.7 million cast. McCrory and his allies had resisted for nearly a month.
Cooper, who takes office Jan. 1, said he will seek to cooperate with GOP legislative leaders on improving the economy, but he'll sue if he thinks laws they're passing are unconstitutional or hurt working people. Through their actions, Cooper argues, lawmakers are trying to block him from altering programs that transfer taxpayer money to private schools, allow increased pollution of air and water, and cut taxes for big corporations instead of the middle class.
"It may seem like partisan political games on their part, but it is more ominous," Cooper said at a news conference.
A House bill that cleared two committees Thursday would require Senate confirmation for those Cooper chooses to lead state departments. The state Constitution allows the Senate to confirm a governor's appointments, but that power largely hasn't been used for at least decades.
Cooper also would lose the ability to hire more than 1,000 political appointees to carry out his directives. Republican legislators earlier this decade increased the cap on McCrory's appointees from 400 to 1,500. The GOP-sought reduction to 300 could give new civil service job protections to McCrory's managers in state agencies.
Cooper attacked Republican leaders for once again rushing big changes with little public disclosure or discussion, much as lawmakers in March adopted House Bill 2. The law limited protections to gay, lesbian, bisexual and transgender people. Companies, conventions, musicians and sports leagues reacted by shunning North Carolina, costing jobs and millions of dollars in revenues.
"We don't want another disaster like House Bill 2," Cooper said.
GOP lawmakers argue North Carolina Democrats have previously weakened Republicans taking office. The House measure also would shift many powers away from the State Board of Education — its members appointed by the governor — to the incoming Republican superintendent of public instruction.
Republican legislation also would erase Cooper's ability to appoint a majority of the five-member State Board of Elections. A new, eight-member state board would be evenly divided between Democrats and Republicans, with legislators choosing half the members.
The state and county elections boards got attention in the past month as they heard dozens of formal complaints about alleged voter fraud. Almost all of the protests were dismissed or sidelined. Each county elections board currently is divided 2-1 in favor of the GOP.
State law currently gives the governor's party a majority on state and county election boards.
The proposal would create four-person boards, equally divided between the two major parties.
"By removing the taint of partisanship and taking advantage of this new opportunity to restructure will instill public confidence in the new board," said bill sponsor Sen. Tommy Tucker, R-Union, before it passed a Senate committee without Democratic support.
Senate Democrats weren't buying it, blasting the Republican legislation as a power grab.
"We have got to rally hard and strong," Sen. Mike Woodard, D-Durham, told close to 200 angry demonstrators inside the Legislative Building. "Whatever happens in these next few days, we have got to keep up the fight."
Protesters demanded loudly that Republicans accept the will of the voters in last month's election and leave Cooper's authority alone. The NAACP, which led the demonstration, and their allies have been protesting GOP policies on voting restrictions and Medicaid at mass rallies since 2013.
"I believe fervently in democracy. I'm watching it be undermined right beneath by people who seem unwilling to consider or to listen," said protester Margaret Toman, 71, of Garner.