Democratic National Convention: Fox News Latino Reporter's Notebook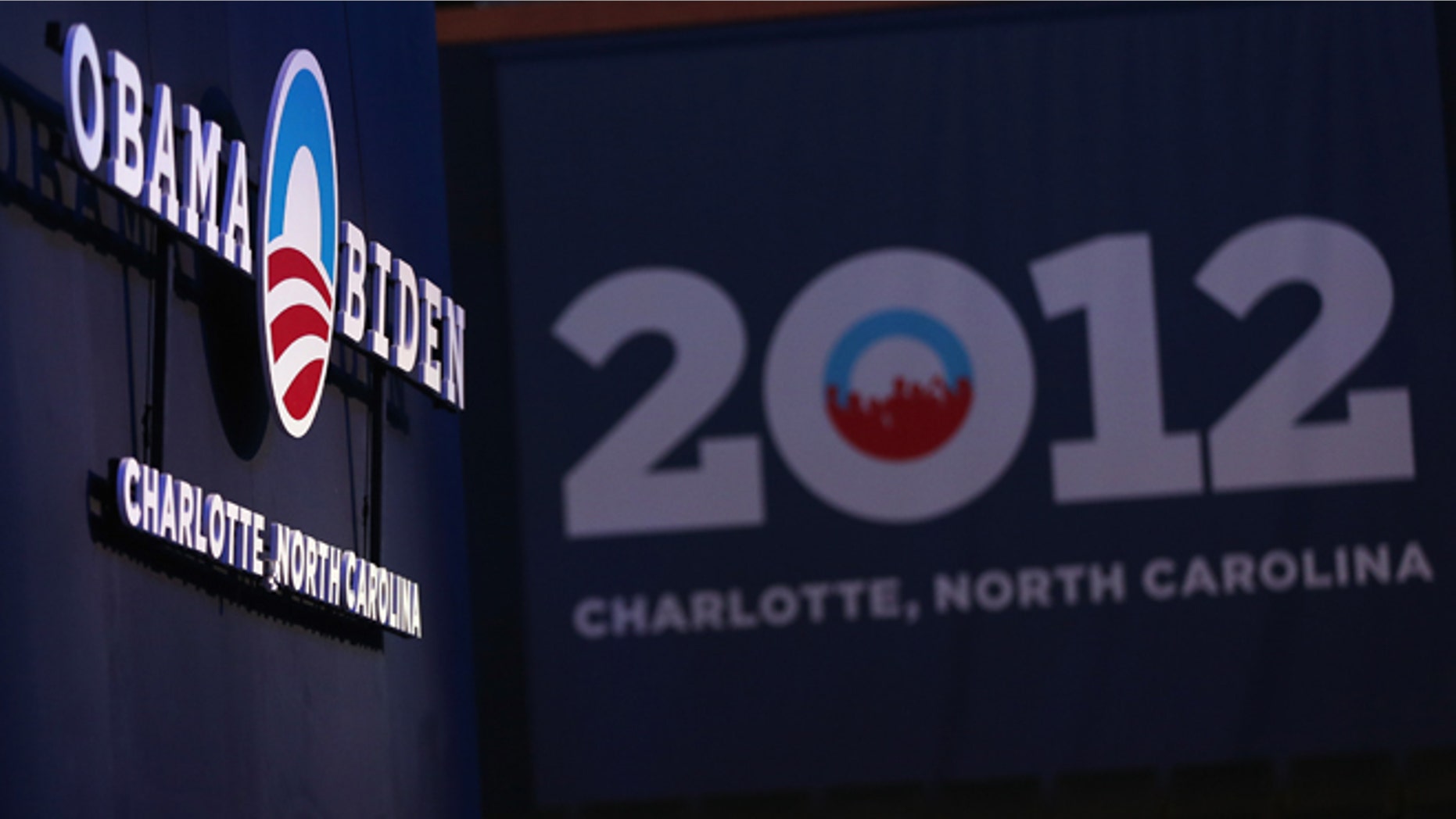 Fox News Latino is combing the floor of the convention, the streets of Charlotte and the inner reaches of the Internet this week to find interesting stories and snippets from the Democratic National Convention:
9/6/2012
Kansas DNC Delegation Not a Big Fan of Kris Kobach
Stand before the Kansas delegation at the Democratic National Convention floor, and there's one name that produces a scowl – Kris Kobach.
Kobach was something of a star among many at the Republican National Convention in Tampa, shaping the strict language of the immigration section of the GOP platform. Kobach, Kansas's Secretary of State, moonlights as architect of the strictest state-level immigration measures, such as those of Arizona and Alabama, among others.
But his fellow Kansans at the DNC were decidedly less impressed. Many of them oppose GOP presidential nominee Mitt Romney and support President Barack Obama because of their diametrically opposed views of Kobach's hardline immigration policies.
"We're appalled by what he has done," said Rep. Valdenia C. Winn, D-Kan. "We want to allow in-state tuition. The business community does not support his immigration policies."
Elizabeth Llorente 
An Obama loving, bias Latino Blogosphere?

It's easy to see Latino bloggers and Twitter-atics on a whole as younger and more liberal, but are Latino bloggers all Democrats or are Democrats just better at the whole Internet thing?
Viviana Hurtado, an independent non-partisan Latina blogger, has been to both the RNC and DNC and she notices an outreach difference.
"The outreach from the RNC and from the Mitt Romney campaign has been…'insert the sound of crickets," she said.
In contrast she described the Obama campaign's effort to reach out to bloggers as "incredible" and "aggressive."
They send invitations, updates, emails, tweets - anything to let me know what's going on.

Though according to Hurtado, Republicans haven't done themselves any favors. It's the "anti immigration" rhetoric that has translated into "anti Latino" rhetoric.
Still despite the aggressive campaign on the web, Hurtado believes there is a bit of a Latino disconnect at the DNC. As the party touts their record Latino delegates, for instance, Latinos were no where to be found on some panels like the small business panel.
Bryan Llenas
Cristina Saralegui Wins Cheers with a Speech Sprinkled with Spanish
Bill Clinton projected the air of a favorite professor, making his points with wit, statistics and some historical references here and there.
But Cuban-American talk show host Cristina Saralegui, who spoke before Clinton, delivered her pro-President Obama remarks with the personable, intimate and warm yet firm manner of your favorite tía -- who tells you in a blunt but from-the-heart way what she thinks is best for you to do.
She got the audience cheering just two sentences into her talk with the greeting: "Hola mi gente!"
Sprinkling her speech with plenty of Spanish, Saralegui told the audience: "I'm asking toda mi gente—all of my people—to join me. Many of us come from countries where votes aren't counted properly or are not counted at all. Here, we Latinos have a powerful voice, but only if we use it."
Like other speakers, she contrasted Obama as someone who would look out for the poor and middle class, with Romney as someone who would favor the rich at the expense of others. She said Romney was the type who saw undocumented youth as "illegal aliens," unlike Obama who sees them as "DREAMers."
She urged: "No protesten—voten!"
She ended her talk with her beloved expression: "Pa'lante, pa'lante, pa'tras ni pa' coger impulso." (Go forward, forward; don't step back, not even to give yourself a boost.)
Elizabeth Llorente 
9/5/2012
Undocumented Protesters Released from Custody
Ten undocumented immigrants arrested while protesting at the Democratic National Convention in Charlotte were released.
A Mecklenburg County Sheriff's Office spokeswoman says the protesters were charged Tuesday with impeding traffic and released on $2,000 bond. They had been arrested the previous day after they sat in an intersection blocks from where convention events were taking place.
The protesters had traveled to Charlotte in a colorful passenger bus emblazoned with butterflies and the slogan, "No Papers No Fear."
Police did not confirm the protesters' immigration status. The county is part of a program that screens and reports undocumented immigrants to federal authorities.
The protesters say they knew they were risking deportation but wanted to draw attention to the issue.
The Associated Press
9/4/2012
Undocumented Protesters Arrested 
Police arrested 10 undocumented immigrants protesting at the Democratic National Convention Tuesday after they ignored police orders.
The group was part of the "Undocubus," a caravan of undocumented immigrants pushing for immigration reform.
According to the Charlotte Observer, the protesters sat at an intersection near the convention site. They chanted "Undocumented and unafraid," and "Obama, listen, we're in this fight" according to the newspaper.  When police tried to disperse them, they refused to move.  Actress Rosario Dawson showed up at the protest to show support, and even waved an "undocumented" sign, the newspaper said.
According to local media, Charlotte law enforcement officials have told the press that they would turn over any undocumented immigrants they arrest to Immigration and Customs Enforcement. It is unclear if any of the 10 protesters are in federal custody.
Protests at DNC Drone On
Along with the hoards of politicians, party members and media outlets descending on Charlotte this week are demonstrators who are taking the streets to protest everything from drone strikes in Pakistan to incursions on freedom of speech.
A roving band of protestors met Charlotte police in a half hour standoff this afternoon that ended when the cops allowed about 100 demonstrators to walk up the sidewalk toward the Convention Center and into uptown Charlotte.
The protestors chanted "Obama is a war criminal!" while supporters of the president countered with "Four more years."
The protestors kept moving until they hit the Bank of America headquarters, where they criticized the banking giant.
"We're just going to let them keep moving," Charlotte Mecklenburg Police Chief Rodney Monroe said.
Will the Real Julian Castro Please Stand Up
The face that has been splashed across so much media lately stood out – attracting a crowd and a fireworks-like display of flashbulbs at a Latino leaders reception near the Democratic convention site.
"Mayor Castro!" shrieked a delegate in a red dress, with the zeal of a rock star fan. "I'm so honored to meet you, I'm so proud, you make us all proud."
San Antonio Mayor Julian Castro is making history – he is the first Latino to deliver the keynote spoke at his party's convention.
There was just one little problem – this was not Julian. It was his identical twin brother, Joaquin.
"It happens all the time," he said with a smile and amusement.
Delegate Cid Wilson, who is part of President Obama's advisory board on the Latino Museum, said he makes that mistake when he happens to be an event where both brothers are.
"I told him how much I admired him and his accomplishments at one event," Wilson said. "Then he said 'No, I'm his brother.'"
He gets stopped constantly and praised for his work as mayor and now, on his selection as keynote speaker.
"They're just identical," Wilson said.
Delegate Diana Martínez of San Antonio says she learned how to tell the difference.
"The ring," she said. "You look at the left hand, Joaquin does not have a wedding ring."
Elizabeth Llorente 
Single Mom's Take Charge...of DNC Leaders
They have torn through barricades and reached the pinnacle in politics – and this week they'll be headliners at the Democratic National Convention. They are San Antonio Mayor Julian Castro, Los Angeles Mayor Antonio Villaraigosa, former President Bill Clinton and the star of this week – President Barack Obama.
So what, besides smarts and sheer gumption, do these headliners have in common?
They were raised by single mothers, whom they credit with being a force in their lives.
Castro, for his part, has been very vocal about the role of his mother -- Rosie Castro, a longtime activist for Mexican American rights -- in his success.
Their moms must be so proud.
Elizabeth Llorente 
Follow us on twitter.com/foxnewslatino
Like us at facebook.com/foxnewslatino