Dem candidate for Wisconsin governor denies claims she was fired from family business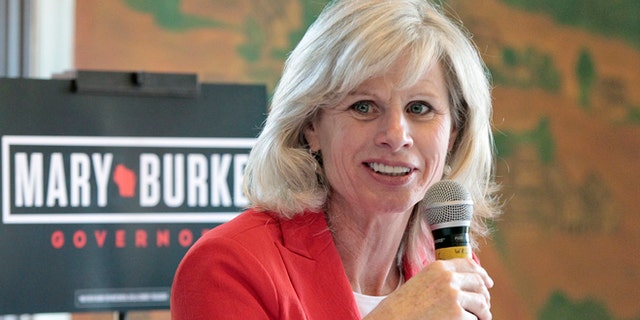 The Democratic candidate for governor in Wisconsin is pushing back at reports that she was fired from her family's business, Trek Bicycle Corp.
Mary Burke, who is engaged in a heated battled with Republican Gov. Scott Walker, told the Associated Press the claims she was fired from her job leading the company's European operations are "character assassination."
"It's ridiculous," Burke said. "It's completely false."
Burke and the bicycle company told the Milwaukee Journal-Sentinel that it's clear the claims are an attack, noting they are being made by former Trek employees with conservative ties.
The claims were first published in a report Wednesday by Watchdog.org. Watchdog.org reported that a former human resources director for the company, Gary Ellerman, said Burke was fired after steep financial losses and morale problems under her leadership, and three other former employees backed up his claims.
Watchdog.org noted that Ellerman serves as the chairman of the Jefferson County Republican Party but Ellerman said his political affiliation did not affect his account.
"I was there. This is what went down," he said.
The claims were also supported by Trek's former president Tom Albers, who told the Associated Press Burke "just didn't work out. We were losing money." Albers said that Burke's brother John, the company's current CEO, fired her.
Both Mary Burke and her brother denied that she was fired from the job in 1993. They said Trek decided to reorganize its overseas operations, eliminating her position, at a time when she was ready to leave the company.
The claim that Burke was fired goes to the heart of her credentials as a successful Trek executive and came the same day as a Marquette University Law School poll showed Walker with a 7-point lead among likely voters, his widest of the race after months of being neck-and-neck.
Mary Burke argues that her experience at Trek, the bike company started by her father in the 1970s, qualifies her to be governor and lead economic development and job-creation efforts for the state.
Burke worked for Trek twice, first as director of overseas operations from 1990 to 1993. She has said she left because she needed time off after holding a demanding job. She took two years off, which included three months snowboarding in Argentina. She returned to the company in 1995 in a non-managerial role and eventually led strategic planning and forecasting. She left in 2004 and then in 2005 took a job as state Commerce Department secretary, which she held for nearly three years.
John Burke said he decided to bring his sister back to the company because she had done such a good job in her first stint, increasing overseas sales from $3 million to $50 million.
Albers, who left Trek to take a job with its competitor Specialized Bicycles, said he had no ax to grind. Albers said he's not politically active, but campaign finance records show he gave $1,100 to Republican gubernatorial candidate Mark Green in 2006. Albers said he thought he had donated $50 to Walker, but it doesn't show up in campaign records.
Albers, 73, said he only talked about the situation after first being asked by a reporter.
"I always had a lot of respect for Mary Burke," Albers said. "She was very intelligent."
Click for more from Watchdog.org
The Associated Press contributed to this report.