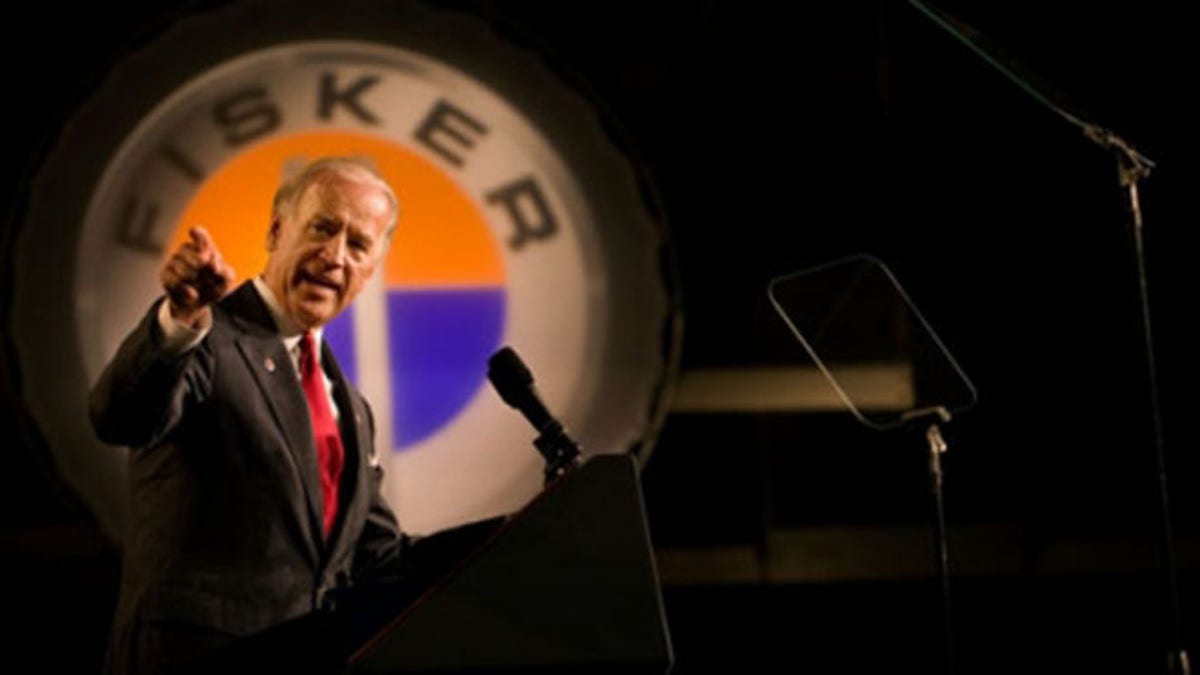 Delaware taxpayers appear to be getting soaked twice under a deal in which the Democratic governor loaned $21.5 million to a hybrid electric carmaker to set up shop in the state. The company has yet to produce a car in Delaware, and taxpayers are footing the electric bill for the idle plant.
The deal was enthusiastically announced in 2009 by Gov. Jack Markell and Vice President Biden -- formerly Delaware's senior senator -- as a way to bring as many as 2,500 green jobs to the state. But California-based Fisker Automotive Inc. has since suffered a series of setbacks that have compounded its shaky financial situation.
"It has not worked out the way he had envisioned," Markell spokeswoman Cathy Rossi acknowledged Monday in a statement to FoxNews.com. "We didn't know and couldn't have known about the underlying technical and financial problems."
Delaware reportedly has paid at least $400,000 in utility bills since about April, when Fisker halted operations and laid off dozens of workers at the 142-acre, Wilmington-area facility. Markell staffers told The News Journal the payments are part of the grant deal and necessary to at least keep Fisker's small-scale operation on life support.
Fisker opened for business in 2007, and its early problems were largely related to such technical issues as steering and emissions.
However, in February the U.S. Energy Department stopped disbursements on Fisker's $529 million loan because the company purportedly failed to meet production and sales goals on its electric plug-in sedan, the Karma.
The lack of funds was followed by the company halting operations at the Delaware facility, a formerly abandoned General Motors plant.
Later that year, Fisker battery supplier A123 Systems filed for bankruptcy and the company lost a reported $30 million worth of cars when Hurricane Sandy floodwaters swamped a port in Newark, N.J.
In a sign of Fisker's problems, Chief Executive Officer Tony Posawatz said in late November that the company was looking for a financial partner.
Fisker has not returned a request for comment, but has publicly said it is not seeking a buyer and still intends to re-open in Delaware.
The $21.5 million from Delaware is composed of a $9 million grant and a $12.5 million loan that includes so-called "claw backs" should Fisker fail to meet deadlines. However, recovering that money should the company fold will not be easy. The Energy Department purportedly pushed for provisions in the Delaware deal that puts the state behind the federal government, which is owed roughly $193 million in disbursements, and the Silicon Valley Bank in California that also is purportedly owed millions.
"This is never a good roll for the government -- corporate welfare," said Paul Chesser, an associate fellow at the conservative-leaning National Legal and Policy Center. "Let the market put up the money, not the taxpayer."
Chesser also points out the similarities of California-based solar company Solyndra going bankrupt after receiving nearly $530 million in federal loan money from the Obama administration.
"There's a trend of companies with no track record -- or in this case failure -- being worthy of government investment," he said.
As for the utility bills, staffers with the Delaware government have not responded to several attempts to verify whether the payments are still being made, but have said the administration's actions were an earnest attempt to recoup thousands of lost auto industry jobs in the state.
"Gov. Markell has said this is the best shot," Rossi said.
John C. Sigler, chairman of the Republican State Committee of Delaware, said he never liked the deal and even more so upon learning the state "stands third in line to get back its money."
"The taxpayers will take a bath," he said. "Never gamble with taxpayers' money. It belongs to them, not the government."