Daniels Touts Education Policy in High-Profile Washington Speech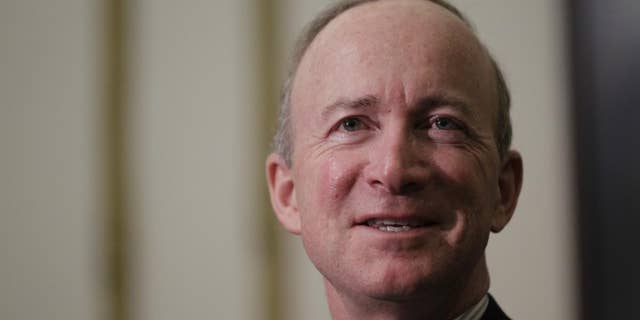 NEWYou can now listen to Fox News articles!
Indiana Gov. Mitch Daniels, nearing an announcement on whether to run for president, delivered a high profile speech Wednesday on the centerpiece of his 2011 legislative agenda - education reform.
Speaking at the American Enterprise Institute in Washington, D.C, Daniels touted his sweeping overhaul of Indiana's education system, which includes restrictions on collective bargaining, an expanded voucher system and merit pay for teachers based on individual performance evaluations.
Daniels said the so-called "reforms," achieved through four pieces of legislation, will make a "profound difference" in the lives of Hoosier students at all levels.
Teacher quality, he stressed, is the "dominant variable" in students' success and will now be determined in annual evaluations that fall into four categories: highly effective, effective, improvement necessary and ineffective. To illustrate his argument, Daniels noted that in Indiana, until now, 99 percent of teachers were rated as "effective," if rated at all.
"This is interesting because only one third of our students can pass the national standard exams," Daniels said. "Hiring promotions, salary, everything will now be based on performance and not seniority."
Daniels also went on to praise Indiana's expanded school voucher system that will allow some families to send their children to participating non-public schools - despite concerns from some educators that public schools will suffer financially from the redirecting of state funds.
The measure, Daniels said, will allow low-income families to have the "full range of choice" afforded to wealthy families. He also suggested that the law will create healthy competition: "If the public school delivers and succeeds, no one will seek to exercise this choice," he said.
The speech comes as the 62-year-old governor continues to mull a White House run. Daniels, who served as the director of the U.S. Office of Management and Budget under George W. Bush, has remained coy on his plans for weeks, telling reporters that he simply hasn't decided yet. He reiterated that uncertainty during his remarks Wednesday, saying he could not reach a decision until Indiana's legislation session ended on April 29.
"The idea of my becoming one of the aspirants is something I wasn't prepared to think about when we were working on this," Daniels said. The two-term governor appeared almost content with his uncertainty, joking that his waiting to step in was a "blessing" from "the standpoint of the public."
"Unless you're a political professional or running a bed and breakfast in New Hampshire, it's a darn good thing," he quipped.