Crunch time: Dems face gloomy midterm forecast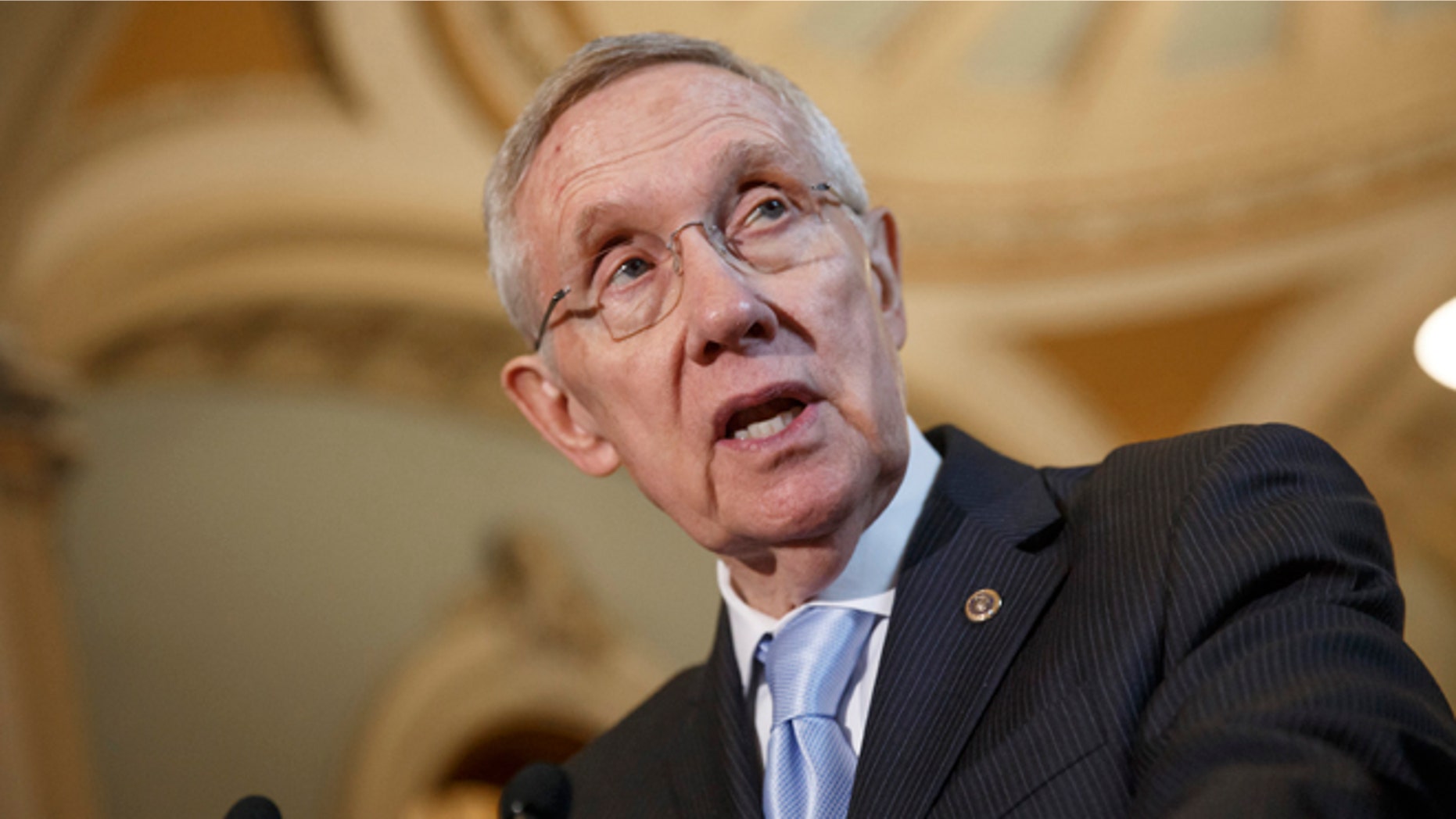 **Want FOX News First in your inbox every day? Sign up here.**
Buzz Cut:
• Crunch time: Dems face gloomy midterm forecast
• Boehner pushes plan to reset economy
• Poll: Americans still confused by ObamaCare
• Liens hit Shaheens for failure to pay creditors
• Bad news bear
CRUNCH TIME: DEMS FACE GLOOMY MIDTERM FORECAST
With just five weeks until Election Day, early voting already under way and a midnight deadline for campaigns to file fundraising reports, the midterm forecast looks dismal for Democrats and promising for Republicans. President Obama, his approval ratings in the basement, thinks his party can hold onto the Senate and plans to try sell an anemic recovery by claiming most Americans are better off six years into his tenure. For vulnerable Democrats already heavily burdened with Obama's domestic policy baggage, that sale will be tough indeed. Republicans, who have seen prospects for retaking the Senate improve in recent polls, have taken hold of the threat posed by ISIS militants, hammering the president's foreign policy mismanagement and taking Democrats to task for their part in the mess. Meanwhile, Democrats in key Senate contests are scrambling to morph from the liberal anti-war stance that got many elected, to hawks on ISIS. The only bright spot for the blue team at this point: cash. They have lots more of it, with wealthy backers pouring in dark money even as Sen. Majority leader Harry Reid and his party deride Republicans over the support of their benefactors. As the GOP pushes contributors for a late surge to even the score, voters can expect an October barrage of ads. Whether that battleground and grassroots efforts can change what appears to be a gloomy outcome for Democrats, remains to be seen.
[Watch Fox: President Obama said America, economically, is better off than it was 6 years ago. Chief Washington Correspondent James Rosen breaks down the economic indicators, now vs. then, to see if they actually support that claim.]
OBAMA TO HEADLINE HIGH DOLLAR FUNDRAISER
Buzzfeed: "The president will attend a $25,000-per-person fundraiser at the New York City home of Bill White and Bryan Eure on Oct. 7… White is the former president of the Intrepid Sea, Air and Space Museum…White's husband, Eure, is a senior vice president at the New York office of a London-based brokerage firm. The couple are prominent supporters of Democrats. According to White's Instagram, he and Eure had dinner with Hillary Clinton in New York last week. The White House hasn't announced the travel publicly yet, but Eure spilled the beans when he posted a New York Post story hinting at the high-dollar event. The money raised at the event is slated for the Democratic National Committee."
SUPREME COURT RULES ON OHIO EARLY VOTING
Washington Examiner: "The Supreme Court handed Ohio Republicans an early election victory Monday when it halted the state's early voting program hours before it was to begin. The high court voted 5-4 to grant a request from GOP state officials to cut out a week in Ohio when people could register to vote and cast ballots.Early voting for the Nov. 4 elections in the key swing state was supposed to begin Tuesday. But the justices' order means early voting now will start Oct. 7. Republican officials tried changing state election rules to shrink the early voting window on the grounds it would help combat voter fraud and make elections less expensive. But a coalition of black churches and civil rights groups filed a lawsuit in an attempt to block the new rules. A federal judge initially blocked the law. But the Supreme Court's five conservative-leaning justices, Chief Justice John Roberts and Justices Samuel Alito, Anthony Kennedy, Antonin Scalia and Clarence Thomas, disagreed and voted to grant Ohio's request."
BOEHNER PUSHES PLAN TO RESET ECONOMY
House Speaker John Boehner is out with a video that expressed his view that America's energy boom offers a once-in-a-generation opportunity to reset our economic foundation.  But first, the speaker says, there are five things we need to do as a nation to make it happen.  Boehner has been sharing this long-term vision throughout the year with constituents, colleagues, and most recently, in a speech at the American Enterprise Institute. What are those five things?  How do we do them?  What is at stake?" Watch here.
POLL: AMERICANS STILL CONFUSED BY OBAMACARE
The Hill: "Four years after its passage, most people in the United States believe ObamaCare is the most complicated political issue they face. Nearly 75 percent of people said the healthcare law is difficult to understand, according to a new poll by The Associated Press and GfK. The Affordable Care Act ranked as the most complicated out of 10 issues surveyed, edging out long-term financing of Social Security, the Federal Reserve's interest rates and data collection by the National Security Agency."
HILLARY HEADING TO ILLINOIS TO STUMP FOR QUINN
Chicago Sun-Times: "Former Secretary of State Hillary Rodham Clinton, raised in north suburban Park Ridge, will be stumping for Illinois Gov. Pat Quinn, [according to Sun-Times' Lynn Sweet].  Quinn is locked in a tight race with GOP nominee Bruce Rauner. This comes as President Barack Obama hits Chicago on Thursday for Quinn, and first lady Michelle comes home on Oct. 7. Clinton, mulling a 2016 presidential run, does not need the headache of a GOP governor in Illinois if she makes her bid.  Clinton had been on the calendar for Oct. 8 - though the birth of her granddaughter on Friday may change her schedule."
[Hillary trims sked - Following the arrival of granddaughter Charlotte Clinton Mezvinsky, 2016 Democratic frontrunner Hillary Clinton has lightened her appearance schedule. The Hill has the deets.]

Joaquin Castro's ready for Hillary - Rep. Joaquin Castro, D-Texas, is endorsing Hillary Clinton, Politico reports. "Castro made the endorsement in an email that [super PAC] Ready for Hillary sent out…'Hillary's the leader I want to see moving into the White House in two years,' he says. 'She hasn't announced yet that she's running in 2016, but Hillary needs to know that if she does, millions of grassroots supporters like you will be standing proudly by her side.'… Castro and his brother Julian Castro are both rising stars in the Democratic Party. Julian Castro is a former San Antonio mayor and incoming Obama administration Cabinet appointee who is widely seen as a potential Clinton running mate."
Bubba to barnstorm Arkansas - The Hill: "Former President Bill Clinton will spend two days barnstorming across his home state of Arkansas to help boost Democratic get-out-the-vote efforts…Clinton will attend four events during the Oct. 6-7 trip…The former president has deep ties with a number of Democrats running statewide this year and has already helped many of them with fundraising. Former Rep. Mike Ross (D-Ark.), Democrats' gubernatorial nominee, began his political career in the 1980s as Clinton's driver, while former Federal Emergency Management Agency Director James Lee Witt, who is running for Congress, has been a friend of Clinton's for decades."

CRUZ TO COURT JEWISH GROUP
National Journal: "Sen. Ted Cruz of Texas will be the keynote speaker at the annual dinner of the Zionist Organization of America in late November, giving him an audience of some of the nation's most influential Jewish leaders, including casino magnate and political financier Sheldon Adelson. 'We're inviting him because he's one of Israel's greatest friends,' the organization's president, Morton Klein, said. Klein said he expects as many as 1,000 attendees at the dinner, which will be held at the Grand Hyatt Hotel in New York City on Nov. 23. Cruz, who is considering a bid for the White House in 2016, has been focusing heavily on foreign policy in recent weeks to carve out a space for himself in what's expected to be a large Republican presidential field. He has also been outspoken in his defense of Israel, including at a recent event for Christians in the Middle East where he was booed for saying, 'Christians have no greater friend than the Jewish state.' Other potential 2016 candidates have courted ZOA, as well. In 2013, former Arkansas Gov. Mike Huckabee, who ran for president in 2008 and is considering another bid in 2016, was the headline speaker. And Sen. Rand Paul has spoken to ZOA's annual lobbying missions to Washington."
WITH YOUR SECOND CUP OF COFFEE...
Dating back to ancient times, chewing gum has existed in various forms for human consumption. The first gum-making machine was patented by Thomas Adams in 1871. The product, "Adam's Black Jack," was in the traditional stick shape and licorice flavored. Evolving a great deal in both shape and flavor since that time, there are plenty of reasons to celebrate the sticky substance. Today is the birthday of William Wrigley Jr., owner of the Chicago Cubs, namesake of their ballpark and the founder of the Wrigley Company. The company, which began by selling baking powder with chewing gum packed in each can as an added bonus, found the gum more popular and eventually transitioned to a gum-only company.  Wrigley's has grown from those early days to 140 factories with products sold in 180 countries. Today is National Chewing Gum Day, so whatever brand is your pleasure, get a pack and share with friends.
Got a TIP from the RIGHT or LEFT? Email FoxNewsFirst@FOXNEWS.COM

POLL CHECK
Real Clear Politics Averages
Obama Job Approval: Approve – 41.4 percent//Disapprove – 53.6 percent
Direction of Country: Right Direction – 27.2 percent//Wrong Track – 65.2 percent
Generic Congressional Ballot:  Democrats – 42.5 percent// Republicans – 46.3 percent

-- 35 days until Nov. 4 --

LIENS HIT SHAHEENS FOR FAILURE TO PAY CREDITORS
Daily Caller: "Towns in New Hampshire and Maine placed 21 different liens against properties owned by Democratic Senate candidate Jeanne Shaheen's husband, who manages the couple's real estate business, according to local property records obtained exclusively by The Daily Caller. People owed money by the Shaheens, therefore, successfully compelled local governments on 21 occasions to issue liens against properties owned by the couple in order to get their money back from insurance companies before the Shaheens could profit further. Senator Jeanne Shaheen…and her lawyer husband William "Bill" Shaheen, a principal at the firm Shaheen & Gordon, file taxes jointly. The couple, married since 1972, has between $3.7 million and $7.9 million in assets and between $2 million and $4.2 million in liabilities…Shaheen listed 10 different mortgages as liabilities on her 2013 financial disclosure. All of the mortgages were incurred since 2010, since Shaheen has been in the U.S. Senate. Shaheen's 'Spouse' was listed as the debtor on eight of the mortgages. Shaheen herself was listed as the debtor on one mortgage from Ohio's First Place Bank worth between $250,001 and $500,000. The Shaheens also jointly hold one mortgage from Washington, D.C.'s National Capital Bank for between $250,001 and $500,000…The Shaheen campaign…did not return a request for comment. Bill Shaheen did not return a request for comment."
CHAMBER BACKS BROWN
New Hampshire Senate GOP candidate Scott Brown will pick up the endorsement of the Chamber of Commerce today as he makes another stop today on his "Better Jobs For All" tour in Nashua. The tour stop is at Rapid Sheet Metal, a company that is concerned about the high cost of energy necessary to operate and opposes Sen. Jeanne Shaheen's D-N.H., national energy tax for fear that it would hike prices further and kill jobs.

'THE KING' ENDORSES TILLIS
Washington Examiner: "Republican Thom Tillis, running for Senate in the state that invented NASCAR, is getting a boost from a racing legend in a new ad. Former NASCAR driver Richard Petty endorsed Tillis in a new television spot from the U.S. Chamber of Commerce, a major backer of Tillis's bid to unseat Democratic Sen. Kay Hagan in North Carolina…["The King "] saying in part, 'In racing and in life, there's always a leader, someone who knows how to get to the finish line, who makes the tough decisions.'"
[FoxNews.com's Barnini Chakraborty looks at how the rise of ISIS is taking center stage in the N.C. Senate race: 'Anything short of a strategy that calls for and achieves the complete elimination of ISIS and any emerging threats is unacceptable," [Thom Tillis] said in an interview with FoxNews.com."]
PICK SIX:  QUICK CAROLINA COMEBACK
News traveled fast that Alaska nudged North Carolina out of the top tier of the consensus of Fox News First readers' picks of the six seats that are the most likely Republican gains in the battle for control of the Senate. As close as the two contests are enough readers came out for the Tar Heel State to knot them up in the sixth slot.
Here are the top picks among Fox News First readers: Arkansas (13.6%), Montana (13.0%), West Virginia (12.2%), Louisiana (11.8%), South Dakota (11.7%), Alaska (8.6%) and North Carolina (8.6%)  On the bubble: Iowa (5.7%) and Colorado (3.8%)  Reader Ryan Leonard says, "The top three are all but guaranteed. Obamacare isn't popular in either North Carolina [or] Louisiana (plus [Sen.] Mary Landrieu is getting nailed on energy issues in LA) so these states are very much for the taking. Arkansas has a good chance of going red because [Sen.] Mark Pryor has voted with Obama 93 percent of the time; but his father, former governor and Senator David Pryor, is still highly regarded by Arkansans so the family name could save Mark Pryor."
Share your top six picks. Email them – just your top six, please – to FOXNEWSFIRST@FOXNEWS.COM or tweet @cstirewalt.

MCCONNELL, GRIMES ADS SAY 'THEY CARE'
[Louisville, Ky] Courier-Journal: "U.S. Sen. Mitch McConnell and Alison Lundergan Grimes, his chief opponent in November's election, are beginning advertising blitzes meant to convince voters they care about average Kentuckians. Grimes was first out of the block Monday with a social media campaign that will feature videos of people talking about her and what her election would mean to them. It features a tag line of 'Alison cares' and urges others to post videos. The first ad stars Grimes' husband, Andrew Grimes. Meanwhile, the McConnell campaign announced that starting Tuesday, it will begin a 'high-six-figure' television buy featuring a woman who says McConnell helped get her young daughter out of the African nation of Mali after the woman's ex-husband abducted the child and took her there."

ARIZONA DEM WHO DUMPS ON LOBBYING, WORKED AS LOBBYIST
Democrat Fred DuVal, in a tough race with Republican candidate Doug Ducey for Arizona's governor's mansion, is getting burned by his own campaign rhetoric. Weekly Standard: "DuVal has made ethics and lobbying reform a cornerstone of his gubernatorial campaign amid stories that state legislators were given gifts like football tickets and campaign donations from the Fiesta Bowl. 'As a taxpayer, I'm disgusted,'  DuVal has said.  But Republicans are quick to point out that the Democrat's consulting work looks and sounds a lot like lobbying itself. From 2001 to 2005, DuVal's firm did work in 25 states to help secure bonds. All of which might be unremarkable, except DuVal was never registered as a lobbyist in several states with tough lobbying regulations. Some of those states require those who incur minimal expenses while working to influence public officials - in Kansas, it's more than $40 on a meal, for instance - to register as lobbyists."
ROMNEY TO HELP RAISE MONEY FOR COMSTOCK IN VA
WaPo: "Former GOP presidential nominee Mitt Romney is coming to northern Virginia to help an old ally in her congressional campaign. Romney is headlining a fundraiser Tuesday night in McLean for Barbara Comstock, who served as his Virginia campaign co-chair in 2012 and was one of his more prominent surrogates in that race. Comstock, a Republican, is running against Democrat John Foust in Virginia's 10th District, which stretches from McLean neighborhoods inside the Capital Beltway west to the Shenandoah Valley. The longtime incumbent in the district, Frank Wolf, is retiring after more than 30 years in office. The race has been one of the most closely watched in the nation, featuring an open seat in a district that has supported Republicans and Democrats."

AD GIVES KISSING CONGRESSMAN A COLD SHOWER
The conservative Club for Growth Action PAC is releasing an ad that targets embattled Rep. Vance McAllister, R-La., attacking his liberal voting record. Hitting McAllister for his "well known" personal indiscretions, the ad says in part, "What's less known is just how liberal he's been in Washington. McAllister voted for a budget that raised taxes and increased spending. McAllister says we're past repealing Obamacare, and he supports expanding it in Louisiana." The group has previously endorsed Republican challenger Zach Dasher for the seat.
BAD NEWS BEAR
When Washington State Patrol trooper Mark Francis pulled over an Everett woman for going 74 in a 60-mile per hour zone, something else that caught the officer's attention. Sure enough, when the 19-year-old driver rolled the window down the officer saw a giant stuffed bear sitting in the passenger seat. "'According to her,' Francis told MyNorthwest.com, 'there was not enough room in the back of her minivan to put the bear back there. That's what she was doing with the bear in the front passenger seat.'  Adding to the speeding ticket the driver racked up another ticket for being in violation of the HOV lane rules as the only live human in the vehicle. Throw in a citation for not having insurance and the grand tally? $818 in fines. That's one pricey stuffed animal. Check out the photo, it doesn't look like the bear had its seat belt fastened either…wonder if the trooper caught that.

Chris Stirewalt is digital politics editor for Fox News.  Want FOX News First in your inbox every day? Sign up here.