Constituent who outed Rep. Joe Barton's lewd Facebook messages speaks out
The woman who likely derailed Texas Congressman Joe Barton's chances of running for re-election said she hesitated before coming forward.
Kelly Canon had evidence, she said, that proved the congressman had a pattern of being illicit. But she struggled with what to do with it, she said.
"I was so torn with my decision to come forward with this because I'm a Republican going after a Republican," Canon told Fox News in an interview. "It was not easy."
On Wednesday, Canon released screenshots of Facebook messages that Barton sent to her that she thought were highly inappropriate. Barton has admitted sending the messages.
Canon said she released the images after Barton met with 20 constituents on Monday to discuss the nude screen shot of him that was leaked by an anonymous Twitter account. He apologized to the constituents but said he would stay in office. She said she didn't think he owned up to what he had done.
After Canon released messages they exchanged, Barton announced he would step down once his term was over.
"There are enough people who lost faith in me that it's time to step aside and let there be a new voice for the 6th district in Washington, so I am not going to run for re-election," Barton told the Dallas Morning News.
According to Canon, she and Barton had a professional relationship but he at times crossed the line.
"He is my representative, I am a constituent, that's it." Said Canon.
They became Facebook friends in 2011 and communicated via Facebook messenger until 2015. Canon said 97 percent of what they talked about was politics and policy, but Barton would occasionally send other messages, which Canon described as "taking the conversation south."
The messages, which Canon shared with Fox News, show that Barton was married for at least some of the conversations.
"Men are men and you are definitely a sexy woman," wrote Barton.
"All the good ones are married," Canon replied.
"I don't know about good, but I am married," said Barton.
Barton then wrote "but I am not thinking good thoughts at this moment… blush"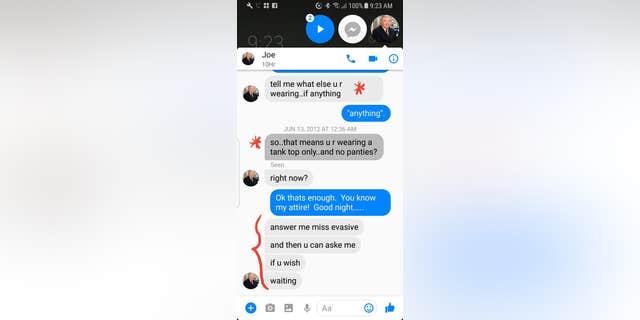 Canon said she would often say goodnight and sign off Facebook when Barton wrote inappropriate messages.
"Mmmm… Kelly… u r soft n curvy... I like that," Barton wrote in a message on October 2, 2013.
"Tell me what else u r wearing… if anything" wrote Barton on around midnight on June 13, 2012.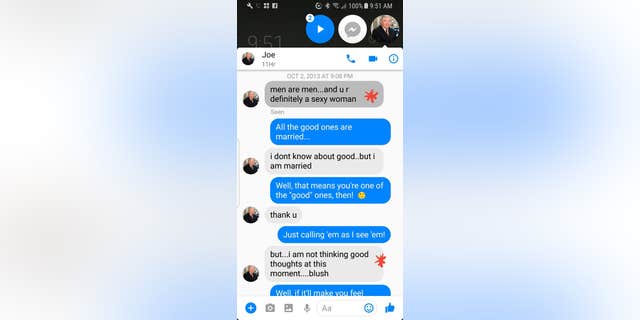 "Anything" Canon replied.
"So, that means u r wearing a tank top only and no panties?" said Barton. Canon then ended the conversation.
That was not the only time Barton messaged Canon around midnight to ask what she was wearing.
Barton confirmed to the Star Telegram the messages are his.
"I will affirm I did have that exchange, but nothing more," Barton said in a text message to the Star Telegram.
She said after she saw a screengrab of a video of Barton nude, posted to an anonymous Twitter account, she decided to release his tawdry messages.
Canon said she wanted to do the right thing and wanted to protect the GOP seat in Congress. After the photo was released, Barton said he wanted to redeem himself – but Canon didn't think that was possible.
"You can't redeem yourself," she said. "It's an unredeemable act."