Conservatives Peeved After GOP Taps 'Prince of Pork' to Lead Spending Committee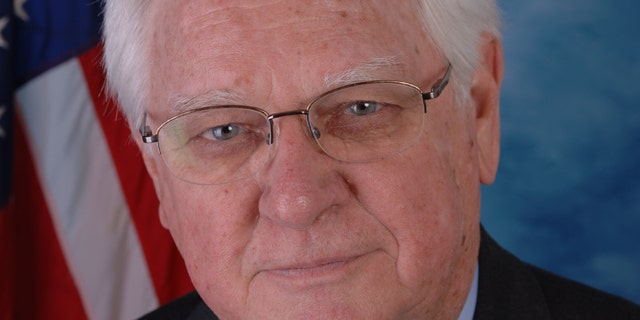 Republicans who captured the House last month in part on the strength of a promise to rein in government spending have tapped a veteran lawmaker known as the "prince of pork" to head the powerful House Appropriations Committee. And the decision's not sitting so well among some conservatives.
Rep. Harold "Hal" Rogers, who earned the "pork" nickname by steering hundreds of millions of federal dollars to projects in his rural district in Kentucky over a 30-year career in Congress, will chair the 60-member Appropriations Committee, the panel responsible for disbursing more than $1 trillion in non-entitlement-program dollars every year.
Rogers beat two other House veterans with a history of securing earmarks, or special projects, for their districts -- former committee chairman Jerry Lewis of California and Jack Kingston of Georgia. All three campaigned for the position by vowing to carry out the GOP's pledge to ban earmarks and stressing that they were the best man to realize Republicans' election promises to drastically slash federal spending.
"The nation is in a fiscal crisis and hard decisions are coming," Rogers said in a statement after his selection.
But the longtime congressman has a very long list of earmarks under his belt, a fact that may rankle the new guard of spend-averse Tea Partiers. "I don't think the response is going to be good," conservative Sen. Jim DeMint, R-S.C., said on Hugh Hewitt's radio show.
In 2010 alone, Rogers came close to scoring $100 million worth of so-called pork.
According to a comprehensive list put out by watchdog group Citizens Against Government Waste, the dozens of earmarks went largely toward military projects, parkland acquisition and health initiatives, among other things.
Among the earmarks:
-- $10 million went toward the Kentucky-based National Institute for Hometown Security.
-- $4.8 million went toward an "emergency response generator stockpile" for the Kentucky National Guard.
-- $1 million went toward Operation UNITE for a substance abuse program -- the anti-drug organization, hatched by Rogers, is a frequent recipient of his earmarks.
-- $500,000 went toward an instrument landing system at a local airport.
-- $200,000 went toward an arts education initiative in Prestonburg, Ky.
Rogers tagged a slightly smaller amount of federal funds in 2009, requesting just $81 million. In 2008, his name was attached to $33 million in earmarks.
Democrats pounced on Rogers after the House Republican Steering Committee announced this week that it was recommending him.
"American families heard a lot of Republican rhetoric about fiscal responsibility and reining in debt this election season, but now they're faced with the choice of the 'Prince of Pork' to head their appropriations process," said Ryan Rudominer of the Democratic Congressional Campaign Committee. "Rep. Rogers' record on fiscal responsibility looks like a shopping spree -- no splurge left behind."
Supporters of the earmarking tradition argue that the pet projects account for just a tiny fraction of federal spending and that lawmakers are merely exercising their right to decide how money is spent. The money is already allocated before they earmark it, so they're technically not demanding new money.
But which districts get the earmarks often depends on which districts are lucky enough to have lawmakers with clout. And dubious projects often make their way into the budget, rendering the practice politically distasteful among the new GOP class.
Republicans have been mulling significant changes to how the appropriations process works, including an idea to break up spending bills to make them easier to cut. Currently Congress has to pass 12 appropriations bills every year to fund discretionary federal programs -- as opposed to entitlement programs such as Social Security and Medicare.
But the Tea Party advocates who helped elect the budget-cutting conservatives who will dominate the GOP majority next year have their doubts.
"It's unbelievable," Mark Meckler, of the Tea Party Patriots, told Fox News in reference to the selection of Rogers. "It's a direct message from the Republican leadership that they don't give a darn about what the American public thinks."
According to the nonpartisan Center for Responsive Politics, Rogers and Lewis won $99 million and $98 million respectively in earmarks in the budget year ending Sept. 30, enough to rank 10th and 11th out of 435 House members. In the same period, Kingston sponsored or co-sponsored roughly $67 million in earmarks and ranked 32nd.
Rogers, 72, was first elected to Kentucky's 5th District in the state's eastern coal area in 1980. He was active in creating the Homeland Security Department and is known for using his influence as an appropriator to bring jobs and projects back to his state. In a previous attempt to become Appropriations chairman in 2005 he was defeated by Lewis.
The Associated Press contributed to this report.