Conservative divide could create nasty GOP Senate primary in Mississippi
Former Trump administration aide Steve Bannon, fresh off a primary victory in Alabama, where he helped Roy Moore win in a tight primary battle, is now setting his sights on the Mississippi Senate race.
Bannon is allegedly throwing his support behind Mississippi State Sen. Chris McDaniel, who narrowly lost to Sen. Thad Cochran in 2014. McDaniel is mulling a Senate run but says Bannon is urging him to enter the race.
Bannon said in states like Mississippi and many others, he has a strong shot at shaking up the status quo.
BANNON BACKS CANDIDATES IN ARIZONA, WISCONSIN, MISSISSIPPI
"I said I'm going after the Republican establishment," Bannon said in an interview on October 9 with Sean Hannity. "And we are going to go after them. We're going to challenge. There's a coalition coming together that is going to challenge every Republican incumbent except for Ted Cruz."
McDaniel said he's known the former White House senior aide for years and is thankful to have his support as he decides whether he will run against Sen. Roger Wicker next year.
He claims Wicker is part of the problem with Washington and said change is needed.
"He's [a] Mitch McConnell yes man and that's not what [Mississippians] have asked him to do," McDaniel told Fox News. "We want someone that will fight for our belief systems. That will fight for conservative values and Roger Wicker hasn't done that."
EMBOLDENED BANNON ENLISTS EVANGELICALS TO TAKE ON MCCONNELL, ENTIRE GOP ESTABLISHMENT
McDaniel describes himself as a "liberty-leaning constitutional conservative" and has served in the Mississippi State Senate since 2008. He is also considering a run for the state's lieutenant governor position in 2019. But after Moore's success in Alabama, he's now leaning toward a run for the U.S. Senate.
No stranger to statewide office, he lost a runoff election against Cochran in 2014 by nearly 8,000 votes, which he claims was due to Democratic crossover voters.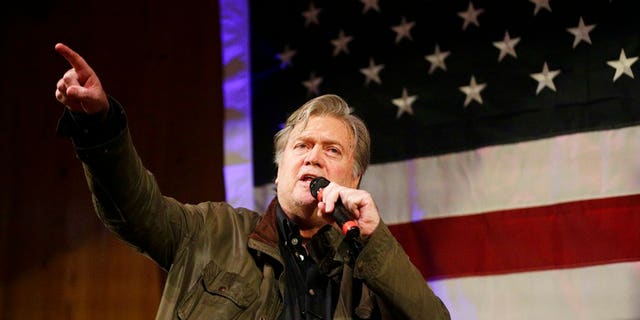 McDaniel says Wicker is working against the president's agenda by failing to support a revamp of the Senate's 60-vote filibuster rule.
"He claims he's for Trump, but [this is] the one thing Trump has asked for is to move his agenda forward [that] Roger Wicker has fought. Trump needs a 50-plus-one anti-filibuster concept in the Senate."
Justin Brasell, a spokesperson for the Wicker for Senate campaign, pushed back against McDaniel's claims.
"As much as Chris McDaniel wants it to be true, Washington, D.C. will not be on the ballot for U.S. Senate in Mississippi next June. Senator Roger Wicker will be on the ballot," Brasell said in a statement. "The same Roger Wicker known to Mississippi Republicans as a stalwart conservative, who is very popular with conservative voters, including those who identify closely with the Tea Party."
Brasell went on to describe Wicker as a leader in the Senate who fully supports the president's agenda and pointed to him aligning with Trump policies related to health care, the environment and the Iran nuclear deal.
Brad Blakeman, a former deputy assistant to Pres. George W. Bush, said Republicans should focus on fighting Democrats instead of each other.
"We have to be very careful as Republicans not to cannibalize our own," Blakeman said. "It can be easy to win a primary and, as the majority leader has said, it can be hard to translate a primary victory into a general election. I think that's the problem with any challengers to incumbents no matter what the state."
McDaniel says he is likely to make a decision to run for the U.S. Senate by the end of the month.