Congressional Candidate Under Fire for Nazi Re-Enactment Past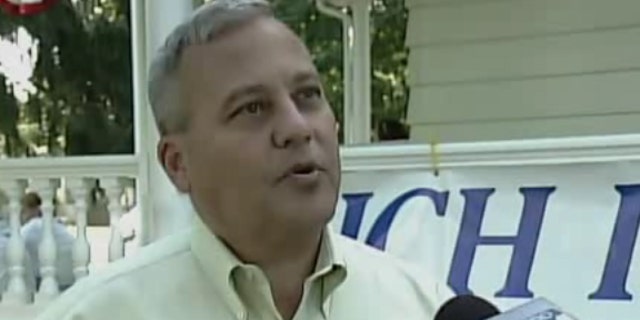 An Ohio congressional candidate is under fire after a magazine unearthed a photo showing him dressed in a Waffen-SS uniform as part of a Nazi re-enactment group.
The Atlantic magazine, which published the photo, reported that Republican candidate Rich Iott was involved for years with Wiking, a group devoted to re-enacting the actions of the 5th SS Panzer Division Wiking. He told The Atlantic he joined as a "father-son bonding thing" and quit the organization several years ago after his son lost interest.
House Republican Whip Eric Cantor, R-Va., who is Jewish, said on "Fox News Sunday" that he "would absolutely repudiate" Iott's behavior.
But Iott, who is challenging Democratic Rep. Marcy Kaptur, defended himself in a statement Saturday after Kaptur's campaign and other groups condemned him. Iott said that as a student of history he has participated in numerous military re-enactments since he was in college and meant no offense by them.
"Never, in any of my re-enacting of military history, have I meant any disrespect to anyone who served in our military or anyone who has been affected by the tragedy of war, especially the Jewish Community," he said in a written statement. "I have immense respect for veterans who served our country valiantly, particularly those who fought to rid the world of tyranny and aggression by relegating Nazism to the trash heap of history. I also believe we need to 'never forget' what happened to Jews during that war."
Iott released several other photos on his campaign website that showed him in uniform as part of a World War I re-enactment and Civil War re-enactment in which he and his son donned Union uniforms.
According to the Wiking website, the organization is devoted to "presenting the history" of the Eastern Front division which fought the Russians, "never against the Americans."
The site said the members "honor" those "who really experienced the war" no matter their nationality, but stressed that the group prohibits racism "or any type of embracement of Nazi ideology."
A disclaimer on the home page says: "This page or anyone involved in its creation, or members of reenactment groups listed here, are in no way affiliated with real, radical political organizations (i.e., KKK, Aryan Nation, American Nazi Party, etc.) and do not embrace the philosophies and actions of the original NSDAP (Nazi party), and wholeheartedly condemn the atrocities which made them infamous. May the victims of this unspeakable horror rest in peace."
But Kaptur's campaign condemned the group and called Iott's participation "indefensible," questioning "who would honor such butchers?"
"My first reaction was shock, then my second reaction was dismay and then my third reaction was disgust, from what I've seen," Kaptur said in an interview with MyFoxToledo.
"To perpetuate such a twisted and dangerous view of history is outrageous and indefensible," her campaign said in a statement published by the Toledo Blade.
Iott called the charges against him "despicable" and said the election should be about issues, "not false character attacks."