Comey says House Republicans subpoenaed him to testify over Clinton emails, Russia investigation
Former FBI Director James Comey said on Thursday that Republicans have subpoenaed him to appear before a closed-door meeting of the House Judiciary Committee early next month.
In a Thanksgiving Day tweet, Comey said he would be happy to answer the House Judiciary Committee's questions, but will "resist a 'closed door'' for fear that his testimony will be leaked and distorted.
"Got a subpoena from House Republicans. I'm still happy to sit in the light and answer all questions," Comey tweeted. "But I will resist a 'closed door' thing because I've seen enough of their selective leaking and distortion. Let's have a hearing and invite everyone to see."
The subpoena calls Comey to testify as part of the congressional inquiry into allegations of anti-Trump bias that led to the shutting down of the probe of Hillary Clinton's private email server and the opening of the investigation into purported ties between the Trump campaign and Russia.
Comey's tweet partly confirms a story published in Politico that reported that the former FBI director and former President Barack Obama's attorney general, Loretta Lynch, had both been subpoenaed.
A source told Fox News that Lynch and Comey had indeed been subpoenaed. So far Lynch has not made any public statement on the subpoena.
The office of Rep. Bob Goodlatte, R-Va., the outgoing chair of the House Judiciary Committee, was also unavailable for comment.
Comey has been the target of attacks by both Trump and Republicans for his time at the head of the FBI, with the president labelling the investigation into allegations of collusion between his campaign and Russia – now headed by Special Counsel Robert Mueller – a "witch hunt."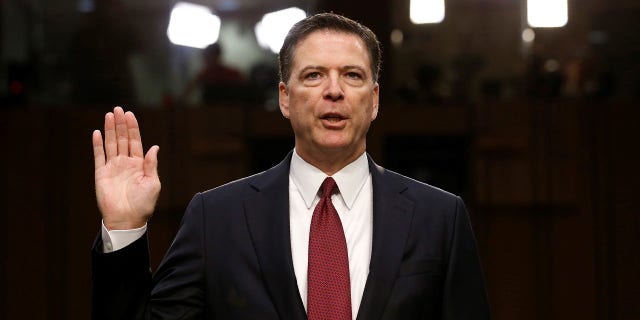 Democrats, however, argue that the GOP-led investigation in the House is itself a partisan move to undermine Mueller's investigation and have promised to renew investigations of their own into Trump's attacks on the FBI and Justice Department when they take the House majority in January.
In a statement sent to Fox News, Comey's lawyer, David Kelley, said: "Mr. Comey embraces and welcomes a hearing open to the public, but the subpoena issued yesterday represents an abuse of process, a divergence from House rules and its presumption of transparency. Accordingly, Mr. Comey will resist in Court this abuse of process."
The news of the subpoenas comes on the heels of a busy week in the Mueller investigation that saw Trump provide the special counsel with written answers to questions about his knowledge of Russian interference in the 2016 election, his lawyers said Tuesday, avoiding at least for now a potentially risky sit-down with prosecutors.
The compromise outcome, nearly a year in the making, offers some benefit to both sides. Trump at least temporarily averts the threat of an in-person interview, which his lawyers have long resisted, while Mueller secures on-the-record statements whose accuracy the president will be expected to stand by for the duration of the investigation.
The responses may also help stave off a potential subpoena fight over Trump's testimony if Mueller deems them satisfactory. They represent the first time the president is known to have described to investigators his knowledge of key moments under scrutiny by prosecutors.
Also this week, it was revealed by the New York Times that Trump told his counsel's office last spring that he wanted to prosecute Clinton and former FBI Comey, an idea that prompted White House lawyers to prepare a memo warning of consequences ranging up to possible impeachment.
Then-counsel Don McGahn told the president he had no authority to order such a prosecution, and he had White House lawyers prepare the memo arguing against such a move, The Associated Press confirmed with a person familiar with the matter who was not authorized to discuss the situation. McGahn said that Trump could request such a probe but that even asking could lead to accusations of abuse of power, the newspaper said.
The Associated Press contributed to this report.