Colorado judge refuses to block recall elections over gun control votes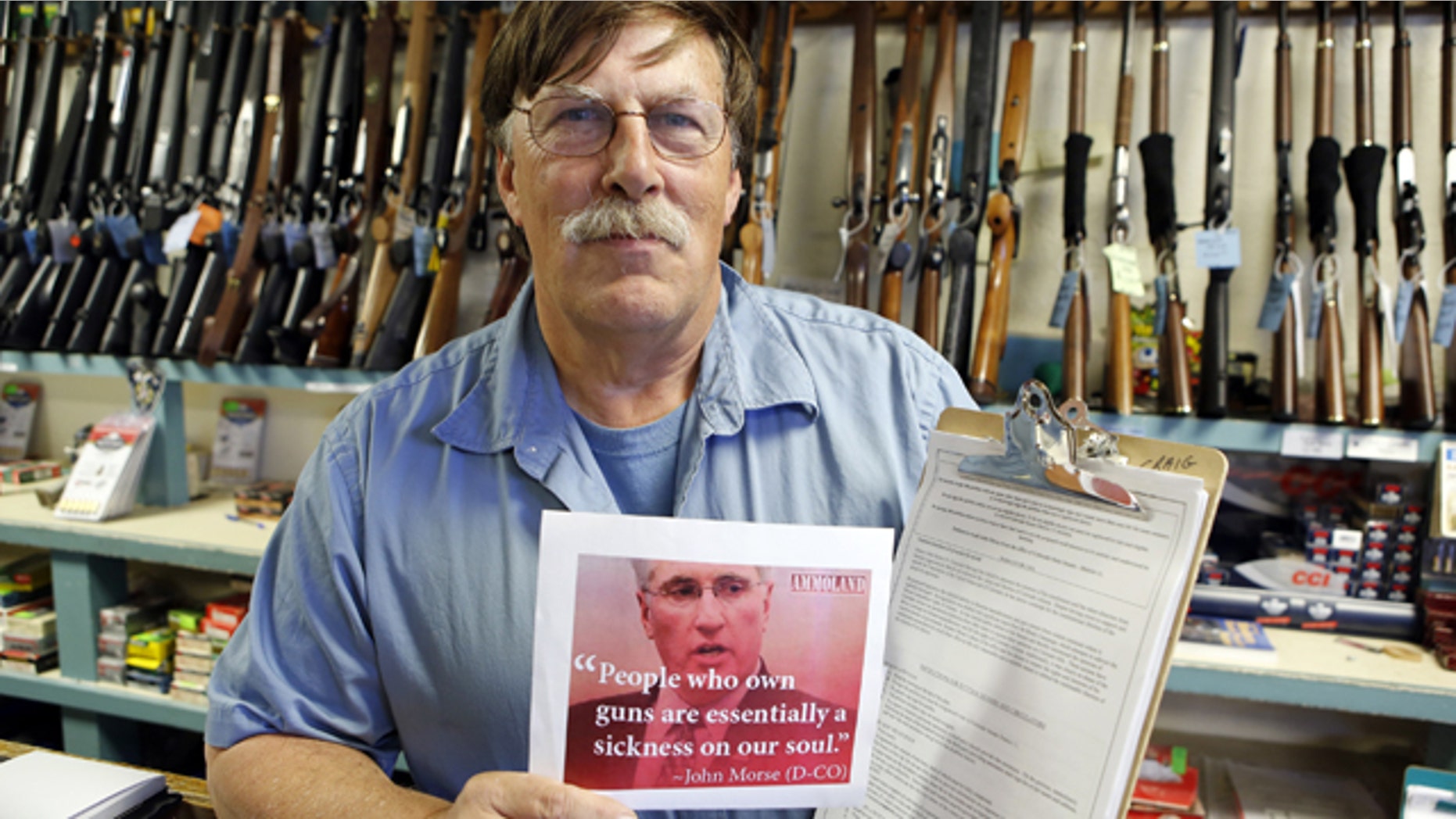 DENVER – Two Democratic Colorado state senators who supported gun restrictions won't appeal a Denver judge's ruling Thursday refusing to stop recall elections against them, meaning their political fate lies with voters now.
Denver District Court Judge Robert Hyatt ruled against Senate President John Morse of Colorado Springs and Pueblo Sen. Angela Giron, who tried to have recall elections blocked because of missing wording on the petitions to recall them.
Morse and Giron argued the petitions were invalid because they didn't ask for an election for a successor, as detailed in the state Constitution. Hyatt ruled that the successor language isn't required and that the petitions were acceptable and shouldn't be thrown out on "hyper-technical grounds."
The lawmakers sought a preliminary injunction from the judge, which prompted the ruling. Afterward, Gov. John Hickenlooper signed an executive order setting elections for both senators on Sept. 10. They will be the first recall elections ever for a Colorado state legislator.
"I have already been elected twice, I am excited by the prospect of being elected a third time," Morse said in a statement announcing he won't continue his legal challenge. Giron also said she won't appeal.
"This last legislative session was my best yet and this is a great opportunity to continue talking to folks in Pueblo about all our successes," she said in a statement.
Both lawmakers are being targeted because of their support for legislation that limits most ammunition magazines to 15 rounds and an expansion of background checks to include online and private firearm sales. Most Colorado sheriffs are also suing to overturn the laws, which took effect July 1.
Proponents of the recall and the sheriffs suing said the new laws violate the Second Amendment.
Attorney Mark Grueskin, who represented Morse and Giron, had argued that the recall petitions that were circulated for both lawmakers didn't tell signers everything they needed to know.
The petitions asked whether the lawmakers should be recalled but didn't ask whether an election should be held to appoint a successor. Grueskin argued that omission should invalidate every signature.
Richard Westfall, an attorney for the recall petitioners, said they followed the rules and relied on the guidance of elections officials who provided a form template used for recalls for years. The recall language Grueskin and Democrats argue is so critical is procedural, he said.
"There's no question whatsoever that the proponents of this case acted in complete good faith and tried mightily to comply with laws," Westfall said.
Grueskin said the fact the recall template language has been used for so long by secretaries of state posed a conundrum: "If government makes a mistake often enough does it stop becoming a mistake?"
Hyatt ruled the language isn't an "essential inclusion" in recall petitions.
"Colorado citizens' right to exercise the power of recall is a fundamental right, the exercise of which is to be liberally construed," he said.
While Giron's district favors Democrats, Morse faces a tougher challenge. When he was re-elected in 2010, he won by a couple hundred votes.