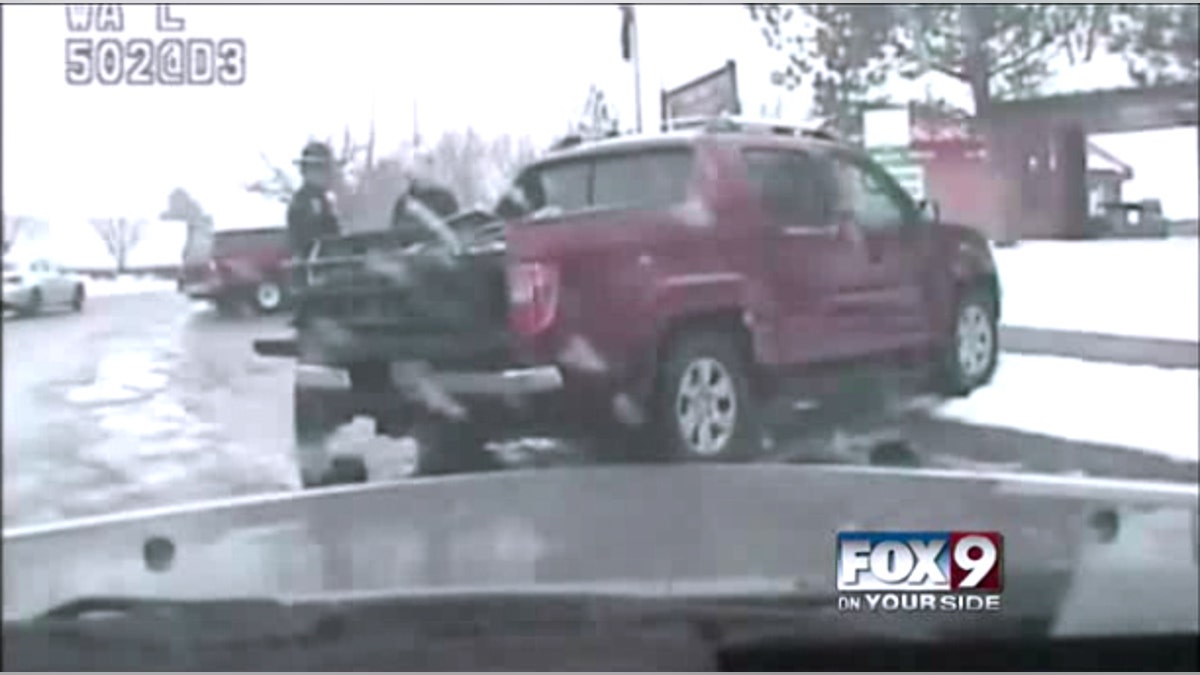 Colorado drivers claim they're being unjustly targeted by police officers in other states who are singling them out because of their state's recent legalization of marijuana.
Legal experts predict the complaints will soon lead to a string of "license plate profiling" lawsuits -- one of which already has been filed in Idaho.
Darien Roseen, a 70-year-old retiree, was returning home from his daughter's baby shower in Washington state in January when he was followed into an Idaho rest stop by a state trooper. A dash-cam shows Roseen -- who was driving a vehicle with a Colorado license plate -- being subjected to questioning over marijuana he did not have. His car was searched multiple times, and he was subsequently detained by police. On March 26, he sued the Idaho State Police for alleged license plate profiling as well as civil rights violations, according to the federal lawsuit obtained by FoxNews.com.
"The dash cam video shows that the trooper would not have been behind our client had it not been for the plate he had on his car," Roseen's Idaho-based attorney, Mark Coonts, told FoxNews.com on Tuesday.
According to the complaint, Idaho State Trooper Justin Klitch was parked in a median along Interstate 84 when Roseen's Honda Ridgeline truck with Colorado license plates was seen crossing from Oregon into Idaho. Immediately after Roseen passed Klitch's location, the trooper "pulled out from the Interstate median, rapidly accelerating to catch up with Mr. Roseen's vehicle," the lawsuit alleges. At the same time Klitch drove onto the highway, Roseen activated his turn signal and moved from the left lane into the right lane, proceeding to exit the highway into a designated rest area, Coonts said.
Klitch followed the driver into the rest area -- much to his surprise -- and "accused Mr. Roseen of having something in his vehicle that he should not have in his vehicle," according to the lawsuit.
"Trooper Klitch told Mr. Roseen that he would be calling a drug detecting canine to come and walk around the vehicle. After Mr. Roseen identified his possession of valid prescription medications, Trooper Klitch asked him, 'When is the last time you used any marijuana?', thereby assuming that Mr. Roseen had, in fact, used marijuana and inferring that he had used it recently," the lawsuit states. "Mr. Roseen did not commit any traffic offense while driving on the highway, and his exiting off of the highway into the rest area was not prohibited and he exited in a legal fashion."
Roseen can be heard on the dash-cam telling the officer that, "I have not used marijuana in my entire life."
Roseen and his truck were subjected to an hours-long search by Klitch and other officers and the man was later taken into police custody for further questioning. In the end, Roseen was handed a "citation for inattentive/careless driving," according to the complaint.
The incident occurred less than a month after Colorado's recreational marijuana shops began legally selling the drug.
In a statement on its website, the Idaho State Police claims it did not receive a complaint from Roseen prior to the filing of his lawsuit and said it "holds all of its employees to a high standard which includes following the Constitution of the United States and the laws and constitution of the State of Idaho."
Legal experts say Roseen's lawsuit -- one of the first of its kind -- will likely lead to similar legal complaints as drivers with Colorado plates report being pulled over and questioned about drugs.
"If law-abiding Colorado drivers are being stopped without cause because officers have a 'hunch' that the driver possessed drugs, then the amount of lawsuits will likely increase greatly," said Mark Bederow, a New York-based criminal defense attorney and former prosecutor.
"'License plate profiling' and detaining a motorist merely because his vehicle is registered in Colorado is plainly unconstitutional under the Fourth Amendment," he told FoxNews.com.
But, Bederow noted, "prevailing in such a lawsuit will be difficult if the driver committed even a minor traffic violation."
"Under federal law, an officer may stop a vehicle as long as he has probable cause to believe that a traffic violation occurred, even if his subjective intent is to seek evidence of drug possession for which he lacks probable cause," Bederow said. Still, he said, "an officer still violates the Fourth Amendment if his subsequent actions are unreasonable."
The Idaho State Police did not provide additional comment on the lawsuit when contacted by FoxNews.com.
On Jan. 26, a similar incident occurred involving a Colorado driver who was pulled over in Nevada as he and his girlfriend were traveling from California. An undercover Nevada police officer reportedly pulled 57-year-old David Adkins off the road on suspicion of drug possession.
"There was no reason for him to pull us over," Adkins told KRDO.com. "Only because we had a Colorado license plate and he stuck his head in there and started sniffing as soon as he came up to the car."
Adkins' girlfriend, Kay Harmon, told the station that the officer "didn't ask for license, registration, nothing."
Similar complaints by Colorado drivers have also been reported in states like Illinois and Missouri.