Colombian President Wets Pants During Re-election Campaign Speech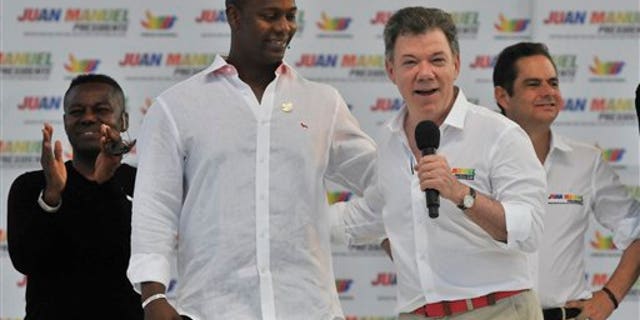 It's not often that a political candidate's re-election campaign speech goes viral.
But no doubt Colombian President Juan Manuel Santos would have liked the video of his speech over the weekend in the coastal city of Barranquilla to have gone viral because of the power of his message, or mesmerizing oratorical style, instead of The Spot.
Video of the speech shows a spot appearing and spreading on Santos' pants – which unfortunately were a light tan color – during his speech to supporters.
The incident, which became known worldwide after someone uploaded the video, set off speculation about whether Santos had health problems which might preclude him from continuing as governor.
Santos, who appeared unaware that he was wetting his pants as he continued speaking, underwent surgery in October 2012 for prostate cancer.
On Tuesday, he shot back at those who poked fun at the incident, saying that his political opponents have behaved "without mercy."
In a statement quoted by Colombia Reports, Santos said: "At the launch of my presidential campaign I suffered what is known as an accidental incontinence, due to [an] operation, which I underwent a year and a half ago to remove prostate cancer."
Santos said it is "a mishap that can happen to any human being."
On Wednesday, the president took to Twitter to thank those who had showed compassion.
"Thank you to all Colombians who have expressed to me understanding and good wishes over what occurred this past Sunday."
Santos also said, according to Colombia Reports, that he would be consulting about the matter with a doctor. The country's presidential is scheduled for May 25.
Follow us on twitter.com/foxnewslatino
Like us at facebook.com/foxnewslatino