'Clunkers' Critics Question Move to Extend Funding for Program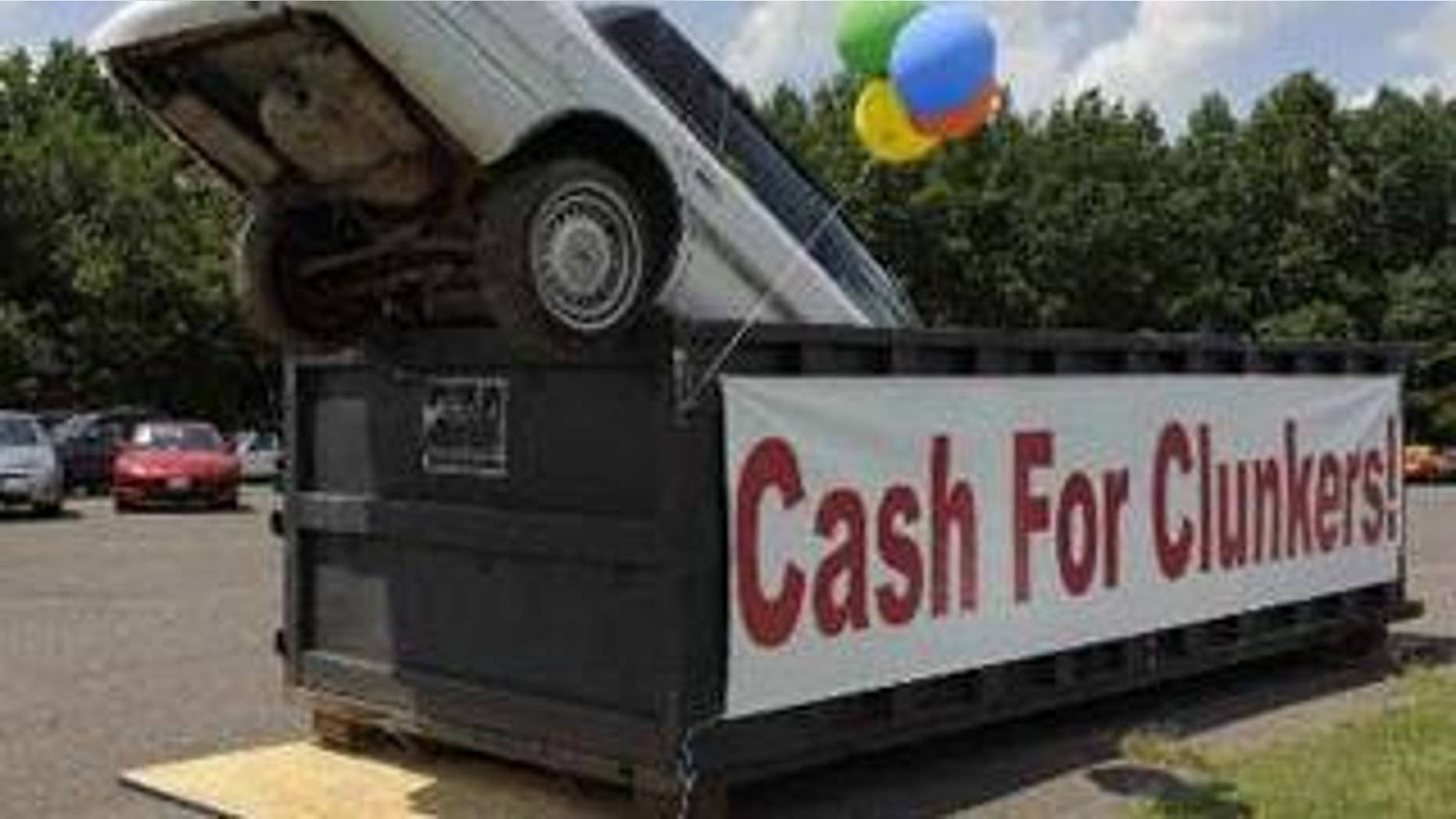 The cash for clunkers exchange program has turned lawmakers into victims of their own success. Now some senators are questioning why taxpayers should continue to foot the bill for something that, according to supporters, has already achieved its goals.
The program, approved in June, pays people to trade in their gas-guzzling "clunkers" for new, fuel-efficient cars. It has helped boost auto dealers' sales numbers, and it's gotten a heap of inefficient vehicles off the road.
But the program, which was set to expire on Nov. 1, has already spent pretty much all of the $1 billion the government set aside for it, leading Transportation Secretary Ray LaHood to say that the "wildly popular" program should be extended with additional funds.
The House voted to give the program a $2 billion lifeline on Friday, and LaHood now is putting pressure on the Senate to approve the extension before it adjourns for August recess at the end of the week. He said Monday he expects it will pass.
A senior Democratic adviser told FOX News that Senate leaders hope to act on the extension later this week.
But while the $1 billion was drained faster than expected, there was never a mandate in the original legislation that said the program had to last until November.
"Program runs through Nov 1, 2009 or when the funds are exhausted, whichever comes first," reads the government Web site for the "clunkers" program.
The exhaustion of funds simply came before the expiration date. Republicans are suggesting it's too late to change the allocation now.
"I just think this is a great example of the stupidity that's coming out of Washington right now," Sen. Jim DeMint, R-S.C., said on "FOX News Sunday," adding that the Senate needs to "slow this thing down."
"We estimated this would cost $1 billion," DeMint said. "Now they're saying we need $2 billion more. Our children and grandchildren can't afford to make these car dealers well right now."
Sen. John McCain, R-Ariz., says he's "strongly opposed" to the extension, though he said Monday he would not filibuster it.
Senate Minority Leader Mitch McConnell, in prepared remarks, said Monday that the lifeline request just shows how poor the original spending estimates were.
Though supporters are talking about pulling the additional $2 billion from existing stimulus funds, that hasn't quelled Republican concerns.
McConnell spokesman Don Stewart said that cash is still "borrowed money."
"They can say it's paid for, but it's paid for with a credit card. ... It's like making your minimum payment through a cash advance of another credit card," he said.
However, because the "clunkers" program was originally authorized at $4 billion -- not $1 billion -- some supporters had wanted to review its funding this fall anyway to see if more money could be allocated.
One House Democratic aide said representatives who backed the bill originally wanted to provide enough money for 1 million cars, or $4 billion.
The aide said that number was reduced to 250,000 cars, or $1 billion, so it could pass the Senate -- which was a much tougher sell than the House.
"Everybody expected we would be revisiting it," the aide said.
The aide said the program has been an "enormous success" and should be continued to help auto dealers come out of the recession, help stimulate the economy overall and help improve the environment.
"It's a triple play," the aide said.
According to statistics from the Department of Transportation, most of the trade-ins through the program have been fuel-inefficient SUVs like Ford Explorers made in the 1990s.
They're being traded in most commonly for cars that are considerably more fuel efficient. They are a mix of American and foreign-made vehicles -- the top five cars that were bought were the Ford Focus, Honda Civic, Toyota Corolla, Toyota Prius and Ford Escape.
Under the plan, owners of gas-guzzlers can receive rebates of $3,500 or $4,500 toward the purchase of a new fuel-efficient car. LaHood said 62 percent of the traded-in vehicles were trucks, and "these people are buying cars that get much better gas mileage."
The program helped lift Ford Motor Co. to its first monthly sales increase in two years, the company's top sales analyst said Sunday.
July sales results mark the first year-over-year gain for Ford since November 2007 and apparently the first uptick by any of the six biggest carmakers since last August, sales analyst George Pipas said.
"We were having a good month -- and Ford's been having some good months lately -- but the (clunkers) program really put us over the top for sure," Pipas said.
The National Automobile Dealers Association said in a written statement that the program has been "very successful," and that it "aggressively supports" additional funding to sustain it.
White House Press Secretary Robert Gibbs said Monday that if the Senate doesn't approve the $2 billion, the program will probably end Friday.
But aside from GOP concerns, some Senate Democrats are raising questions too.
Sens. Dianne Feinstein, D-Calif., and Susan Collins, R-Maine, who along with Chuck Schumer, D-N.Y., worked on the earlier Senate bill, released a skeptical statement last week saying they want requirements for consumers to purchase more fuel efficient cars through the program.
"We will not support any bill that does not meet these goals. We will insist than any extension of the program requires that the minimum fuel economy improvement for newly purchased vehicles be at least two miles per gallon higher than it is under the enacted Clunkers program. It is also important to include lower-income consumers who are disadvantaged under the current program," they wrote.
Not all dealers are on board either.
Jim Anderer, a Mitsubishi dealer in New York, told FOX News the expense to taxpayers is unfair.
"I don't think this is a function of government. ... And it does nothing to help the unemployment rate," he said. "Where does it end?"
FOXNews.com's Judson Berger and FOX News' Trish Turner and The Associated Press contributed to this report.