Clinton to Announce 'Massive' List of U.S.-Funded Aid Projects for Pakistan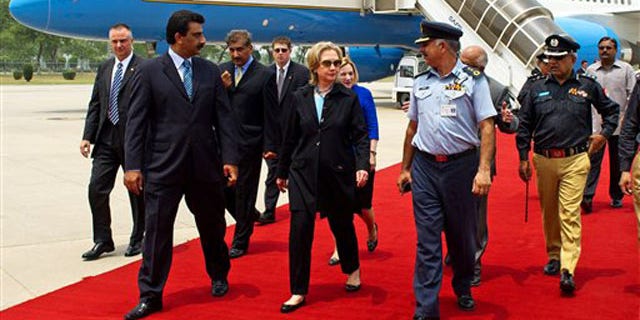 Secretary of State Hillary Clinton plans to announce a "massive" list of U.S.-funded projects for Pakistan on Monday as she begins her trip to South Asia aimed at boosting Afghan-Pakistani cooperation and refining the goals of the war.
The secretary of state arrived Sunday in Islamabad where she met with Pakistani President Asif Ali Zardari and Prime Minister Yusuf Raza Gilani. Clinton is seeking to convince Pakistanis that the U.S. is committed to the country's long-term development needs and not just short-term security gains.
She will meet with more military and civilian officials on Monday and roll out $500 million worth of development projects for Pakistan, where anti-American sentiment runs deep.
A senior U.S. official said the "massive" list of projects will include a water program aimed at helping the country use water more efficiently and a dams project to help with the energy crisis and bring more homes onto the electrical grid. The projects are funded by a U.S. aid bill sending $1.5 billion a year for five years to Pakistan.
Pakistan and Afghanistan also sealed a landmark trade deal Sunday as Clinton looked on. The deal, reached only after years of negotiation with recent and very active U.S. encouragement, eases restrictions on cross-border transportation -- it must still be ratified by the Afghan and Pakistani parliaments. U.S. officials said they believe it will significantly enhance ties between the two countries, boost development and incomes on both sides of the border and contribute to the fight against extremists.
U.S. Special Representative Richard Holbrooke said the U.S. engagement with Pakistan has made "an enormous difference" in the U.S.-Pakistan relationship.
Holbrooke adviser Vali Nasr said there was a "huge trust gap" which will take time to overcome. But he said the relationship is "far more fruitful" than it was last year when U.S. officials were concerned about the foreign government's commitment to fighting terrorists.
Officials hope the development projects will lead to greater Pakistani cooperation on key U.S. policy goals, particularly combating Pakistan-based militants accused of conspiring to attack the United States, including the failed Times Square bombing, and stepping up action against extremists along the Afghan border.
"To get there we need to change the core of the relationship with Pakistan," said Holbrooke.
Holbrooke noted that when Clinton visited Pakistan last October she had "waded into continually hostile and skeptical crowds." But he maintained that the new U.S. focus is "producing a change in Pakistani attitudes, first within the government and gradually, more slowly, within the public."
Still, he and other officials concede, mistrust of America runs deep in Pakistan, particularly over unmanned drone strikes which are aimed at militants but kill or maim civilians and to many Pakistanis represent an unacceptable violation of sovereignty.
Equally important, officials say, is getting Pakistan and Afghanistan on the same page.
Holbrooke said last week that "nothing could be more important to the resolution of the war in Afghanistan than a common understanding between Afghanistan and Pakistan on what their strategic purpose is."
After Pakistan, Clinton will attend an international conference on Afghanistan in Kabul on Tuesday.
Security has been tightened across the capital ahead the conference, which will be attended by diplomats from 60 nations as well as the heads of NATO and the United Nations.
Still on Sunday, a suicide bomber in the eastern section of Kabul killed three civilians and injured dozens more.
Clinton's visit to Afghanistan comes as American lawmakers and voters are increasingly questioning the course of the drawn-out war with rising death tolls among U.S. and international troops and growing questions about corruption.
Last month was the deadliest of the war for international forces: 103 coalition troops were killed, despite the infusion of tens of thousands of new U.S. forces. So far in July, 54 international troops have died, 39 of them American. An American service member was killed by a blast in eastern Afghanistan on Saturday, and an American died in a blast in the south on Friday.
Later in the week, Clinton will meet up with U.S. Defense Secretary Robert Gates in South Korea, where tensions with the communist North have risen after the sinking of a South Korean warship that was blamed on the North.
She will finish her trip in Vietnam for discussions with regional leaders. Among the topics will be the upcoming elections in Myanmar.
The Associated Press contributed to this report.