Clinton camp taps ex-Interior chief Ken Salazar to lead transition team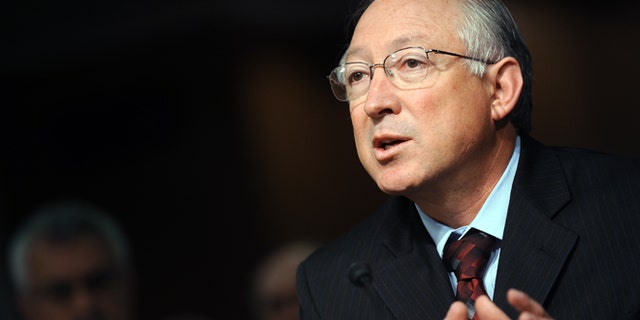 NEWYou can now listen to Fox News articles!
Hillary Clinton has tapped former Interior Secretary Ken Salazar to lead her White House transition team.
Salazar will chair a team that also includes former National Security Adviser Tom Donilon, former Michigan Gov. Jennifer Granholm, and longtime Clinton allies Neera Tanden and Maggie Williams.
"Once Hillary Clinton makes history by being elected as the nation's first woman President, we want to have a turnkey operation in place so she can hit the ground running right away," Salazar said in a press release. "A Clinton-Kaine administration will build on the progress we've made under President Obama, and tackle a new set of challenges both at home and abroad. This transition team will undertake the preparations necessary to ensure our next President has the resources and staff to carry out this all-important work."
Prior to his role at Interior Secretary under President Barack Obama, Salazar was U.S. Senator from Colorado from 2005-2009. From 1999 until his election to the U.S. Senate, Salazar served as Attorney General for Colorado. He currently works as a partner at the international law firm WilmerHale.
The transition team will oversee planning for a potential Clinton administration should the Democratic nominee win in November.
"We are extremely pleased that such an accomplished group of public servants has agreed to lead the transition planning for a potential Clinton-Kaine administration," said John Podesta, the Chair of Hillary for America. "While our campaign remains focused on the task at hand of winning in November, Hillary Clinton wants to be able to get to work right away as President-elect on building an economy that works for everyone, not just those at the top. These individuals, who bring a deep level of experience in the work of presidential transitions, will help us build a team that is ready to govern after the general election."
Republican Donald Trump has tapped New Jersey Gov. Chris Christie to lead his transition efforts.
By law, both nominees have access to offices in Washington and other resources to begin planning for their potential administrations. A 2010 law, known as the Pre-Election Transition Act, formalized the process and provided new resources to both party nominees so they each could take steps ahead of the general election to ensure a seamless transition.
The Associated Press contributed to this report.
Like us on Facebook
Follow us on Twitter & Instagram