Cities Discovering an Arizona Boycott May Do More Harm Than Good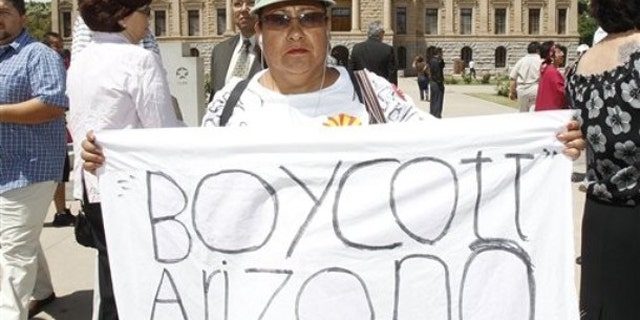 Boycotting Arizona is harder than it sounds.
Though the passage of the state's immigration law was met in late April with immediate threats to cut ties with Arizona in protest, a number of cities have either scaled back or created exemptions to their own boycotts.
The resolutions also have demanded a mountain of work by officials at the city level tasked with reviewing hundreds of internal contracts for any trace of Arizona to see whether it's prudent to cut ties. As the review process gets underway, the result may be a patchwork of targeted boycotts rather a blanket ban on all things Arizona.
The Los Angeles City Council was the latest to amend its boycott last Wednesday, when lawmakers voted to make an exemption so that an Arizona-based company that operates enforcement cameras at Los Angeles intersections can continue to do business there.
The program earned the city $6 million last year. City officials cited economic as well as public safety concerns in arguing to extend the contract with American Traffic Solutions, based in Scottsdale. Los Angeles Councilman Richard Alarcon said the boycott was "never intended to impede public safety."
Assistant City Attorney Terry Martin Brown noted that the contractor has an office in California that employs California residents.
But several other cities, mostly in California, also have been modifying their stance on Arizona in recent weeks.
The San Jose City Council this month opted against a full-fledged boycott in favor of a resolution that merely condemned Arizona's law and put a halt on official travel there. Officials expressed concern about the importance of the contracts the city had with Arizona firms.
Then the Sacramento City Council imposed a boycott, but decided to keep an existing contract with Arizona-based Taser International. According to Fox40, the city's police force buys tasers and other equipment from the company and did not find it "practical" to end the contract -- since it would be too expensive to find another seller.
Several of the cities that enacted boycotts left wiggle room in the language so that officials could pick and choose which contracts to end.
In Berkeley last month, the city passed a resolution to restrict "nonessential" city employee travel to Arizona and urge the city manager to refrain from entering into new contracts with firms that are headquartered in Arizona. The resolution urged the city manager to consider discontinuing existing contracts with such companies, but, according to a council memo, only when doing so would be "consistent with the terms of those contracts and principles of fiscal responsibility."
"It's taxpayers' money -- we don't joke about that," said city manager spokeswoman Mary Kay Clunies-Ross, explaining that any exemptions would depend on "a lot of factors."
She said that while Berkeley has not renewed or entered into any new contracts with Arizona businesses, the city has not discontinued any existing deals. She said city officials have been busy balancing the budget and screening new contracts and haven't even gotten to the stage of reviewing existing contracts. Unsure what the city's business ties with Arizona are, she said it would probably take until fall to review that.
"They'll go through all of them. ... It's going to take a lot of time," she said.
In Oakland, the City Council recently approved a $1 million contract with an ad firm that has corporate offices in Arizona despite imposing an anti-Arizona boycott. The Bay Citizen reported that city officials justified the exemption by saying their city's boycott -- like Berkeley's -- specified that targeted companies must be "headquartered" in Arizona. Clear Channel Outdoor lists its headquarters as San Antonio.
Still, cities' and organizations' decisions to cancel conventions and other events in Arizona has alarmed state officials. Rep. Gabrielle Giffords, D-Ariz., has started a letter-writing campaign to urge groups threatening boycotts to reconsider. She alleged last week that both the federal Department of Education and Border Patrol had moved scheduled events out of Arizona over the immigration law, though Border Patrol disputed the claim.
"A boycott is absolutely misguided," she told Fox News. "It's ill-conceived, and it hurts the very people that we all say that we want to be helping -- middle-class American families."
Those pushing the boycotts say they make an important statement against a law that could lead to racial profiling. Arizona's law makes illegal immigration a state crime and empowers local police to question suspects on their immigration status.
Berkeley, in its official report on the city's boycott, said the Arizona bill will "inevitably lead to racial profiling, jeopardizes public safety and creates a wedge between law enforcement and ethnic communities."