Chris Christie: Cameras catch NJ gov lounging on closed beach during budget impasse
Chris Christie enjoyed his own private beach on Sunday by soaking up the sun on a waterfront Jersey Shore park that was closed to the public because of a budget standoff between the governor and legislators in Trenton.
Photos taken by NJ Advance Media show the portly politician lounging on a chair at Island Beach State Park Sunday while his family catches some sun and plays paddle ball in the sand.
The images were taken before Christie headed to Trenton to hold a news conference — about the government shutdown. When asked about if he got to enjoy the clear summer day Christie demurred.
"I didn't," he said. "… I didn't get any sun today."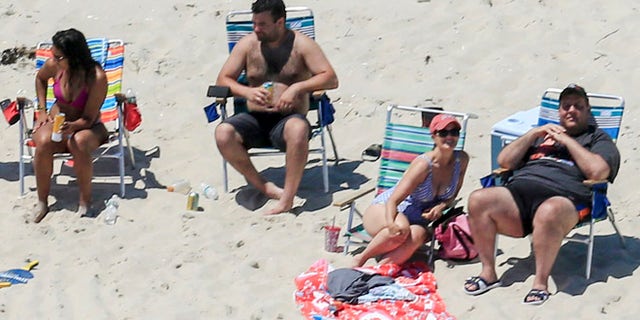 Christie's spokesman was later told about the photos and claimed the governor's baseball hat shielded him from any potential sun rays.
"Yes, the governor was on the beach briefly today talking to his wife and family before heading into the office," the spokesman, Brian Murray, told NJ.com. "He did not get any sun. He had a baseball hat on."