Children's Author-in-Chief: Obama to Release New Book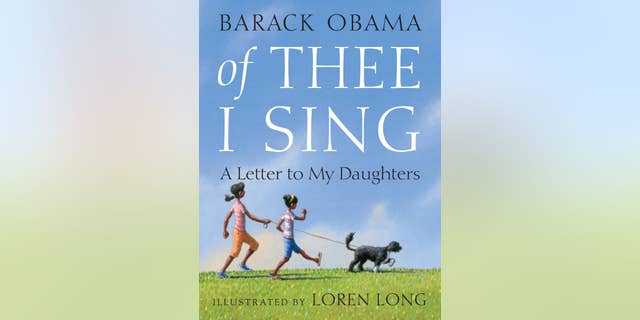 President Barack Obama is already a best-selling author, but he'll reach out to a whole new audience when his first children's book is released this fall. "Of Thee I Sing: A Letter to My Daughters" will appear in bookstores November 16th.
In a statement, the publishers say the president's daughters, Sasha and Malia, inspired him to write the book, which is "a moving tribute to thirteen groundbreaking Americans and the ideals that have shaped our nation-from the artistry of Georgia O'Keefe, to the courage of Jackie Robinson, to the patriotism of George Washington." The book is published by Alfred A. Knopf Books for Young Readers, a division of Random House.
The manuscript was written, and the book deal signed, before the President Obama's inauguration in January of 2009, according to Random House.
The White House referred calls to the President's lawyer, Bob Barnett, who has also brokered book deals for Bill and Hillary Clinton, Tony Blair, Alan Greenspan, Lynne Cheney, Bob Woodward and many others. When contacted by Fox News, Mr. Barnett offered no financial details. However, according to a disclosure report filed in 2005,"Of Thee I Sing" is part of a $1.9 million, three-book deal reached with Random House in 2004 when Obama was a U.S. Senator from Illinois.
Barack Obama has already had two books on "The New York Times" Bestseller's List. Dreams of My Father, a personal memoir first published in 1995, and The Audacity of Hope, a 2006 work describing Obama's political positions, together account for 6.6 million copies in print.
Thirteen U.S. Presidents wrote books during their careers, but only six were top-selling authors: Dwight Eisenhower, John F. Kennedy, Jimmy Carter, Ronald Reagan, Bill Clinton and Barack Obama. Of Thee I Sing is illustrated by Loren Long, an award winning author and illustrator. According to Barnett, Long has spent much of the past two years creating the illustrations, each one a carefully executed painting.
Obama's 40-page book will have a first printing of 500,000 copies and a list price of $17.99.Proceeds from the sale of the book will be donated to a scholarship fund for the children of fallen and disabled American soldiers.
IMAGE CREDIT:
Book Cover/Random House