Chamber of Commerce vows to fight ObamaCare employer mandate in 2014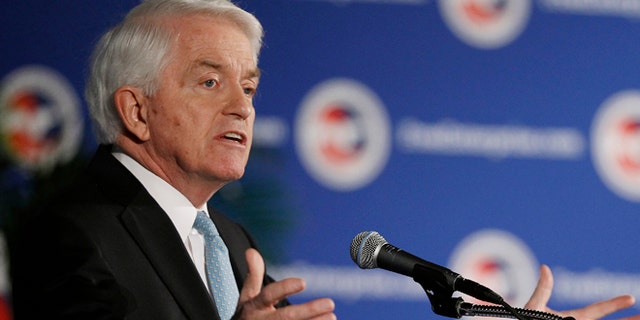 The head of the U.S. Chamber of Commerce vowed Wednesday to fight ObamaCare's so-called employer mandate and other "onerous" provisions in the year ahead, even as the pro-business group acknowledged the bill as a whole cannot be repealed in the current climate.
The agenda was outlined by Commerce President and CEO Thomas Donohue, in his annual Washington address. Though the law's requirement on mid-sized and large businesses to provide health coverage to workers was delayed by a year, Donohue said the Chamber still plans to lobby against that mandate in 2014.
"In 2014, we will work to repeal onerous health care taxes; repeal, delay, or change the employer mandate; and give companies and their employees more flexibility in the choice of health insurance plans," Donohue said. He also cited immigration reform, entitlement reform and more domestic energy production as other major objectives.
"We're not going to get rid of [the Affordable Care Act] so we're going to have to find ways to make it work," Donohue said afterward. "It's a massive tax bill. It's a massive rules-and-regulations system. And lots of people are worried about how they are going to get their health care."
In his speech, Donohue said the health insurance cancellations that "swamped" the individual market last year are expected to hit the small business market even harder this year. And many firms are not hiring and are cutting workers' hours because of the law's mandates, he said -- despite claims by the Obama administration to the contrary.
Donohue deflected a question after the speech about how long of a delay he wants for the employer mandate, which requires businesses with 50 or more full-time employees to offer insurance, saying only that he was speaking in "broad terms."
"We'll delay what we have to delay," he said. "Whatever we have to keep, we'll keep."
As further indication that the chamber doesn't support the ObamaCare repeal effort by the Tea Party and others in the most conservative wing of the Republican Party, Donohue suggested those trying to extract spending cuts or other deals when negotiating over raising the federal debt ceiling "are not helping us."
He also made clear the Chamber will support candidates in the 2014 elections who "want to work within the legislative process."
Despite the Chamber's apparent resignation to ObamaCare being here to stay, he said the group would "head to court to sue" if necessary to achieve its objectives on health care and other issues.
Donohue said the Chamber repeatedly warned Congress and the administration about ObamaCare's many flaws and argued problems with the president's signature law go beyond the rollout of the websites on which Americans buy insurance policies from private companies.
"The administration is obviously committed to keeping the law in place, so the Chamber has been working pragmatically to fix those parts of ObamaCare that can be fixed," he said. "Computers can be fixed."