Cartels, smugglers exploit border wall fears ahead of Trump presidency
NEWYou can now listen to Fox News articles!
MCALLEN, Texas – Mexican drug cartels and human traffickers are cashing in ahead of Donald Trump's inauguration by exploiting anxiety over his vow to build a border wall and crack down on illegal immigration – fueling the latest surge across the U.S.-Mexico line, according to local law enforcement.
The president-elect reiterated his pledge at a press conference Wednesday to build a "wall" – which he claims will curb illegal immigration, reduce gun violence and stop drugs from being smuggled into the country.
For now, however, the Obama administration's leniency, combined with concerns about Trump's crackdown, is seen as contributing to a spike in crossings from California to Texas.
"There's definitely a percentage of folks who believed that they can beat the clock," said Jose Villareal, chief of operations for the Border Patrol's Rio Grande Valley sector.
On a recent ride-along in south Texas, Cameron County Sheriff's Office Lt. Robert Rodriguez told FoxNews.com he has noted an increase in the flow of border crossers since Trump's White House win.
"I can feel the anxiety," Rodriguez said. "You can cut it with a knife."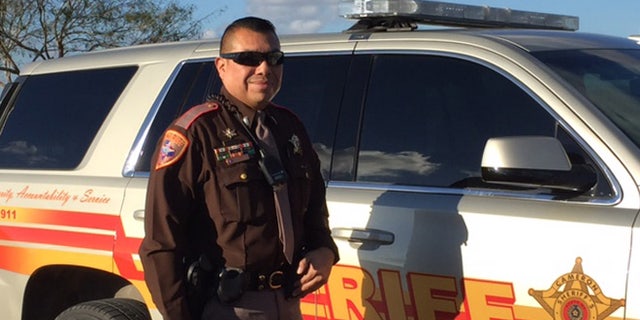 He said: "We see more and more people cross every day. ... The cartels are taking advantage of people being scared."
Rodriguez patrols a patch of road that includes the most southern tip of Texas. He's seen battered bodies float lifeless down the Rio Grande River and is no stranger to the sight of corpses – from babies to men in their 80s – littered along the land. Some were shot by drug lords, human traffickers and cartel members, while others were abandoned by their "coyotes" – paid guides to get them across the border.
He says moving people across the border is a high-stakes shell game that authorities at the local, state and federal level are losing.
Rodriguez, who says he's been in two shootouts, has seen people come over on foot and packed in passenger vehicles as well as ferried over the Rio Grande in rafts.
"This is ground zero of the problem," Rodriguez said of the route known as Farm to Market Road 1419 in Cameron County. As for the human carnage he has witnessed, he said, "You're a commodity. You're a thing."
And the traffickers who see border crossers this way are looking at boom times -- at least for now.
In November, U.S. Border Patrol apprehended 47,214 migrants along the southwest U.S. border – an increase of 44 percent compared with a year earlier. November was the Border Patrol's busiest month since June 2014. In the past six months, agents have caught nearly a quarter-million migrants -- about 1,300 a day -- trying to cross illegally.
"Smugglers are telling them that they need to come across now while there's a chance," Art Del Cueto, a Border Patrol agent in Tucson, Ariz., recently told Fox News.
In response, the U.S. Customs and Border Protection dispatched 150 more agents to police the southwestern border. They also opened two temporary facilities to detain thousands of people trying to come over illegally.
"CBP is prepared to add housing, beds, toilets and bathing facilities as necessary," it said in a statement. "CBP is addressing this migratory surge along the southwest border in a humane way, consistent with our border security mission and our American values."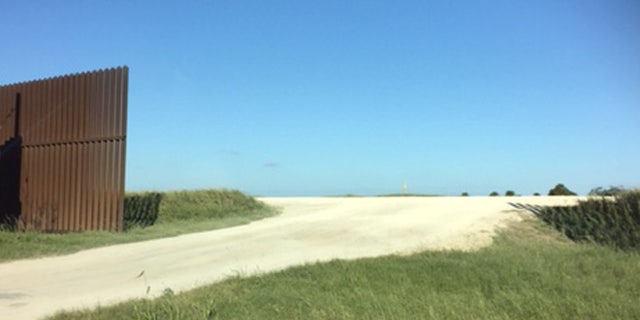 The border itself remains a challenge.
Of the 315 miles of border in the Rio Grande Valley, only 54 miles have a border fence. The sector, made up of 34,000 square miles of U.S. territory, accounts for more than half of the migrant apprehensions each year.
As the son of Mexican migrant workers who crossed the border illegally decades ago – they later became naturalized citizens – Rodriguez believes talk of the border wall is Washington window-dressing for a more complicated problem.
"Smugglers change their tactic all the time," he said, adding that with a wall, people can go "underneath it, over it or around it."
Most of the wall in Cameron County is 18 feet tall and made from rusty iron bars. In other parts, it's fence. At a cost of more than $6 million per mile to build, the barrier runs through people's backyards and farmers' fields. There are gigantic gaps along the way -- stretches where the wall abruptly stops.
"There are actually openings in the wall," Brownsville Mayor Tony Martinez told FoxNews.com. "I haven't seen people go around the wall or over the wall. I've seen them go right through those openings."
For some residents in the region, the rush of border crossers ahead of Trump taking office has bred fear.
One McAllen-area resident, who asked not to be named out of safety concerns for her young children, said she has seen a "big jump" in numbers.
"The area is enormous and there aren't enough [authorities] out here," she said. "We see people cross all the time. Could we say something? Should we? Of course, but what about our kids?"
Rodriguez says intimidation by cartel members is common and that scouts for coyotes and gangs are everywhere.
"One day, a resident complains and the next, there's a blacked-out SUV in front of their house," he said. "They get the message."