Calderon Criticism of Arizona Law Overlooks Mexico's Tough Immigration Policy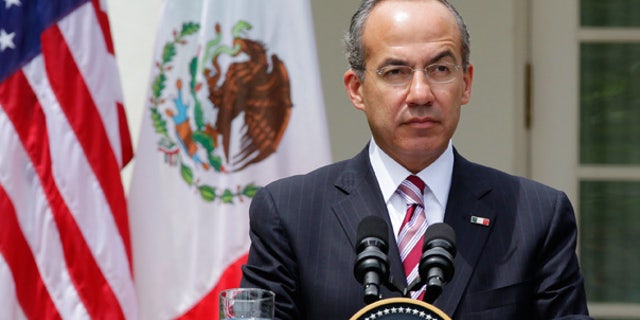 NEWYou can now listen to Fox News articles!
Mexican President Felipe Calderon has been ripping into Arizona's immigration law as he tours Washington -- while appearing to disregard the way his own country cracks down on immigrants along Mexico's southern border.
Mexico repeatedly has been cited by human rights groups for abusing or turning a blind eye to the abuse of migrants from Central America. Until recently, Mexican law made illegal immigration a criminal offense -- anyone arrested for the violation could be fined, imprisoned for up to two years and deported. Mexican lawmakers changed that in 2008 to make illegal immigration a civil violation like it is in the United States, but their law still reads an awful lot like Arizona's.
Arizona's policy, which Calderon derided on Wednesday as "discriminatory" and assailed again on Thursday, requires law enforcement to try to determine the immigration status of anyone they suspect of being an illegal immigrant -- provided they are already in contact with that person. They can't randomly stop people and demand papers and the law prohibits racial profiling.
The Mexican law also states that law enforcement officials are "required to demand that foreigners prove their legal presence in the country before attending to any issues."
Calderon, who addressed members of Congress Thursday morning, was facing criticism on Capitol Hill for his remarks.
Rep. Lamar Smith, R-Texas, ranking Republican on the House Judiciary Committee, called Calderon's comments inappropriate.
"It's a little bit like inviting a guest over for dinner and then having them criticize the food," he told Fox News. Smith wrote Secretary of State Hillary Clinton on Wednesday to complain that Mexican officials have "crossed the line and are interfering in the internal affairs of the United States."
Calderon said Wednesday that his country would retain its "firm rejection" of a policy where "people that work and provide things to this nation will be treated as criminals."
The comments came just weeks after Amnesty International issued a report claiming illegal immigrants in Mexico -- typically from Central America -- face abuse, rape and kidnappings, and that Mexican police do little to stop it. When illegal immigration was a criminal offense in Mexico, officials were known to seek bribes from suspects to keep them out of jail.
President Obama joined Calderon in criticizing the Arizona policy on Wednesday. He is trying to build support for a comprehensive federal immigration overhaul.