Bush Cuts Loose With Administration Alumni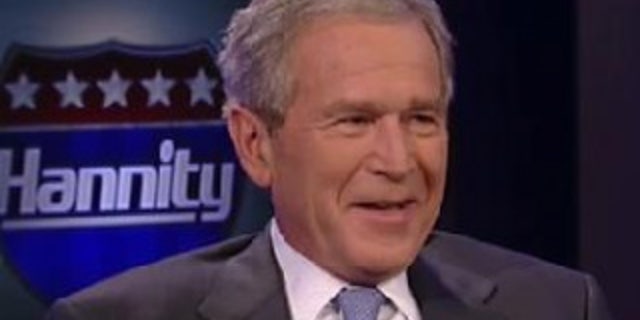 In a closed-door speech to alumni of his administrations, George W. Bush was in a freewheeling and reflective mood.
A Bush insider who was at the Thursday night event tells FOX News that the lengthy speech and question and answer session was like a more frank version of the interviews Bush has been doing as part of the book tour for his memoir "Decision Points."
On stage with former chiefs of staff Josh Bolten and Andy Card, Bush promised the alumni of his two administrations something they couldn't get on talk shows or even in the book.
"I didn't put everything in the book," Bush told the crowd. "Nobody reads a doorstop."
One of the first moments of levity came when Bolten went to the podium to read Bush a text message from U2 front man Bono thanking the 43rd president for his work in Africa fighting AIDS and poverty.
Bush then pretended to dictate a note "Dear Bono..."
When asked what he didn't get to do as president that he wanted, Bush talked about his failed effort to reform Social Security. He told the audience, a capacity crowd at the U.S. Chamber of Commerce auditorium, that he wished that they had dealt with immigration first - before it became such a hot button - and then turned to entitlement reform.
Bush lamented resistance to his Social Security plan among congressional Republicans, attributing it to short-term electoral concerns.
Bush was relaxed both in his remarks in during the question and answer session, riffing on topics and making many jokes.
"He seemed less guarded and like he was having a good time," said the former insider. "It was kind of a return to the more freewheeling President Bush we used to know."
Bush expressed regret for having used the phrase "bring 'em on" talking about America's adversaries in the War on Terror. Bush made a joke that using the now infamous phrase was at least better than saying the U.S. would "kick their asses."
Asked if he would go back to Iraq, Bush rebuffed the idea, saying that he thought it would confuse the situation for a former president to be there.