Bryant Wins Mississippi GOP Gubernatorial Primary, Dems to Runoff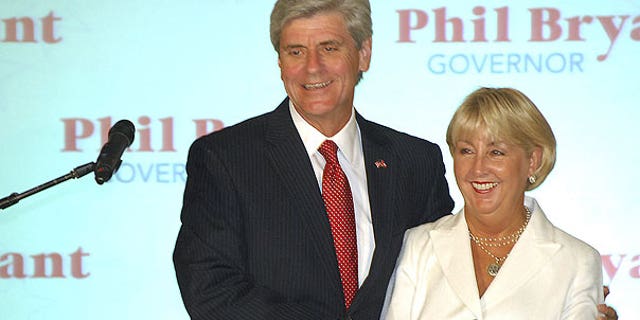 NEWYou can now listen to Fox News articles!
JACKSON, Miss. – Lt. Gov. Phil Bryant won a five-man Republican primary for Mississippi governor while the election to determine his Democratic opponent went into a runoff.
After Tuesday's primary, Hattiesburg Mayor Johnnie DuPree and Clarksdale attorney and businessman Bill Luckett are headed to an Aug. 23 runoff for the Democratic nomination for governor.
Construction executive Dave Dennis ran second in the Republican primary, ahead of businessman Ron Williams, Pearl River County supervisor Hudson Holliday and former state employee James Broadwater.
Bryant, 56, said Tuesday night that he'll immediately turn his energy toward the Nov. 8 general election.
"We'll be continuing our discussion about jobs and helping move our educational system forward and changing this budget system that we've always talked about," Bryant said in a telephone interview before giving a victory speech to supporters at the Old Capitol Inn in downtown Jackson.
In the Democratic contest, DuPree, 57, and Luckett, 63, were followed distantly by teacher William Bond Compton Jr. and retired tax assessor Guy Dale Shaw.
"I'm proud of the showing tonight," DuPree said from a campaign party in Hattiesburg. "I think we showed that we are a viable candidate. I'm proud that we had the volunteers to do what we did."
DuPree said he had spoken to Compton and Shaw, who pledged their support for him in the runoff.
In an interview from his Ground Zero Blues Club in Clarksdale, Luckett said he plans to campaign hard the next three weeks.
"We're getting started first thing in the morning and we're going to get after it," Luckett said. "We're certainly going to analyze where our strengths are and keep building our base of support that is growing. I'm new at this. I'm not a politician and I am learning as I go. But we're going be building steam and getting support. Our message is a good one and we're going to stay on message and be working hard."
Independent Will Oatis is running for governor in the general election, and rival factions of the Reform Party hope to field a candidate in the race.
Dennis said he called Bryant and congratulated him.
"Tonight is Phil's night," Dennis said. "The people of the state have spoken and we certainly respect that."