Brown hits Shaheen, Obama on ISIS in new ad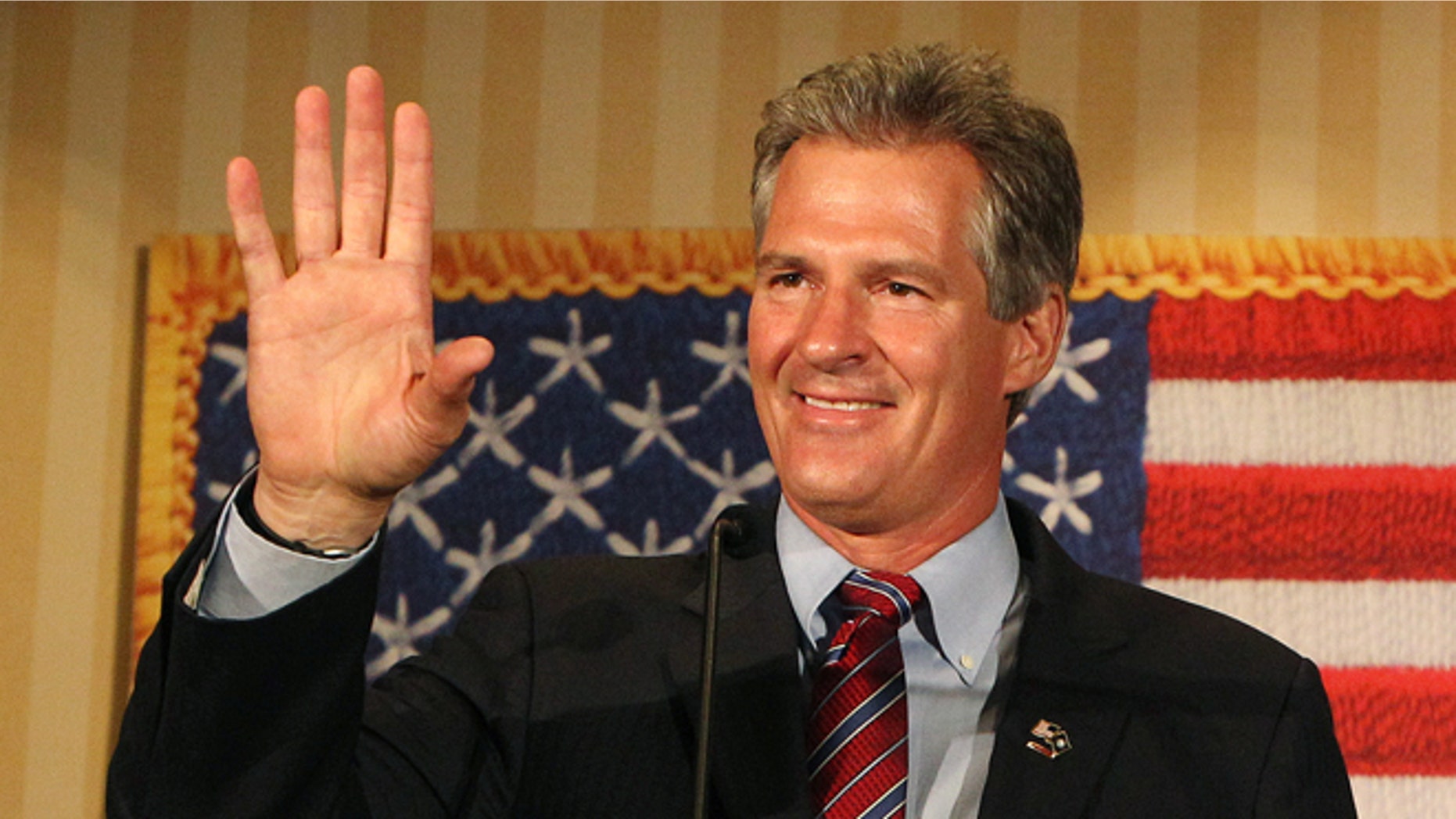 **Want FOX News First in your inbox every day? Sign up here.**
Buzz Cut:
• Brown hits Shaheen, Obama on ISIS in new ad
• The climate sure did change for the Obama presidency
• Baier Tracks: Now for the tough part
• Landrieu: Kegstands 'the way we roll'
• Well, that was easy
BROWN HITS SHAHEEN, OBAMA ON ISIS IN NEW AD
In a new ad, New Hampshire Republican Senate nominee Scott Brown ties border security, the threat from ISIS and that Sen. Jeanne Shaheen, D-N.H., and President Obama are confused about the threat from Islamist militants. The campaign wouldn't provide details on the exact size of the buy, a campaign spokeswoman told Fox News First that the spots would air on WMUR, WBIN, cable outlets and Boston stations.

Hard words - Here's the script from Brown, speaking directly to camera and interspersed with images of ISIS fighters and other scary scenes: "Anyone who turns on the TV these days know we faces challenges to our way of life. Radical Islamic terrorists are threatening to cause the collapse of our country. President Obama and Senator Shaheen seem confused about the nature of the threat – not me. I want to secure the border; keep out the people who would do us harm and restore America's leadership in the world. I'm Scott Brown and I approve this message. Because protecting the homeland is the first step in making America strong again."

[Sen. Jeanne Shaheen has agreed to appear at four of the seven debate offers Brown has accepted. Complicating matters for Shaheen is that Democrat Gov. Maggie Hassan has accepted seven debates with Republican challenger Walt Havenstein.]

Risk or reward - Brown has gained greatly in the polls on the issues of border security and foreign policy. New Hampshire is a hawkish state to be sure. But, with the spot coming just as Obama escalates the war with ISIS into Syria, will the message sound like Brown is not rallying to the commander in chief? Part of the calculation here may be that Shaheen has struggled with the issue and may not want to call attention to her support for or disagreement with the president's policies.

[Politico: "The New Hampshire Republican Party adopted Saturday a socially conservative party platform that supports "the pre-born child's fundamental right to life and personhood under the Fourteenth Amendment' … In an emailed statement, a Brown aide made clear that the former Massachusetts senator does not agree with the personhood language…]

THE CLIMATE SURE DID CHANGE FOR THE OBAMA PRESIDENCY
President Barack Obama is speaking in New York today on what was supposed to be his number one foreign policy initiative for his second term: global warming. But despite a promise of more executive action (this time in the form of requiring agencies to factor carbon emissions into all decisions) the general concept is a bust. None of the leaders of the other main carbon emitters are taking the meeting are scheduled to show up to meet with the president. Instead of announcing pen-and-phone-based progress designed to rouse liberal voters for midterms, Obama's day instead will be dominated by something he surely did not foresee when he spoke of a carbon-based second term: expanding the war against Islamist militants to yet another Middle Eastern nation. Rather than catnip for his base, Obama today is offering liberals a sour serving of promises that this latest conflict will not expand again and that he will limit U.S. commitments for the future.

["Importantly, climate change, without being connected in that way to everybody's daily thinking, in fact, ranks right up there with every single one of the rest of those challenges. You can make a powerful argument that it may be, in fact, the most serious challenge we face on the planet because it's about the planet itself." – Secretary of State John Kerry in remarks Monday comparing global warming to terrorism, poverty and the proliferation of weapons of mass destruction.]

Biden literally warned that Romney would 'go to war in Syria' if elected - CBS News: "Two months before the 2012 presidential election, Vice President Biden warned on the campaign trail that Mitt Romney wanted to go to war with Syria. The video, which was posted by BuzzFeed, was of Biden speaking to supporters at a rally in York, Pa. on Sept. 2, 2012. 'He said it was a mistake to set an end date for our warriors in Afghanistan and bring them home. He implies by the speech that he's ready to go to war in Syria and Iran,' Biden said in his speech." In the speech, Biden also accused Romney of wanting "to move from cooperation to confrontation with Putin's Russia."

They'll try not to rub it in too much - President Obama is set to speak today at the Clinton Global Initiative at the behest of former president Bill Clinton and 2016 Democratic frontrunner Hillary Clinton, and the timing is awkward. The former president reiterated Sunday his wife's previous chiding of Obama for not engaging in Syria sooner. Obama will be obliged to speak more on the subject, so it will be time for some careful tea-leaf reading to see just how strained relationship is between the two rival powers in the Democratic Party.

[Politico: "Hillary Clinton will headline a fundraising dinner for Florida Democratic gubernatorial Charlie Crist next month, putting her in a key presidential state in the midterms battle, according to an invitation."]

BAIER TRACKS: NOW FOR THE TOUGH PART…
"What looks like a successful first night of airstrikes inside Syria with the help of five Arab allies leads immediately to one question: What's next? A senior U.S. official who is involved in the mission offered me an assessment of the first sorties in Syria: "The strikes resulted in infrastructure damage to the groups, unfortunately they can take over new buildings. Assessing exactly who was killed at this time, it's too early to say definitively.  The unfortunate consequence of going after the enemy like this is that they will now adapt and targeting will likely become more challenging.'

That last line is very important.  While there are probably a few nights worth of 'hard targets' to strike in the ISIS infrastructure (what officials call the 'low hanging fruit') – the real challenge will be to root out and target the members of the group's leadership as they go to ground and try to hide inside urban centers. That next step will require what's called 'low flying tactical ISR' or Intelligence, Surveillance and Reconnaissance flights – AND, more importantly, spotters on the ground who can pinpoint targets.

That would be a pretty difficult task for the Free Syrian Army 'boots on the ground.' It will likely require U.S. eyes and ears. That is the tough part that lies ahead if the U.S. is really going to degrade and then destroy ISIS." – Bret Baier

WITH YOUR SECOND CUP OF COFFEE...
This week marks 30 years since the first American-made CD came off the line at the Sony plant in Terre Haute, Ind. The first disc produced was, appropriately enough, Bruce Springsteen's multi-platinum hit 'Born in the USA.' Springsteen, who also celebrates his 65th birthday today, wrote the album's title song in 1981. And despite its grim lyrics about the mistreatment of Vietnam veterans and economic hopelessness, the patriotic name has led many candidates to use the song as a campaign anthem. Ronald Reagan and Walter Mondale both claimed it during their 1984 battle, as did former Sen. Bob Dole in 1996 after dropping  "I'm a Dole Man," a take-off on Sam and Dave's "Soul Man." Springsteen would subsequently make his own politics quite clear, becoming a prolific Democrat campaigner, helping the campaigns of John Kerry in 2004 and President Obama in 2012.

Got a TIP from the RIGHT or LEFT? Email FoxNewsFirst@FOXNEWS.COM

POLL CHECK
Real Clear Politics Averages
Obama Job Approval: Approve – 41.7 percent//Disapprove – 53.3 percent
Direction of Country: Right Direction – 27.4 percent//Wrong Track – 64.6 percent
Generic Congressional Ballot:  Democrats – 42.5 percent// Republicans – 46.5 percent

-- 42 days until Nov. 4 --

ODDS ON FOR CARSON 2016 RUN
Dr. Ben Carson told radio host Hugh Hewitt the odds 'reasonably good' of seeing him mount a 2016 presidential bid, with a final decision by next May, the Daily Caller reports. "'I think the chances are reasonably good of that happening,' Carson told Hewitt. 'I'm waiting obviously for a few more months. I want to make sure that it's clearly something my fellow Americans want me to do and I'm also waiting to see what the results are in November because if the people indicate that they truly do want a nation that is for of and by the people, then I, and along with I hope many other people, be willing to give it everything we possibly have.'" Carson is a Fox News contributor.
[Sen. Marco Rubio, D-Fla., continues to make his case for a potential 2016 GOP presidential nod, focusing on tax reform in a joint WSJ op-ed with conservative Sen. Mike Lee, R-Utah.]
JEB BRINGS THE BUCKS HOME FOR GOP SENATE HOPEFULS
With an eye on helping Republicans take control of the Senate in November and the benefit to a possible presidential bid two years hence, former Florida Gov. Jeb Bush will host a fundraiser tonight in Tampa for a new political action committee, Floridians for a Senate Majority, backing five Republican Senate candidates. The beneficiaries are Joni Ernst of Iowa, Tom Cotton of Arkansas, Cory Gardner of Colorado, Dan Sullivan of Alaska and Monica Wehby of Oregon. At least Ernst and Cotton are expected to attend in person. Organizers hope to raise $500,000.
Jeb's rides to Roberts rescue - The Hill: "Former Florida Gov. Jeb Bush will be the latest national GOP figure to come to Sen. Pat Roberts's, R-Kan., rescue when he heads to the state for a rally next week…His visit will follow visits from both former Sen. Bob Dole, R-Kan., and Sen. John McCain, R-Ariz., who are hitting the state for Roberts this week.…Roberts has emerged as this cycle's most surprisingly vulnerable incumbent, after a bruising primary fight left him struggling to mend fences with disaffected conservatives while also trying to appeal to moderates."
[KHSB: "Former Alaska Governor, GOP vice presidential nominee and reality TV star Sarah Palin will also campaign with Roberts, a source close to the campaign confirmed Monday. She will appear as the 'special guest' at an event on [Sept. 25] in Independence, Kan."]
KANSAS INDEPENDENT ORMAN HIRES DEM OPERATIVE
Kansas Senate candidate Greg Orman's run as an independent against incumbent Republican Pat Roberts took another hit after he hired a former top Democratic staffer. WaPo: "One Orman's most recent additions is Mike Phillips, the former DSCC hand who also worked on the 2010 campaign of now-DSCC Chairman Michael Bennet (Colo.)….With speculation swirling that national Democrats engineered an elaborate plot to elevate Orman by coaxing Democratic nominee Chad Taylor out of the race, Republicans used the hiring of Phillips to remind voters about the possibility of major meddling from D.C... Orman's own words have fueled the uncertainty about his intentions. He has left the door open to joining Democrats in Washington."
Two brothers from Wichita - AP: "A conservative political action committee is launching a television ad in the U.S. Senate race in Kansas attacking the independent challenger to three-term Republican incumbent Pat Roberts. The Freedom Partners Action Fund says it is spending "six figures" on the ad against Greg Orman beginning Tuesday. The PAC is part of the political network of billionaire businessmen Charles and David Koch. The 30-second spot notes that Orman contributed to President Barack Obama's 2008 presidential campaign and to other Democrats. It says a vote for Orman is another vote for Obama."
No 'Secrets' now - Hutchinson [Kan.] News: "Democratic gubernatorial candidate Paul Davis dismissed as irrelevant reports Saturday that he was at a strip club when it was raided in a search for drugs 16 years ago. A Montgomery County sheriff's office report, first reported by The Coffeyville Journal, says police found Davis on a couch in a private room with a woman wearing a G-string when the club Secrets was raided in August 1998…."
BRALEY GETS A TASTE OF HIS OWN MEDICINE
Pro-GOP group American Crossroads is rolling out a new ad today highlighting Tom Steyer, the billionaire benefactor of Iowa Democratic Senate nominee Rep. Bruce Braley. The group suggests Steyer, who relies on a mix of government subsidies and regulations for his green energy business, is behind Braley's votes against the Keystone XL Pipeline and in support of carbon emissions fees. The ad, part of a $4.4 million buy in support of GOP nominee Joni Ernst, counters spots from Steyer and other Democrats alleging Ernst is beholden to her patrons in the energy industry.
POLL: HAGAN, TILLIS IN VIRTUAL TIE
Greensboro (North Carolina) News and Record: "The newest High Point University Poll found that 42 percent of likely North Carolina voters support Hagan, a Democratic incumbent from Greensboro, in her quest to keep her Senate seat. Forty percent said they would vote for Tillis, the Republican speaker of the N.C. House. That 2-point difference is well within the poll's margin of error, and HPU Poll officials called the result a statistical tie."
[Hagan holds a lead of 4.5 points in the Real Clear Politics Average for the race.]
Tillis touted by GOP senators - The Charlotte News-Observer reports that Sens. Ted Cruz, R-Texas, Lisa Murkowski, R-Alaska and John McCain, R-Ariz., were among a group of ten members of the upper chamber slated to attend a fundraiser for N.C. senate nominee Tom Tilllis at the National Republican Senatorial Committee offices slated for Monday evening.
GRIMES ASKS 'WHERE WAS HE?'
In this latest ad, Kentucky Democratic challenger Allison Lundegran Grimes hits Senate Minority Leader Mitch McConnell on his priorities in Washington, saying in part, "He didn't show up to vote on troop funding, the Farm Bill and the VA on days he found time for a lobbyist fundraiser and was on two TV shows...30 years is long enough."

REID GROUPS RAKE GARDNER ON ABORTION, MEDICARE
The Democratic Senatorial Campaign Committee attacks Rep. Cory Gardner, R-Colo., and the lack of trust around his beliefs on abortion and birth control in this ad. And in this ad from the Harry Reid-backed Senate Majority PAC, Gardner is attacked on his Medicare stance, the ad saying, "…Congressman Gardner really makes me worried he'd end the Medicare guarantee, voted for it, that would have raised costs for a lot of seniors I can't understand it. Cory Gardner's got it all."

LANDRIEU: KEGSTANDS 'THE WAY WE ROLL'
Roll Call: "In the shadow of the state Capitol on Monday, Sen. Mary L. Landrieu had a message for any Republican critics of her decision Saturday to help a Louisiana State University football fan perform a keg stand as she campaigned across campus. 'They need to get a sense of humor, and they need to get a life — it's just the way we roll,' Landrieu said in response to a question at a news conference where she and Rep. Cedric Richmond, D-La., exchanged endorsements. Landrieu went on to note that the fan was a 28-year-old alumnus with a master's degree in business. 'So, I think he can make decisions for himself what he'd like to do,' she said. 'I thought I did pretty well by not doing it myself, and helping him.'"
PICK SIX: SOUTH DAKOTA CLOSING IN ON LOUISIANA
Republicans need six more Senate seats to take control of the upper chamber. Which blue seats are the most vulnerable in this year's midterms? Here are the top picks among Fox News First readers: Arkansas (13.6%), Montana (12.9%), West Virginia (12.0%), Louisiana (11.7%), South Dakota (11.6%) and North Carolina (8.8%). South Dakota jumped nearly 2 points to now trail fourth-place Louisiana by just a tenth of a point.

Share your top six picks. Email them – just your top six, please – to FOXNEWSFIRST@FOXNEWS.COM or tweet @cstirewalt.

DUCEY LEADS DUVAL IN ARIZONA
Arizona Republican gubernatorial candidate Doug Ducey is leading this latest poll. He leads with 44 percent of likely voters over Democratic challenger Fred DuVal at 38 percent and 11 percent of voters remain undecided.

But DWS is for Duval - Embattled Democratic National Committee chairwoman Debbie Wasserman Schultz is out boosting Democratic gubernatorial candidate Fred Duval in Phoenix today at a get out-the-vote event aimed at Hispanic voters.]
KELLY FILE: D'SOUZA TO SPEAK OUT POST-SENTENCING
Conservative filmmaker Dinesh D'Souza is set to appear on "The Kelly File" tonight for his first television interview after his scheduled sentencing today on campaign finance violations. D'Souza faces as much as 16 months in prison, but is seeking a term of probation.
WELL, THAT WAS EASY…
According to the Burlington [Vt.] Free Press police in the town of Shelburne had a rather easy time capturing the suspect in an attempted break-in. John P. Dettor of Burlington was charged with unlawful mischief and causing more than $250 in damage when he broke a window trying to gain entry to what he thought was a school. But, Dettor actually broke into the police station. Cpl. Jonathan Marcoux said the attempt set off an internal alarm that put the station on "lock down." Dettor was found outside the building by another officer. Maybe the courts will go easy on him, though. You know what the Good Book says about forgiving our Dettors….

Chris Stirewalt is digital politics editor for Fox News.  Want FOX News First in your inbox every day? Sign up here.