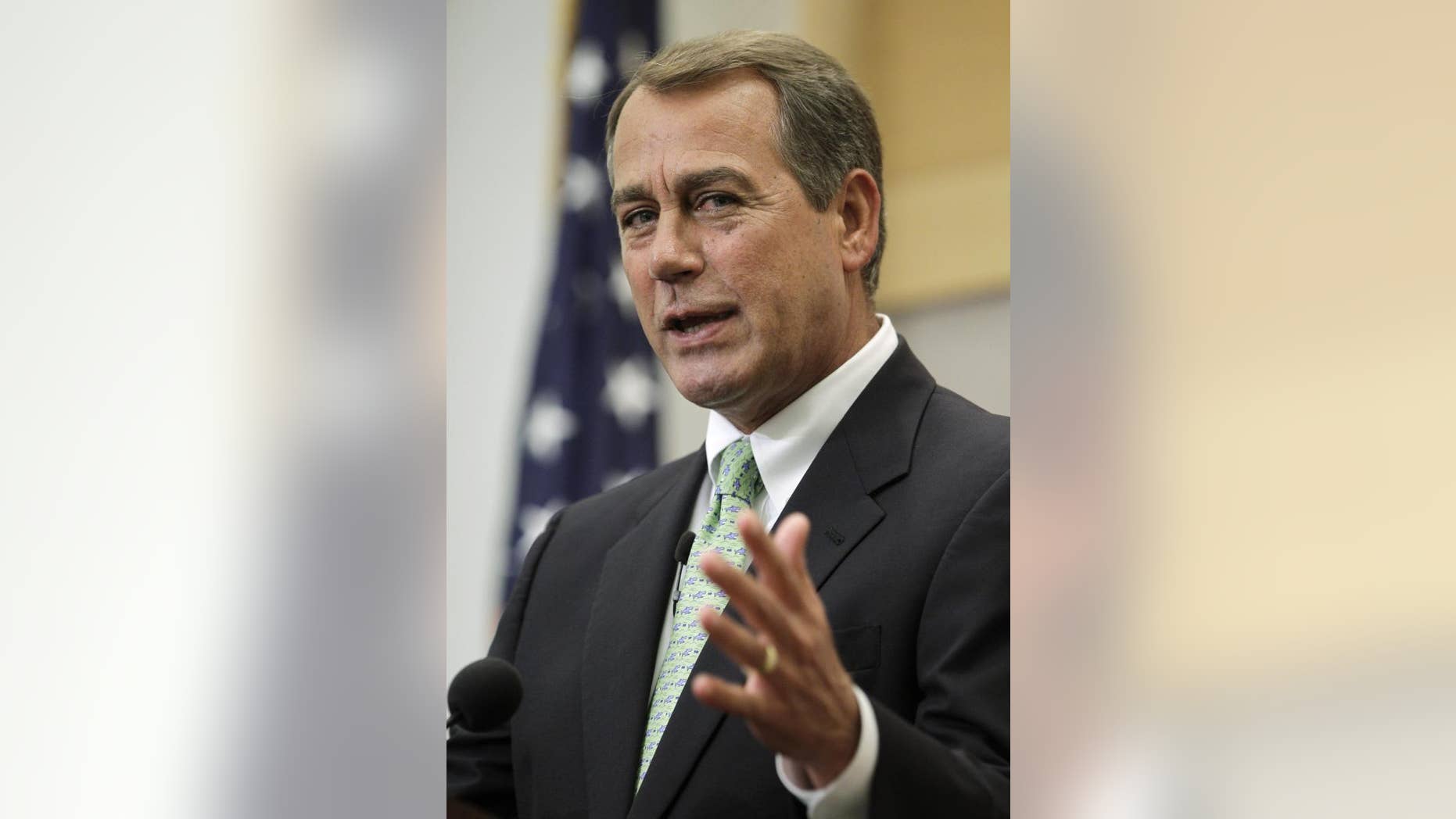 Reporters left Capitol Hill for the summer recess chasing after embattled Rep. Charlie Rangel (D-NY).
They'll return today bird-dogging House Minority Leader John Boehner (R-OH).
What a month and a half makes.
Everyone is chattering about John Boehner. The press. President Obama. Democrats eager to portray the Ohio Republican as a "country club" elite, who likes to tan, smoke and loaf on the back nine.
But that's politics. And this is what happens when you've become the most-powerful Republican in the country, the President's approval ratings are sinking, and Democrats are on the run in the most-pivotal Congressional election of 16 years.
John Boehner is the most-intriguing figure in all of Washington now. And if Republicans seize the House, he's poised to become the first House Speaker from the Buckeye State since Nicholas Longworth in the 1920s and 30s.
Some political handicappers just don't think Republicans will the House. They suggest they could secure 50 to 60 seats. That's a tidal wave that would decimate the Democratic majority and demoralize their party.
Politicos raised the bar extraordinarily high for Republicans in such a short period of time. A little too high, worry some Republicans privately. Particularly since Boehner epitomizes these expectations.
Boehner's profile matured geometrically over the past several weeks. And so with Republicans on the precipice of power, everyone is chattering about Boehner.
Boehner has done a lot to raise his name-recognition and make himself the face of the GOP since Congress last met. He delivered a crucial, national security speech in Milwaukee a few weeks ago. The minority leader followed that up by laying out GOP economic priorities during an address in Cleveland.
Then the White House upped the ante on Boehner. Mr. Obama piloted into Cleveland to refute Boehner and attempted to allay the fears of fretting Ohio voters, walloped by acute joblessness and uncertainty.
Democrats then touted a Sunday New York Times article, titled "A GOP Leader Bound to Lobbyists." Boehner's aides circled the wagons, decrying the piece as a hatchet job.White House spokesman Robert Gibbs Tweeted the article multiple times in an effort to make Boehner the face of the Republican party and show voters who would be in charge if they elect the GOP this fall.
The Democratic National Committee is releasing a national TV ad that tries to present Boehner as out of touch when it comes to restoring jobs.
There is nothing more critical in politics than having a foil. That's easy in presidential elections as one candidate is pitted against the other. It's easy in war, too. Imagine how many times the faces of Osama bin Laden or Saddam Hussein were cast across our television screens.
It's much more challenging to put a face on the 435-member House, let alone the leader of the opposition party.
Television has helped this over the years. The late-House Speaker Tip O'Neill (D-MA) became the first "televised" speaker. O'Neill, with his gregarious manner and thick, Boston brogue, led the House when it first installed television cameras. And O'Neill proved to be an interesting political foil for fellow Irishman Ronald Reagan.
Republicans used former Speaker Jim Wright (D-TX) as the poster child of ethically-challenged Democrats. The House dethroned Wright in 1989.
Democrats couldn't have asked for a better gift than former House Speaker Newt Gingrich (R-GA). Gingrich was essence of the 1994 Republican revolution. Yet at the same time, some of Gingrich's ideas and his tempestuous nature inflamed even Republicans. Democrats didn't have to do much to portray Gingrich as a radioactive figure. And the GOP showed Gingrich the door in late 1998.
By the same token, Republicans have worked tirelessly for nearly four years to define House Speaker Nancy Pelosi (D-CA). Democrats built their House majority by winning with moderates in the Midwest, northeast, south and southwest. Yet the Democrats' speaker is Pelosi from San Francisco with an unabashed, liberal voting record.
During her speakership, Republicans have described rising gas prices as the "Pelosi Premium." And to make a point that Pelosi may be out of step with the rest of the country, Republican aides have periodically punctuated their press releases about the speaker with a picture of the famous street signs Haight and Ashbury, the center of San Francisco's counterculture.
That doesn't play well in Wisconsin, Michigan, Virginia or Ohio.
So, the demonization of the House Speaker, or the speaker-in-waiting is nothing new. But this disco dance involving John Boehner is well into full boogie. And Boehner will either benefit from it. Or it could spell his demise.
Everyone is looking at Boehner now. By a few strokes of sheer geographical and professional luck, I've focused on Boehner and his career for more than two decades. My vantage point is unique.
I'm a native of Boehner's district. When I first became interested in politics as a high school junior, a family friend involved in local government got me in to a lunch Boehner regularly attended with other politicians at the Liberty Restaurant in Middletown, OH. Boehner was a state legislator then. Two years later in college, I interviewed Boehner for a news story about his re-election campaign. And while working for a Cincinnati radio station as a college senior in 1990, I was on hand to cover Boehner's announcement declaring his candidacy for Congress.
In the end, Boehner won a brutal three-way primary. He upended the scandal-plagued, sitting Congressman and whipped a popular, former Congressman just to secure the GOP nomination. I then watched him rise to become the fourth-highest ranking Republican in the House. Boehner's colleagues then stripped him of his leadership post after a near-debacle in the 1998 midterm elections. Years later in public radio, I reported on Boehner's 2006 return to power when he upset former House Majority Whip Roy Blunt (R-MO) and became Majority Leader. And after Boehner's surprise win, I was lucky enough to snare the new leader for a brief interview at the bottom of a staircase before any other reporters could get to him.
I learned one thing over these years: never count Boehner out.
Two years ago, I wrote a piece titled "The Nine Lives of John Boehner." I pointed out how Boehner had been left for the political dead on multiple occasions, including that first race for Congress. Yet Boehner rallied each time. In the "Nine Lives" missive, I focused on how Boehner was facing his toughest challenge for survival. That year, Democrats annihilated Republicans in the election. There were rattlings among some House conservatives that Boehner wasn't the right man for the job. He wasn't conservative enough. He wasn't young enough like House Minority Whip Eric Cantor (R-VA), GOP Conference Chairman Mike Pence (R-IN) or even Rep. Paul Ryan (R-WI).
Rep. Dan Lungren (R-CA) lodged token opposition to Boehner in the fall of 2008 to be the top Republican in the House. Boehner won handily. Still, no one thought Republicans had a remote possibility of reclaiming the house in 2010. Over the course of the last two years, Boehner executed tough party discipline. Republicans. He engineered unanimous GOP opposition to the $787 stimulus bill and a supplemental spending package. He mounted a robust effort against the health care law. The leader scored numerous plaudits from the Republican faithful for his "Fili-Boehner," a feisty, lengthy denunciation of the controversial climate-environment bill, sometimes referred to as "cap and trade. When a sex scandal broke involving former-Rep. Mark Souder (R-IN), Boehner helped show him the door.
Some House conservatives are skeptical of Boehner. But in less than two years, Boehner resuscitated House Republicans and helped make them viable in this midterm election.
And therein lies the rub. Boehner is the face of the party. He's President Obama's foil. The expectations for House Republicans are now caroming off the chart this fall. And all eyes are trained on Boehner."If we win the House this fall, he's speaker," said one Boehner lieutenant who wished to remain anonymous. "If we don't, after all of this, he's probably out."
That's the wisdom in some GOP quarters right now. The hyperbole has elevated Boehner's profile exponentially. The party faithful are now primed for a big victory. And anything short of a Republican majority would be a failure.
If they come up short, one lawmaker stands in spotlight.
The spotlight works two ways. It can either make you or break you. And Democrats want to heap as much attention on Boehner as possible to break him and the GOP this fall.
Either way, this is Boehner's hour. For Republicans, Boehner's become too big to fail.
PHOTO CREDIT:
John Boehner/AP File