Boehner says fiscal talks 'going nowhere,' as Obama warns of middle class tax hikes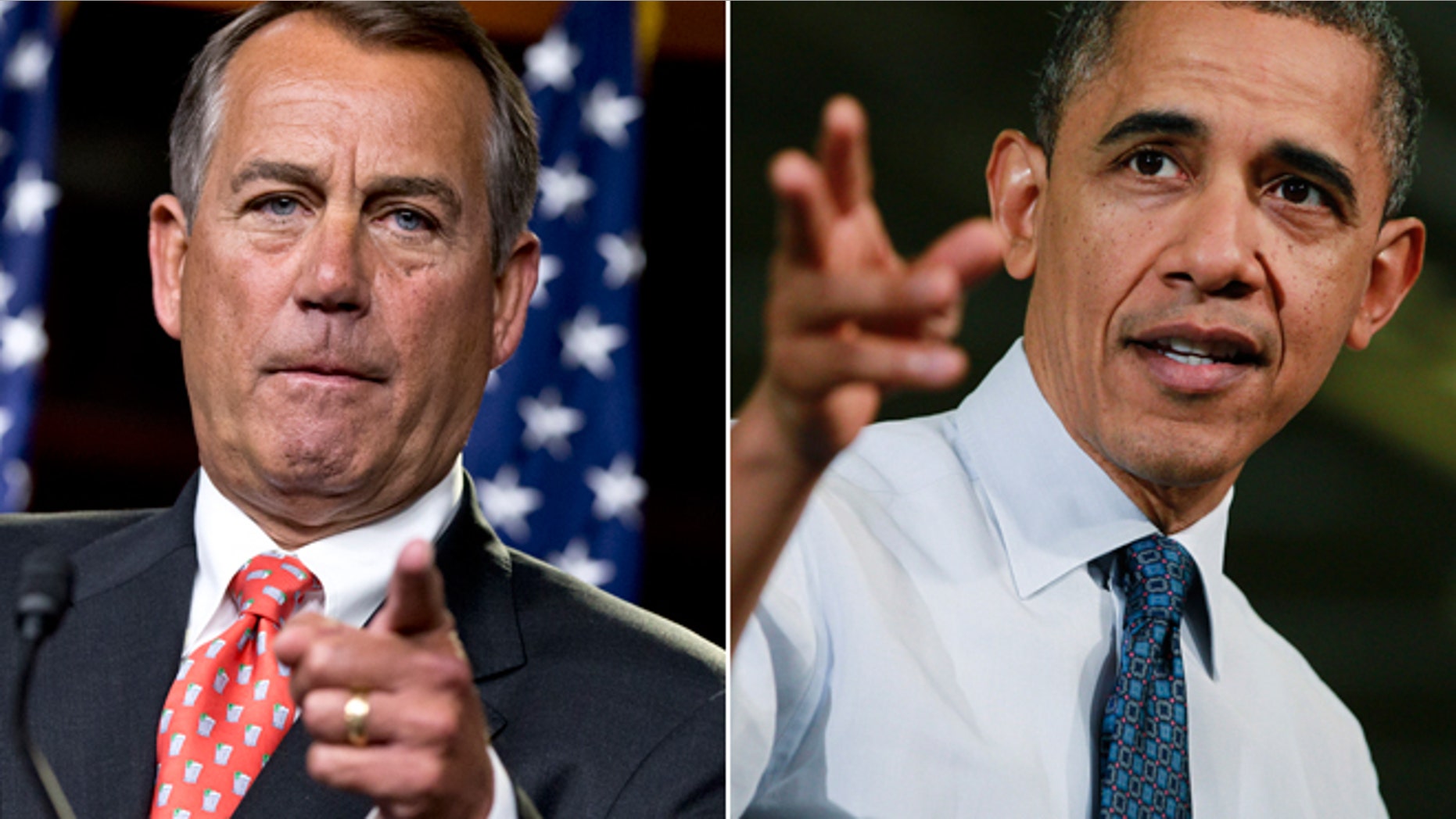 House Speaker John Boehner, responding to President Obama's tax-hike campaign stop at Pennsylvania toy factory where he issued a "Scrooge Christmas" warning to America's middle class, accused the administration of not being "serious" and characterized negotiation progress as "almost nowhere."
"There is a stalemate. Let's not kid ourselves," the Ohio Republican said of the talks between both parties over how to avert a year-end package of tax increases and spending cuts that could throw the economy into recession.
Boehner spoke minutes after Obama appealed to the public Friday for support of his tax plan, which calls for an extension of existing Bush-era tax rates for households earning $250,000 or less, while allowing increases to kick in for income earned above that threshold.
[pullquote]
Obama said it will be a "Scrooge Christmas" for millions of middle-class Americans who could see their tax rates rise if Congress fails to agree to his plan.
The president spoke after touring a Pennsylvania-based toy manufacturing facility that makes parts for Tinkertoys, K'NEX Building Sets and Lincoln Logs. He said he needs Americans to put pressure on Congress members to pass his proposal.
"I want you to call, I want you to send an email, post on their Facebook wall," he said on the factory floor of The Rodon Group in Hatfield, Pa.
Boehner quickly shot back that it would be a "crippling blow" for small business owners if tax rates increase for the top 2 percent of earners.
"Raising taxes on small businesses -- instead of taking a balanced approach that would cut spending -- is wrong," the Ohio Republican told reporters.
Obama accused a "handful of Republicans" on Friday of holding middle class tax cuts "hostage," and he said both sides need to "get out of our comfort zones" to reach an agreement.
"I've been keeping my own naughty-and-nice list from Washington. You should keep your eye on who gets some K'NEX this year. There's going to be some members of Congress who get them and some who don't," Obama said, adding that it will be a "lump of coal" for middle class families if they see their taxes go up.
Obama's and Boehner's remarks Friday underscored the fierce partisan divide in Washington over how to handle the year-end fiscal crunch.
If the two sides can't come together, tax rates will go up for all income brackets. Polls have suggested that if that happens, a majority of Americans will lay the blame on the GOP, and President Obama has been engaging in a campaign-style effort to portray Republicans as willing to let everyone's taxes go up in a bid to protect the rich.
On Thursday, Obama dispatched Treasury Sec. Timothy Geithner and senior White House aide Rob Nabors to speak separately with congressional leaders from both parties.
A clearly-frustrated Boehner emerged from the meeting claiming the president's money man did not offer a "specific" plan for spending cuts.
"First, despite the claims that the president supports a balanced approach, Democrats have yet to get serious about real spending cuts," Boehner said. "And secondly, no substantive progress has been made in the talks between the White House and the House over the last two weeks."
Both Senate Majority Leader Harry Reid and the White House, through spokesman Jay Carney, dismissed Republican demands that any increases in the debt limit be offset with spending cuts.
Obama's tax plan calls for an extension of the existing tax rates for most Americans – individuals earning $200,000 or more and couples earning $250,000 and up -- while allowing for tax rates to increase for the 2 percent who earn more. Republicans have been divided on whether to go along with that, but even those who may be willing, notably Oklahoma Rep. Tom Cole, want deep spending cuts in return.
The White House and Congress are trying to reach a deal before Jan. 1 – when all of the Bush-era tax rates are set to expire and huge reductions to the federal budget kick in automatically. Those spending cuts are part of a default agreement by Congress after it failed to reach a more measured deal to reduce the trillion-dollar annual deficits that have brought the national debt to more than $16 trillion.
The mix of tax increases and budget cuts will equal roughly $100 billion next year alone and about $1.2 trillion over the next 10 years should Congress and the White House fail to reach a deal. Some economists say that could plunge the economy into another recession.
In addition to raising rates on high-income earners, the current Democrat proposal includes raising taxes on capital gains and dividends, extending the payroll tax holiday, raising estate taxes and another $600 billion in new spending, according to those familiar with talks. Democrats are pushing for new stimulus spending, including $50 billion for 2013, and raising the debt ceiling for good.
Republicans say Democratic plans to reform Medicare in the future to shave off $400 billion would be more than offset by the new spending, which also includes extending unemployment insurance and refinancing underwater mortgages.
A senior Republican familiar with negotiations dismissed the idea that the Democrats are simply playing hardball with their opening offer.
"Even as an opening bid, this offer would be ludicrous," he said. "But we're way past that. We had about seven weeks to resolve this. Three of those weeks are gone, and this is what he comes with?"