Boehner Fights Back After Week as Political Punching Bag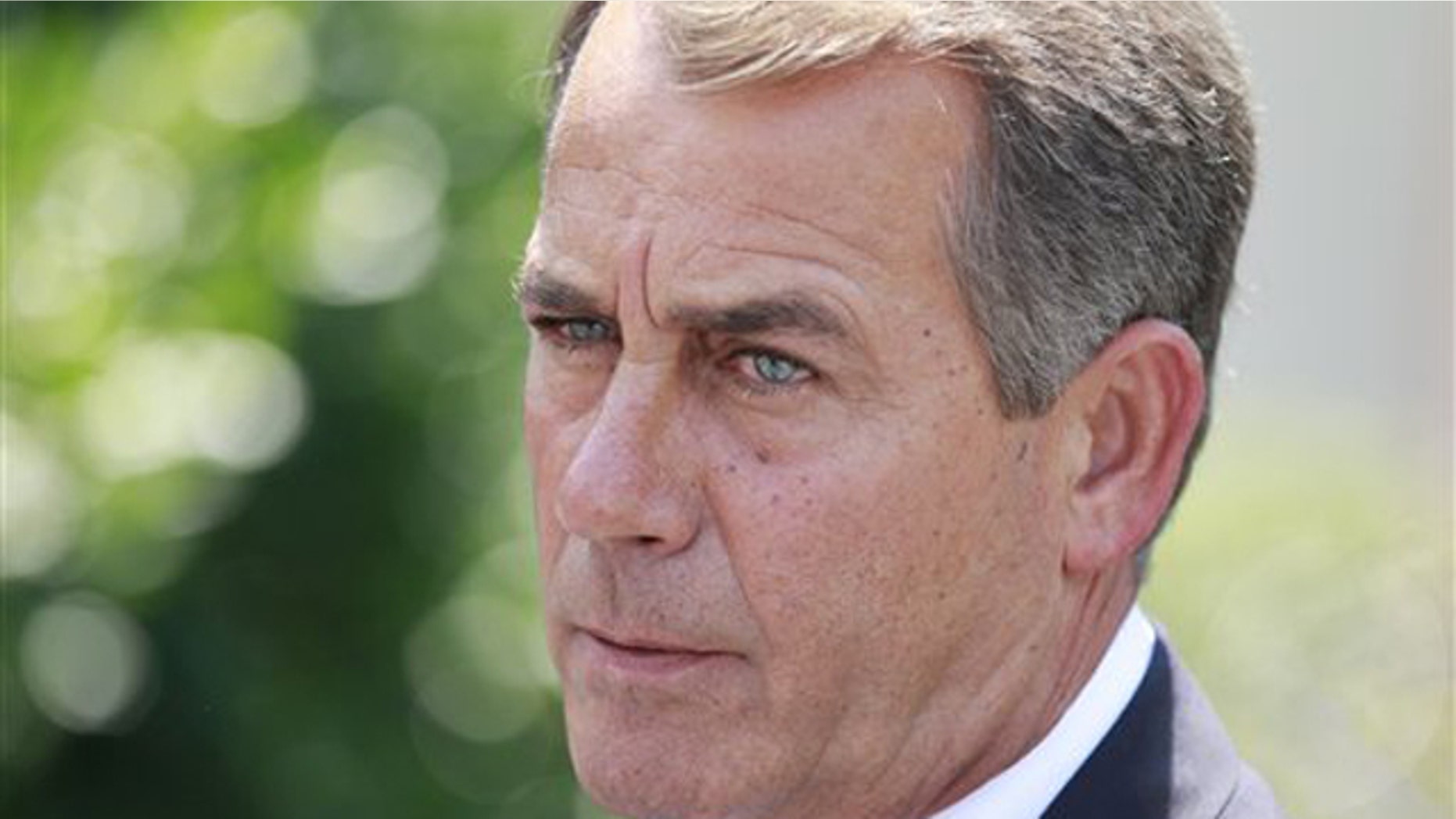 House Republican Leader John Boehner went on the offensive Thursday after getting hit by a bipartisan fusillade of attacks from critics, who accused him of minimizing the financial crisis, pushing cuts to Social Security and being just plain lazy.
After taking a drubbing from President Obama during an address Wednesday in Wisconsin, Boehner accused the president of "childish partisanship." Speaking at a morning press conference, Boehner challenged Obama to focus on job creation, deficit reduction and oil spill cleanup -- but nevertheless, the GOP leader spent a good chunk of his time answering charges from a swelling pool of critics.
Sign of the times? The heat is on for Boehner in an election year when, if everything goes right for House Republicans, he'll be in line for speaker. That is, if he can keep Republicans in check and if he can keep Democrats from exploiting his remarks to wound the party.
A wide-ranging interview Boehner gave earlier this week to the Pittsburgh Tribune-Review served as the fodder for a Democratic assault. Two comments in particular stood out -- one of which was real, one of which was never said.
The real one was a remark Boehner made about the financial regulatory bill. He said the legislation was like "killing an ant with a nuclear weapon," leading to accusations that he was dismissing the financial crisis an ant-sized annoyance. President Obama singled out Boehner on Wednesday by saying an "ant-swatter" will not fix the problem.
The not-real comment was about Social Security. Boehner did say in the interview that the retirement age should be raised for younger workers, but the Tribune-Review originally wrote that Boehner proposed the change so that "there's enough money to pay for the war" in Afghanistan. This led to cries of condemnation from House Speaker Nancy Pelosi, the South Carolina Democratic Party and the Ohio Democratic congressional delegation, which held a separate press conference Wednesday to slam the House GOP leader.
Boehner, though, claimed he never made the connection between the war and Social Security spending -- and it turned out he's right. The Tribune-Review revised the story and published a correction saying Boehner "did not link those issues directly."
Trying to regain lost ground, Boehner's office circulated the correction and noted that House Majority Leader Steny Hoyer has also called for raising the retirement age.
Pelosi must not have gotten the memo. "Republicans have said they want to pay for the war by raising the age of retirement for seniors," she alleged at her weekly press conference on Thursday. The Democratic Congressional Campaign Committee also brought up Social Security in a statement Thursday.
But Boehner held his own press conference to answer his critics and keep pressure on Democrats to do more on the economy, touting a report his office just released claiming the Democrats' stimulus policies have failed.
"The American people wanted one thing out of the stimulus bill - jobs. The American people wanted one thing out of health reform -- lower cost," Boehner said Thursday. "Democrats have failed to deliver on both counts. This isn't the picture of a recovery. It's the epitome of failure."
Boehner then explained that his "ant" comment was not meant to belittle the financial crisis, but to emphasize the overkill aspect of the overhaul package.
"They're going to punish every banker in this country to solve and pay for the sins of a handful on Wall Street," he said.
But Boehner's also dealing with some rumblings from his own party. On MSNBC's "Morning Joe" on Wednesday, host Joe Scarborough, a former Republican congressman, said Boehner is "not a hard worker" and suggested the minority leader wasn't ready for the big leagues.
"It's not reported. But so many Republicans tell me this is a guy that is not the hardest worker in the world. After 5 o'clock, 6 o'clock at night, he's disengaged at best. And you can see him around town. He does not have, let's say, the work hours of Newt Gingrich," Scarborough said. "Every Republican I talk to says John Boehner, by 5 or 6 o'clock at night, you can see him at bars."
Then there was an article on Politico.com that suggested he and his No. 2, House Minority Whip Eric Cantor, were at odds.
But in interviews with Fox News on Wednesday, Cantor and Boehner both denied any friction.
"This is nothing but high school gossip kind of reporting," Cantor said.
"We work very well together," Boehner said, acknowledging differences between them in personal style.
On Thursday, Boehner played down Scarborough's comments.
"I've always believed you only tease the ones you love," he said. "You can go back over the last 16 years and look at my schedule and you'd be hard press to find a night when I wasn't doing events for my colleagues and my candidates."