Blame Game Continues: Obama Points Finger At GOP For Inaction On Immigration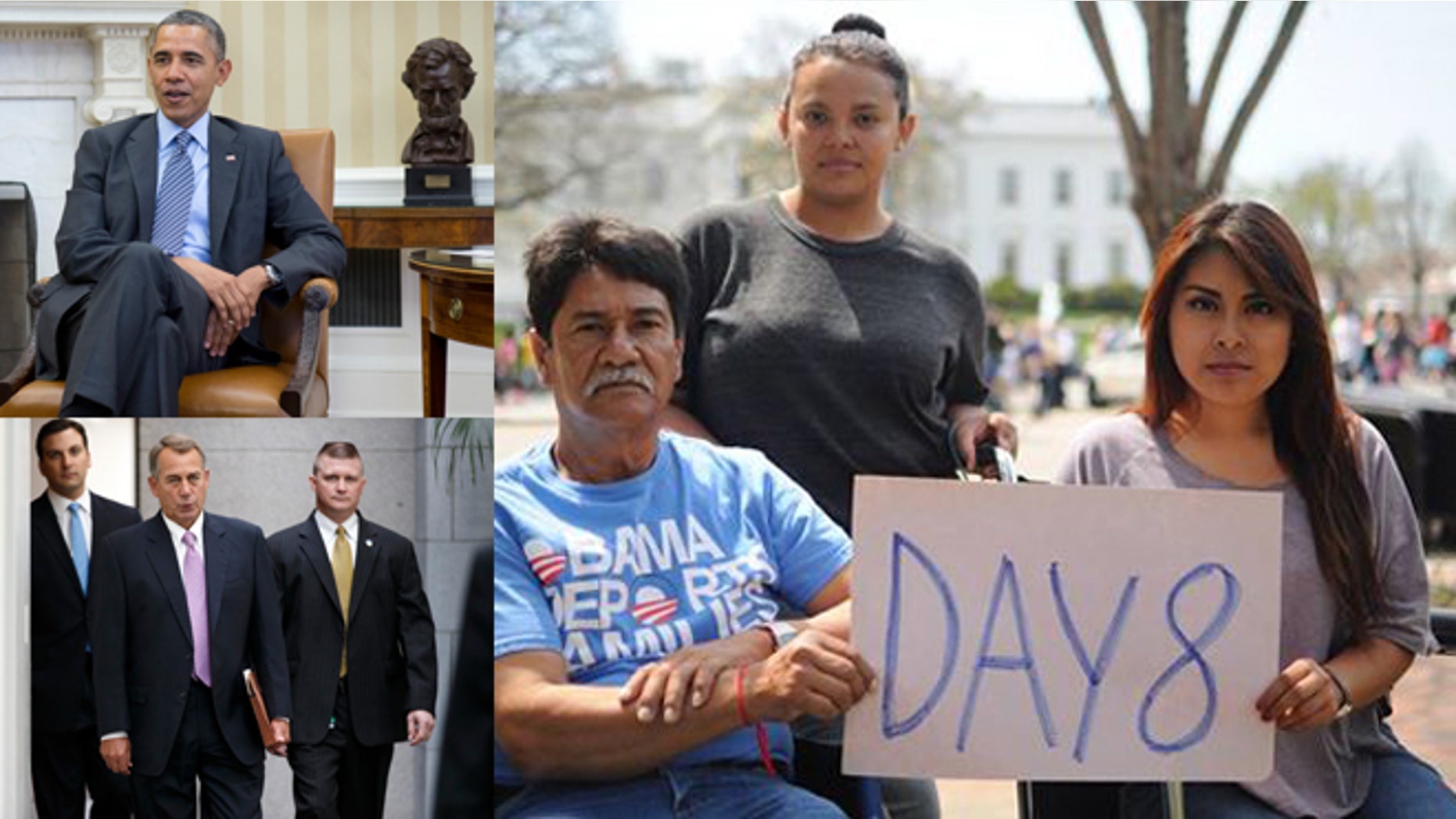 President Barack Obama urged Congress Wednesday to vote on immigration reform and blamed House Republicans for failing to bring the issue up to the floor for a vote, as Latinos and immigration activists continue to scold the administration – and Democrats – for not doing enough to curb deportations.
"I urge House Republicans to listen to the will of the American people and bring immigration reform to the House floor for a vote," Obama said in the statement.
The statement comes as pressure mounts from activists and members of the Latino community to act boldly on immigration reform or risk losing their support in the fall midterm elections. Some of them would like Obama to use executive action to overhaul the immigration system. But at a White House meeting with religious leaders Tuesday, Obama emphasized he wouldn't act on his own while there was still a chance for congressional action.
"Republicans in the House of Representatives have repeatedly failed to take action, seemingly preferring the status quo of a broken immigration system over meaningful reform," Obama went on to say. "Instead of advancing commonsense reform and working to fix our immigration system, House Republicans have voted in favor of extreme measures like a punitive amendment to strip protections from 'Dreamers'".
Immigration activists, meanwhile, say they feel betrayed by Obama, who was elected with strong Latino and Asian support in 2008. They complain his strategy of winning GOP cooperation by increasing enforcement has failed. Three immigration activists have been on a hunger strike in front of the White House since Tuesday, pleading that their loved ones be released from immigration detention centers.
A bill to toughen up border security and offer a path to citizenship for many of the nearly 12 million undocumented immigrants in the U.S. has remained stalled in the Republican-led House of Representatives for 10 months after passing the Senate in June.
"The majority of Americans are ahead of House Republicans on this crucial issue and there is broad support for reform, including among Democrats and Republicans, labor and business, and faith and law enforcement leaders," Obama said in his Wednesday statement. "We have a chance to strengthen our country while upholding our traditions as a nation of laws and a nation of immigrants."
Activists have dubbed the president the "deporter in chief" for the nearly 2 million deportations completed during his time in office and demand he stop deportations and allow more immigrants to remain legally in the U.S. More specifically, they'd like the president to simply expand DACA, Deferred Action for Childhood Arrivals, which provides two-year work permits to eligible immigrants brought to the U.S. illegally as children.
So far, the program has helped 600,000 people, but activists believe millions more can be included if the policy were expanded.
But Republicans warn any move by Obama on immigration reform without the backing of Congress will end any possibility for cooperation on a comprehensive bill. Despite the complaints from activists, Republicans accuse the Obama administration of inflating its record on deportations by counting people removed as they're attempting to cross the border or shortly thereafter. In the 2013 fiscal year more than 60 percent of the nearly 370,000 deportations were of recent border crossers, according to U.S. Immigration and Customs Enforcement.
The Associated Press contributed to this report.
Follow us on twitter.com/foxnewslatino
Like us at facebook.com/foxnewslatino