Bipartisan Group of Senators Call on Super Committee to 'Go Big' on Deficit Cuts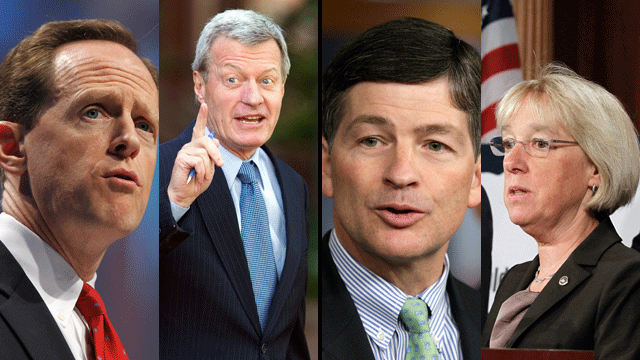 Thirty-six senators from both sides of the aisle are encouraging the so-called super committee to "go big" and cut $4 trillion from future deficits rather than the mere $1.5 trillion in reductions over 10 years that they're tasked to find.
During a press conference Thursday, the bipartisan group spanning the ideological spectrum from Sens. Dick Durbin, D-Ill., to Ron Johnson, R-Wis., signed up to "encourage and support" the super committee, encouraging comprehensive tax reform -- reducing deductions and using at least some of the proceeds to lower tax rates.
"Be brave. Be bold. Go big," said Sen. Kent Conrad, D-N.D., chairman of the Senate Budget Committee.
The bipartisan group issued a "statement of principles" urging the 12-member panel to "include long-term entitlement reforms and pro-growth tax reform" in their final product.
It also called for the super committee to focus on "the major parts of the budget and include long-term entitlement reforms and pro-growth tax reform;" and it suggested the changes be "structured to grow the economy in the short, medium and long-term."
Finally, the group, which composes more than one-third of the Senate, asked the panel to work to keep the American public and business community involved in the discussion on the challenges and opportunities.
"I think it's pretty obvious there's an awful lot of groundswell in the Senate to do the right thing and that's leave everything on the table," said Sen Saxby Chambliss, R-Ga.., a former member of the bipartisan "Gang of Six" that sought to come up with a deal during the debt ceiling fight earlier this year.
Durbin, also a gang member, said members were having "a real honest conversation" about reducing the debt.
"Don't get me wrong. We see things differently," he said, referencing his desire to "protect the social safety net," but "there's a lot more that brings us together than divides us."
Congressional Budget Office Director Doug Elmendorf has told the super committee that tax reforms would unleash economic growth, and it appears that instructing the congressional committees to come up with a comprehensive tax reform plan is an item the super committee has the power to do.
Dealing with taxes may be one of the few areas where bipartisanship could occur. The White House on Thursday suggested Social Security reform is not on the table when it comes to looking for deficit reduction, though other programs could be.
"We need to take measures to strengthen Social Security for the long term, but it is not a driver of our near-term deficit problems, and it can be pursued on a parallel track," White House spokesman Jay Carney said. "That's why it is separate from the other entitlement programs and other issues that are a part of that, including spending through our tax code."
House Democratic Leader Nancy Pelosi, D-Calif., who has adamantly opposed any entitlement reforms, also suggested that deficit reduction come from tax changes.
"You can't just say we're going to have reforms that are going to lower the corporate rate which I would fully support unless you have enough reform to reduce the deficit, too, because if you don't otherwise all the reduction of deficit will have to come out of the cut side and I just don't think that that's fair nor part of the balance that the American people are seeking."
Tax reform may be the only part of President Obama's jobs proposal that sees any light on Capitol Hill. Earlier in the day, House Speaker John Boehner said the president's $447 billion stimulus proposal is "a poor substitute" for job creation incentives.
With the Labor Department reporting that 428,000 first time unemployment claims were filed Thursday -- the highest level in three months -- Boehner said it's time to stop interfering with job creators. He proposed a 25 percent tax rate for personal and corporate filers.
"They've been slammed by uncertainty from the constant threat of new taxes, out-of-control spending, and unnecessary regulation from a government that is always micromanaging, meddling, and manipulating," Boehner, R-Ohio, told The Economic Club of Washington.
The president is proposing on Monday how to pay for the plan, which he has called on Congress to pass nearly 100 times this week, and Carney said Congress doesn't need to wait on him.
"Congress doesn't need a phone call from the president to vote on legislation. That's a myth," he said. "We put forward our plan. It should be debated and, we hope, voted on in the House and Senate and turned into law, because that's what the American people want."
Whatever the proposals are, the super committee will have to package it in a way that sells to members from both parties. Sens. Mary Landrieu, D-La., and Mark Begich, D-Alaska, both from states with strong oil interests, reportedly have both said they would not support closing loopholes on the oil industry only, and that changes need to be fair and across-the-board. The statements are just a sample of the competing regional interests that may come into play.