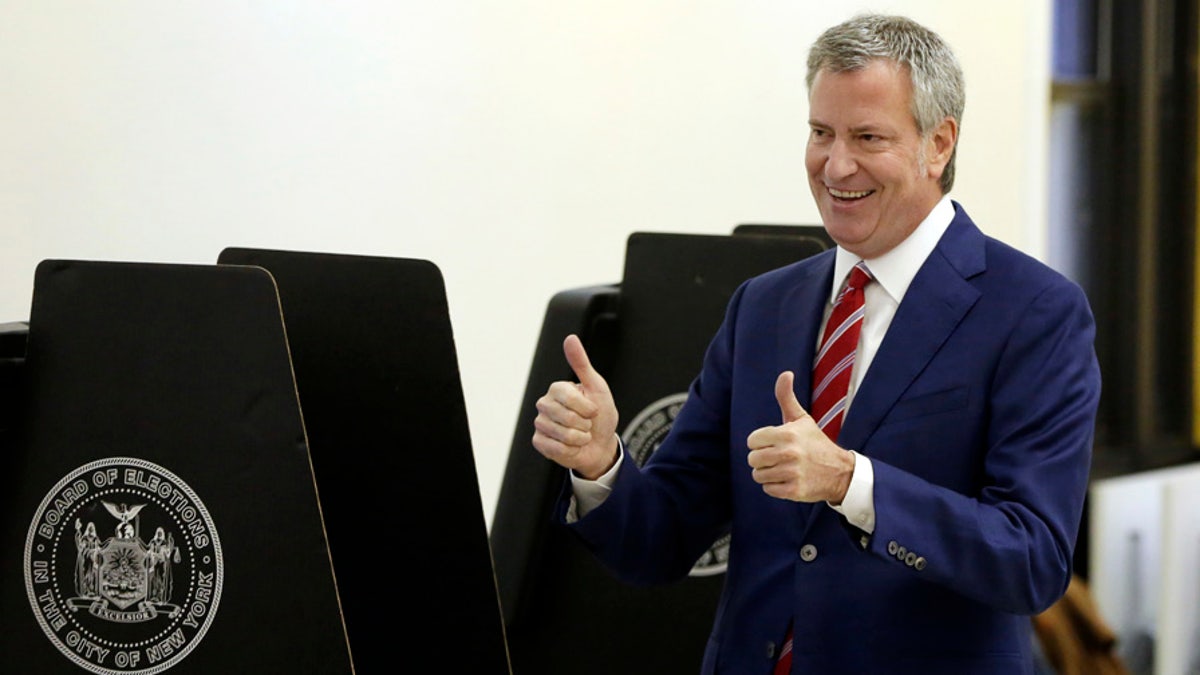 New Yorkers have re-elected Democrat Bill de Blasio to a second term as mayor of the Big Apple.
De Blasio's win Tuesday was no surprise, as polls throughout the campaign showed him leading his GOP opponent -- state Assemblywoman Nicole Malliotakis -- and a crowded field of third-party candidates including former NYPD officer and detective Richard "Bo" Dietl.
De Blasio's victory comes one week after New York City saw the worst terror attack since 9/11. Sayfullo Saipov, a 29-year-old Uzbekistan native and ISIS sympathizer, is accused of killing eight people and injuring 12 after driving a truck down a crowded bike lane near New York City's World Trade Center on Halloween.
De Blasio's first term was filled with feuds with New York's Democratic Gov. Andrew Cuomo, and investigations into campaign donations and pay-to-play politics.
Just last month, a major de Blasio donor, Jona Rechnitz, testified that he gave money to the campaign in exchange for access and favors.
De Blasio said his relationship with the donor was "not a particularly close" one, despite the man's claims.
Mayoral spokesman Eric Phillips rejected Rechnitz' accusations, telling the New York Post that, "These are nothing but reheated, repackaged accusations that have been extensively reviewed and passed on by authorities at multiple levels."
"The administration has never and will never make government decisions based on campaign contributions," he added.
Back in March, de Blasio narrowly avoided federal charges for violating election law in regard to fundraising, despite the authorities' claims that the campaign has violated the "intent and spirit" of the law, the Post reported.
De Blasio has also been defiant in clashes with President Trump, declaring New York a 'sanctuary city' despite the Trump administration's strong stance on enforcement of federal immigration law.
"We won't back down from protecting New Yorkers from terror – or from an overzealous administration fixated on xenophobia and division," de Blasio tweeted in March.
Boston's incumbent Democratic Mayor Marty Walsh also won re-election on Tuesday.