Bill Clinton, on trail for Hillary, rips Bernie Sanders as 'blame candidate'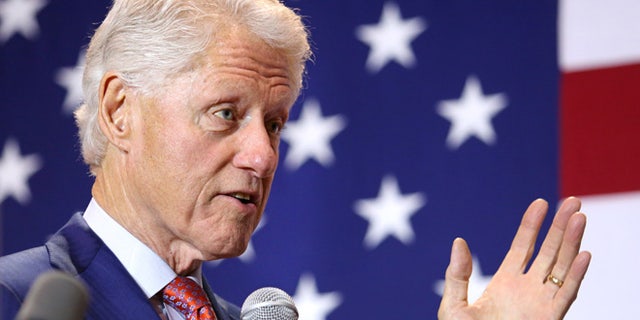 NEWYou can now listen to Fox News articles!
Faced with the prospect of an upset loss to Bernie Sanders in Ohio and other Midwestern states, Hillary Clinton's surrogate attack dog Bill Clinton hit the road Tuesday, knocking Sanders as the "blame candidate" and urging voters to back Hillary.
While Hillary Clinton leads comfortably in the two Southern states holding primaries Tuesday – Florida and North Carolina – polls show the race much closer in Ohio, Missouri and Illinois, where Sanders has been campaigning frequently in a bid to build on last week's upset victory in Michigan.
Her former president husband was on Chicago's South Side Tuesday morning to chat with voters in the Illinois contest. In an interview published by NBC, Clinton downplayed the Michigan loss – but turned up the heat on Sanders when asked why the Democratic front-runner is not doing better in the polls in Illinois.
"I think you know the answer to that," Bill Clinton said. "This should be a race for president. And there is a blame candidate and a responsibility candidate in this race."
Referring to his wife, he said, "I'm betting the responsibility candidate will win."
Since hitting the campaign trail earlier this year, Bill Clinton has oscillated between holding his fire and playing the role of elder statesman, and turning up the attacks on his wife's insurgent and class warrior rival.
Ahead of February's New Hampshire primary – which Sanders ultimately won – Clinton mocked Sanders' lofty promises and claims. "When you're making a revolution, you can't be too careful about the facts," he said at the time.
He went so far as to call out some Sanders supporters for criticizing Hillary Clinton online with attacks "that are literally too profane often, not to mention sexist, to repeat." (Sanders disavowed those attacks at the time.)
Since that time, Hillary Clinton has built her delegate lead, itching to look ahead to the general election -- but continues to face persistent competition from Sanders. While Clinton maintains a commanding lead in the delegate count, Sanders breathed new life into his campaign with his surprising victory last week in Michigan.
Reprising a theme that helped propel that Michigan win, Sanders on Monday pounded Clinton's past support for trade deals such as the North American Free Trade Agreement. He's escalated his criticism in recent days, hoping to undercut her edge among minorities and expand his advantage with white working-class voters.
"When it came down whether you stand with corporate America, the people who wrote these agreements, or whether you stand with the working people of this country, I proudly stood with the workers," Sanders said in Youngstown, Ohio. "Secretary Clinton stood with the big money interests."
Clinton's team is attempting to tamp down expectations for Tuesday night, stressing that the race remains close in the Midwest, despite public polling showing her with a lead. Still, she's eyeing the general election and escalating her attacks on Donald Trump, saying he's "inciting mob violence" at his rallies.
"I do hold him responsible," she said in an interview on MSNBC. "He's been building this incitement, he's been leading crowds in jeering protesters"
The campaign next shifts to the West, where Sanders' advisers have suggested he could rattle off a win streak and enter April with the chance to put a dent in Clinton's delegate lead.
The Associated Press contributed to this report.