Biden says 9 Republicans said it was wrong to block Garland, yet GOP was following 'Biden Rule'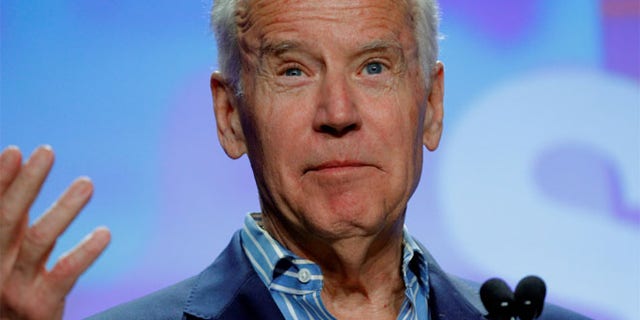 Joe Biden claimed Thursday that nine Republican senators privately told him their party was wrong to block President Obama's Supreme Court pick last year, but the former vice president glossed over the fact that the GOP was following a precedent often attributed to him.
Biden said the Republican senators he spoke to said they blocked Merrick Garland's nomination to take the place of Justice Antonin Scalia because they were afraid of a donor backlash, Politico reported.
"I call 17 Republicans and say, 'You know better,'" Biden said, while speaking at the University of Pennsylvania. "Nine of them said to me, 'You're right Joe, but I can't do anything about it because if I do the Koch brothers or somebody is going to drop $5 million into my race and I'll lose my primary.'"
Yet, in 1992, then-Sen. Biden, who was chairman of the Judiciary Committee, gave a speech on the Senate floor calling for a different standard for filling a Supreme Court vacancy "that would occur in the full throes of an election year."
"Some will criticize such a decision and say that it was nothing more than an attempt to save a seat on the court in hopes that a Democrat will be permitted to fill it, but that would not be our intention," Biden said at the time. "It would be our pragmatic conclusion that once the political season is underway, and it is, action on a Supreme Court nomination must be put off until after the election campaign is over."
Biden's 25-year-old speech is often referred to as establishing the unwritten "Biden Rule," which stands for the party in power not allowing Supreme Court nominees to come to a vote during the final year of a president's term.
Democrats have brought up Judge Merrick Garland's treatment throughout the confirmation hearings of President Trump's pick, Judge Neil Gorsuch. They say Sen. Mitch McConnell, R- Ky., led a Republican blockade to prevent a Garland hearing.
The Senate confirmation vote for Gorsuch is expected late next week. Unless 60 senators support Gorsuch - which would require six more Democrats to join Heitkamp and Manchin - Republicans would have to unilaterally change Senate precedent to allow Gorsuch to be confirmed with a simple majority vote in the 100-member Senate.
That scenario is looking increasingly inevitable, even though it is known on Capitol Hill as the "nuclear option" because it would amount to a dramatic departure from Senate norms of bipartisanship and collegiality. Although McConnell has yet to formally announce plans to take the step.
The Associated Press contributed to this report