Ben Shapiro, Alexandria Ocasio-Cortez spar after he offers $10,000 to debate her democratic socialist beliefs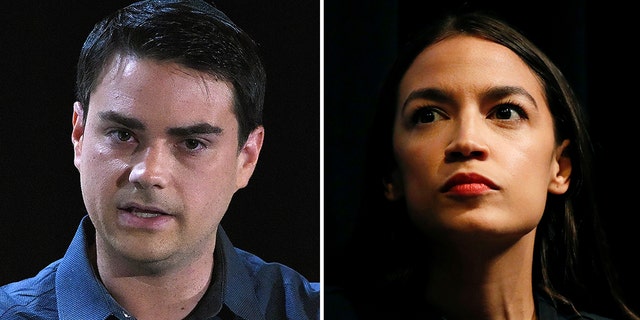 NEWYou can now listen to Fox News articles!
Conservative commentator Ben Shapiro challenged democratic socialist Alexandria Ocasio-Cortez to a debate, offering to donate $10,000 to her campaign if she accepted -- but it triggered a sparring match online.
Shapiro initially tweeted a video on Wednesday in which he mocked Democratic National Committee chairperson Tom Perez for calling Ocasio-Cortez, a New York congressional candidate, the "future of the Democratic Party," before issuing his challenge.
"Miss Ocasio-Cortez, I'm really excited that you've been elevated to that position and I would love to have a real conversation with you about the issues. You've noted that you think Republicans are afraid to debate you or talk to you or discuss the issues with you," Shapiro said.
"Not only am I eager to discuss the issues with you, I'm willing to offer $10,000 to your campaign, today, for you to come on our Sunday special," he continued. "We can have an hour long conversation about all the topics under the sun, really probe your belief system."
Shapiro said he would also debate Ocasio-Cortez for charity.
"However you want to do it, I am more than willing to talk to you," Shapiro said. "Let's make this happen."
Shapiro, Daily Wire editor-in-chief, said that he wants to make "America a more civil and interesting place," and feels a conversation with Ocasio-Cortez could do just that.
Thursday night, Ocasio-Cortez compared Shapiro's offer to "catcalling" on Twitter.
"Just like catcalling, I don't owe a response to unsolicited requests from men with bad intentions," she wrote. "And also like catcalling, for some reason they feel entitled to one."
Shapiro responded: "Discussion and debate are not 'bad intentions.' Slandering someone as a sexist catcaller without reason or evidence does demonstrate cowardice and bad intent, however."
Ocasio-Cortez's unanticipated victory over veteran Rep. Joe Crowley in the Democratic primary over Crowley's New York seat put her in a national spotlight earlier this year.
Ocasio-Cortez lit up social media on Wednesday night when she appeared on CNN's "Cuomo Prime Time" and stumbled when discussing Nancy Pelosi, D-Calif., the House minority leader.
"This is painful. It's Miss South Carolina on maps bad," Shapiro tweeted in response to her interview.
Donald Trump Jr. captioned video of her interview with, "OMG this is insane and yet the liberal campaign to make her the rockstar face of the left will continue ... let's face it, I guess they don't have much else."
Ocasio-Cortez's talk with Cuomo isn't her first media appearance to whip up criticism since her upset victory over Crowley. She has struggled to explain how many of her platforms -- such as Medicare for all and a federal jobs guarantee -- would be funded.
Still, she has emerged as a liberal darling since bursting onto the scene – though not everyone is a fan.
Comedian Lewis Black, who also considers himself a socialist, told The Daily Beast in a recent interview that Ocasio-Cortez isn't the answer.
"The one thing I've learned in my lifetime is that we've got to get to the middle before we start pushing things in other directions. We've gotta get to the middle, and they have to sit down and decide how to do things," Black said when asked if Ocasio-Cortez provides a "glimmer of hope."
Fox News' Samuel Chamberlain contributed to this report.