Ballot issues on abortion, pot, guns have potential to boost Election Day turnout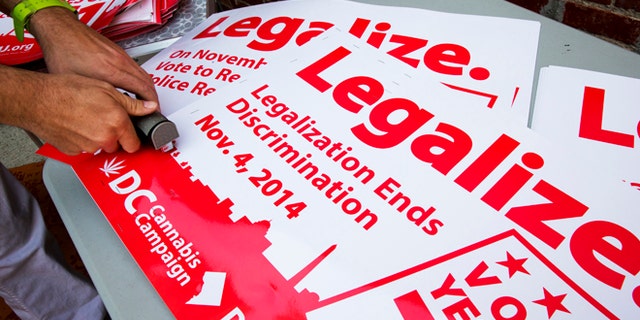 Nearly 150 ballot measures across the country -- including ones on abortion, guns and marijuana -- will be voted on Tuesday, key issues that have the potential to influence voter turnout in state and national races.
Voters in Alaska, Oregon and the District of Columbia will vote on measures that would allow recreational use of marijuana for adults.
The measures in Oregon and Alaska would allow for the retail sale of pot to anyone old enough to drink. The measure in the District of Columbia would make it legal to grow and possess marijuana, but not sell it.
And in Florida, residents will decide whether to make their state the 24th to allow marijuana use for medical reasons.
The measure has divided the rivals in Florida's closely contested gubernatorial race between Republican incumbent Rick Scott and Democratic challenger Charlie Crist, who supports the proposal.
The debate in Florida usually generates talk of young people potentially flooding the polls. But seniors, who flock to the state to retire, are the most reliable voters and could be key to the outcome of the measure.
A total of 147 ballot measures will go before voters on Election Day, according to the National Conference of State Legislatures.
Three measures related directly or indirectly to abortion have sparked sharp debate in several states.
In Colorado, a "personhood" amendment would add fetuses to those protected by the state's criminal and wrongful death act. Opponents say it could lead to a ban on abortions. Supporters say it's intended to strengthen protections for pregnant women.
Colorado Sen. Mark Udall is relying on women voters to help him win re-election in his close race with Republican challenger GOP Rep. Cory Gardner.
Similar measures are on the ballot in North Dakota and Tennessee.
In Massachusetts, voters will decide on a ballot measure to repeal a 2011 law authorizing development of a slots parlor and up to three resort casinos. The state has none now.
Washington voters will be faced with two competing gun-related measures.
One seeks background checks for all gun sales and transfers, including private transactions. The other would prevent any such expansion covering purchases from private sellers.
Six states require universal background checks for all sales and transfers of firearms. Washington's law, like the federal law, requires checks for sales or transfers by licensed dealers but not for purchases from private sellers.
Colorado and Oregon have measures that would require labeling of certain genetically modified foods. Each proposal would apply to raw and packaged foods produced entirely or partially by genetic engineering, but would not apply to food served in restaurants.
Midterm elections typically have a lower turnout than election years with a presidential race. And voter enthusiasm is often lower for the party that occupies the White House.
A recent study by Tufts University found turnout is higher in states with a referendum, compared to states without them and that the situation is particularly more prevalent in midterm elections. The study also found that the increased turnout can be attributed to "campaigns that use a ballot measure to mobilize voters."
However, media coverage of the issue also appears necessary to increase the turnout, according to the study.
In Florida and elsewhere across the country, a greater percentage of seniors vote than any other age group, and their share of the total electorate is even more pronounced in years without a presidential contest.
President Obama has tried in the closing weeks of the midterms to appeal to African-American voters, who typically cast ballots for Democratic candidates, to get out and vote.
The African-American turnout will be vital to Democrats' hopes in states such as Arkansas, Georgia, Louisiana and North Carolina that will help determine control of the Senate.
The Associated Press contributed to this report.