Bachmann Surging in the Polls Ahead of Campaign Kickoff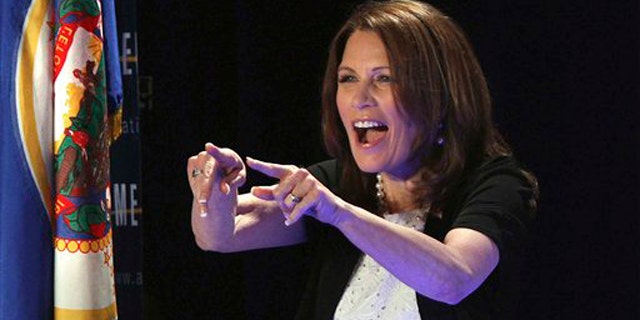 Rep. Michele Bachmann has rolled out her presidential campaign with all the flare and flirtation of a seasoned boxing promoter.
First, she stole her opponents' thunder by using a debate stage earlier this month to announce she filed her 2012 papers. Then, she held off on formally announcing that bid for another two weeks -- the formal kickoff is set for Monday in Iowa. The evening before the announcement, Bachmann is planning an informal meet-and-greet in Waterloo. And the week following the announcement will be spent touring early primary states.
The candidate is no doubt making up for lost time, having given her opponents a wide opening to build their operations in key states by waiting so long to make the presidential plunge. But polling conducted since she revealed her intentions at the debate in mid-June suggest she's doing something right.
After weeks of struggling to break out of the single digits, Bachmann has surged in recent polls. Former Massachusetts Gov. Mitt Romney is still the solid GOP frontrunner, but Bachmann has started to separate herself from the rest of the pack.
A Rasmussen Reports poll taken right after Bachmann's debate performance showed her rising to 19 percent, in second place behind Romney at 33 percent. A subsequent poll in Florida taken June 16-19 by Public Policy Polling also showed Bachmann surging into a tie for second place with Sarah Palin -- who has not announced a presidential bid. Though the poll only questioned Republicans in one state, the results showed Bachmann's support climbing from 7 to 17 percent since March. If Palin were taken out of the mix, PPP found Bachmann picking up the bulk of her support and gliding even closer to Romney.
Meanwhile, an Associated Press-GfK poll released this week showed her favorability rating jumping from 41 percent to 54 percent among Republicans, though one third did not have an opinion of her.
"Given that we have been in this race less than two weeks, we are pleased with the growing momentum of the campaign," campaign spokeswoman Alice Stewart said in an email to FoxNews.com.
Stewart said that as Bachmann formally enters the race, voters will see her as "their voice for constitutional conservatism." The Tea Party favorite has surged into the spotlight in recent years by opposing government spending, as well as other popular conservative targets like the federal health care overhaul and environmental regulations.
But Bachmann, who will appear on "Fox News Sunday" ahead of her announcement, is just the latest X-factor in the race. Speculation continues to swirl around Texas Gov. Rick Perry, while Palin stays in the spotlight -- from a distance. Former Utah Gov. Jon Huntsman is trying in earnest to build his moderate brand after announcing his bid Tuesday.
Some Iowa Republicans have suggested Bachmann missed out on her chance to build a formidable operation in the nation's leadoff caucus state, while others question whether the outspoken Minnesota conservative could ever be more than an also-ran nationally.
The Iowa Democratic Party, which has held counterprogramming events for other Republican candidates, does not plan on holding a news conference to counter Bachmann's announcement Monday. A spokesman for the party told Fox News that while party officials see Bachmann as a contender to win the caucuses, they do not feel she can win the GOP nomination.
But the congresswoman is making a big push to appeal to voters in Iowa despite the late entrance -- and the fact that House members rarely end up as presidential finalists. She's stressing her Iowa roots by holding her announcement in her hometown of Waterloo, and also is looking to return to Iowa after touring South Carolina and New Hampshire. Her social conservative streak is a plus in the leadoff state, and she's trying to develop the other parts of her portfolio.
Though Bachmann in May said the United States needs to "get out" of Afghanistan, she amended her position this past week after President Obama announced his troop withdrawal plan.
In a statement Thursday, she accused the president of "undercutting our security objectives in Afghanistan with ill-advised timelines and accelerated (troop) withdrawals."