Bachmann Announces Presidential Run at Debate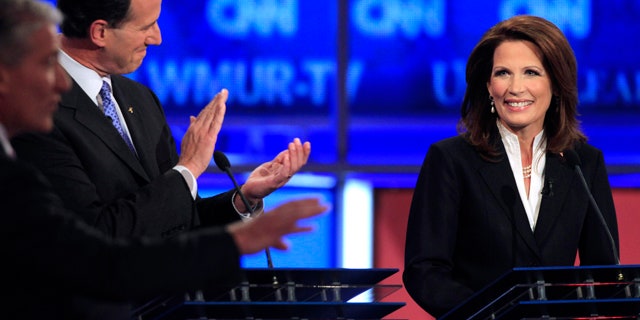 Minnesota Rep. Michele Bachmann said Monday night during a debate of declared and potential Republican presidential contenders that she had filed the paperwork needed to enter the race.
Bachmann, a favorite of the the Tea Party movement, said she intended to make a formal announcement of her candidacy soon.
She and other Republican White House hopefuls criticized President Obama's handling of the economy from the opening moments of the two-hour debate and pledged emphatically to repeal the administration's year-old health care law.
Obama was hundreds of miles away, vowing to continue his efforts to create jobs as the Republicans met on a stage at St. Anselm College in New Hampshire.
Bachmann, a third-term congresswoman and the first female contender to enter the 2012 race, has been leaning heavily toward a run over the past few months, visiting early primary states, raising money and railing against Obama.
"Our country needs a leader who understands the hardships that people across America have been facing over the past few years, and who will do what it takes to renew the American dream. We must become a strong and proud America again, and I see clearly a better path to a brighter future," Bachmann said in a statement issued through her new campaign.
She brings high energy, charisma and proven fundraising ability to the Republican race to nominate a challenger to Obama. She also is known for unyielding stances, biting commentary and high-profile gaffes.
While she hasn't built the broad campaign infrastructure of some GOP rivals, she has gradually patched together a blend of tested and fresh-but-determined advisers. She's also shown an ability to raise money from a network of small-dollar donors, including $13.5 million she put toward the nation's most expensive House race of 2010.
Bachmann, 55, spent the bulk of her political career in Minnesota and Washington as a minority party member, reveling in her role as a fierce voice of the opposition. She didn't let up when Republicans gained control of the U.S. House last fall, enhancing her standing through public breaks with party leaders after she was denied a place in caucus leadership.
The camera-friendly congresswoman has irked some party leaders by grabbing at the spotlight, such as the alternate televised response she delivered to Obama's State of the Union speech this winter.
Her willingness to speak her mind -- she once accused Obama of running a "gangster government" -- has brought her both loyal fans and plenty of critics.
Since first hinting at a presidential campaign ahead of an Iowa speech in January, she has made sustained trips there and to New Hampshire and South Carolina, all places with an outsized voice in the nominating process. She previously told reporters she would announce her intentions this month in her birthplace of Waterloo, Iowa.
Other full-fledged candidates include former Govs. Mitt Romney of Massachusetts and Tim Pawlenty of Minnesota, former House Speaker Newt Gingrich, Texas Rep. Ron Paul, former Pennsylvania Sen. Rick Santorum and businessman Herman Cain.
Still a possibility is Sarah Palin, the former Alaska governor and 2008 Republican vice presidential nominee. Palin assisted Bachmann in her 2010 race. And while the two deny any inherent rivalry, the potential they may both run in 2012 has already stirred up such talk.
Before politics, Bachmann was an attorney who at one point chased tax cheats for the federal government. A mother of five and foster parent over the years to more than 20 girls, Bachmann dove into public life during a fight over Minnesota school standards. She spent six years in the Minnesota Senate before winning an open seat Congress, where she's been since 2007.
Bachmann's husband, Marcus, runs a Christian-based counseling clinic.
The Associated Press contributed to this report.